7 Frequently Asked Questions About Medical Botox Injections
Medically Reviewed By William C. Lloyd III, MD, FACS
Was this helpful?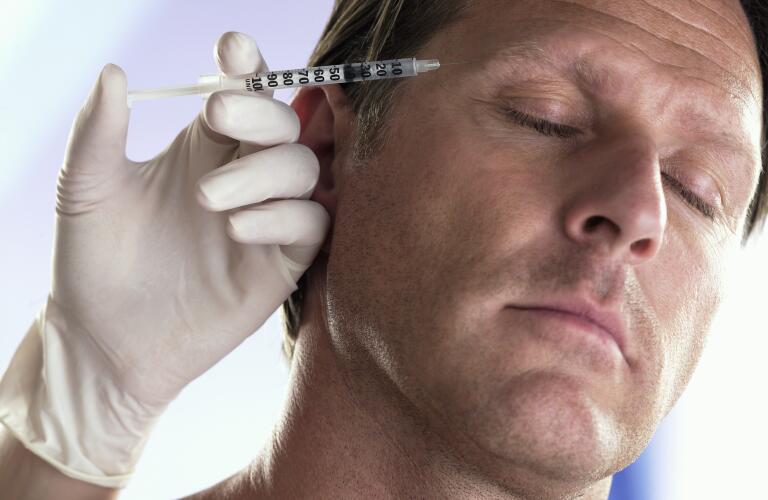 Medical Botox® is a neurotoxin that blocks nerve signals to muscles. Muscles relax when there is no nerve signal to tell them to contract. Along with the cosmetic reasons for Botox® injections, this signal-blocking effect means Botox® can help treat several medical conditions, such as migraine and overactive bladder. Using a substance like Botox® to treat a medical condition in this way is called chemodenervation. These answers to common questions about medical Botox® injections can help you decide if this treatment is right for you.
Doctors may recommend injecting medical Botox® into muscles to treat various conditions. This includes overactive bladder, cervical dystonia, strabismus, blepharospasm, chronic migraine, and upper limb spasticity. Doctors may recommend injecting medical Botox® into the skin to treat excessive underarm sweating. There are also many off-label uses for medical Botox®. Off-label uses do not have FDA (Food and Drug Administration) approval, but may have general acceptance among doctors.
The doctor who prescribes medical Botox® will vary depending on your condition. Neurologists, ophthalmologists, dermatologists, ENTs (ear, nose and throat doctors), urologists, and urogynecologists are common medical Botox® providers. Always look for a doctor who is board certified in his or her specialty. Ask about the doctor's experience with medical Botox®. And find out who will be giving you the injection. If it's a nurse or physician assistant, make sure that person is qualified and authorized to do it.
Many people see improvements in their symptoms within a few days of a medical Botox® injection. The full effect may take longer and can last up to three months. You can repeat the injections as long as you continue to respond to Botox® and you aren't having problems. The length of time between injections varies. You can help your doctor determine the best interval and dose for you by keeping track of your symptoms in a diary.
Doctors give medical Botox® by injection into the skin or muscles. It's usually an office procedure. The number of injections varies for each condition and person. The needles for a medical Botox® injection are very thin so there is only mild discomfort for most people. The procedure can take up to 20 minutes and you go home the same day.
Some common side effects of medical Botox® include dry mouth, headache, neck pain, tiredness, and pain at the injection site. There are also some uncommon, but serious side effects with medical Botox®. Call your doctor or seek medical help if you have weakness all over, loss of bladder control, vision problems or changes, or problems breathing, swallowing or speaking. You should also seek help for signs of an allergic reaction, such as itching, wheezing, dizziness or swelling.
Most people don't have serious side effects with medical Botox®. But there have been reports of muscle weakness and vision problems within a few hours or weeks of an injection. If this happens, don't drive a car, operate machinery, or engage in any risky or dangerous activities. Call your doctor right away.
Insurance coverage for medical Botox® varies. Most plans—including Medicare and Medicaid—cover it for FDA-approved indications like migraine. Insurance may or may not cover off-label uses. Call your insurance provider and ask about your coverage. Find out if you need preauthorization or any other paperwork before starting treatment. Talk to your insurance provider and doctor's office about your costs.
Was this helpful?