After Mastectomy: Special Bras and Prosthetic Breasts
Was this helpful?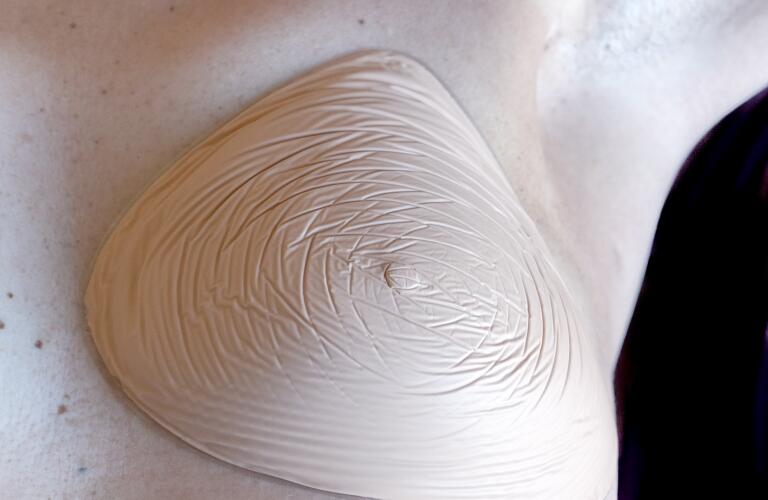 If you decide against surgical breast reconstruction with implants after mastectomy, you may be interested in other options. Women have a wide range of choices for restoring a natural appearance without undergoing another procedure. Prosthetic breasts (also called breast forms) come in an array of sizes and types designed to look as natural as real breast tissue. Mastectomy bras (and many other types of garments) come in a vast range of styles, including mastectomy bras with built-in forms.
All About Prosthetic Breasts
Breast prostheses (forms) come in many shapes and sizes. In fact, one manufacturer offers nearly 90 different sizes and shapes of breast forms. These prosthetic breasts can fill a small area of missing breast tissue or replace an entire breast. The most common types of prosthetic breasts include:
Lightweight foam or polyfill, best for use immediately following mastectomy. There are knitted prostheses, which are also good in the weeks and months following mastectomy.
Asymmetrical silicone breast prosthesis to replace one breast on the right or left
Symmetrical silicone breast prosthesis to replace both breasts
Weighted breast form, usually made of lightweight foam with an attached or inserted weight to hold it in the bra cup
Whipped silicone, a material with the look of regular silicone but in a much lighter weight
Prosthetic breasts often are somewhat hollowed out on the side that fits against the chest. This hollow space helps the prosthesis conform to your chest wall, which may be lumpy or bumpy from scarring. Some silicone breast prostheses also have adhesive backs to further secure them to your skin.
Some prosthetic breasts are smooth on the front, while others are made with a naturalistic nipple. You also can buy nipples to apply to your prosthesis or, conversely, you can get nipple minimizers.
Silicone breast forms give the most natural appearance. They look, feel and move very similarly to natural breast tissue. However, silicone prosthetic breasts also are somewhat heavy. The larger the prosthesis, the heavier it will be. You should consult an expert mastectomy bra fitter for assistance finding a good bra that can accommodate the weight of a silicone breast form.
Just like regular bras, you can get mastectomy bras in an array of styles, including soft cup, 't-shirt' bras, underwire, front-closure, racerback, sports bra, and even mastectomy camisoles. Some mastectomy bras have pockets to hold a breast form in place. You can also find bras with built-in prostheses. Many mastectomy swimsuits have pockets to hold a lightweight breast form because chlorinated or salt water can damage silicone breast prostheses.
The key to finding a comfortable, well-fitting mastectomy bra lies in visiting a certified mastectomy bra fitter. These professionals have completed specialized training in prosthetic breast and bra fitting and have passed a rigorous competency exam. Because the shape of your chest wall may change over time, consult the bra fitter when your prostheses or bra feel like they're not fitting right anymore.
Ask your breast cancer treatment center for referrals to a respected bra fitter.
Paying for Prosthetic Breasts and Mastectomy Bras
Under the U.S. Women's Health and Cancer Rights Act, most insurance companies must cover some of the expenses related to post-mastectomy breast reconstruction or prosthetic breasts and mastectomy bras. Check with your insurance company to learn about deductibles or coinsurance payments related to your post-mastectomy costs. Also, ask your doctor for a prescription for the breast forms and mastectomy bras you need. The insurance company will require this information to cover their portion of these expenses.
Women today have a multitude of options for restoring their appearance after mastectomy or lumpectomy. With nearly 100 different sizes, styles and types of prosthetic breasts and hundreds of styles of post-mastectomy garments available, from mastectomy bras with pockets to swimsuits to athleisure wear, any woman can feel confident that her shape looks as natural as it did before surgery.

Was this helpful?