Pulmonary Fibrosis: Frequently Asked Questions
Was this helpful?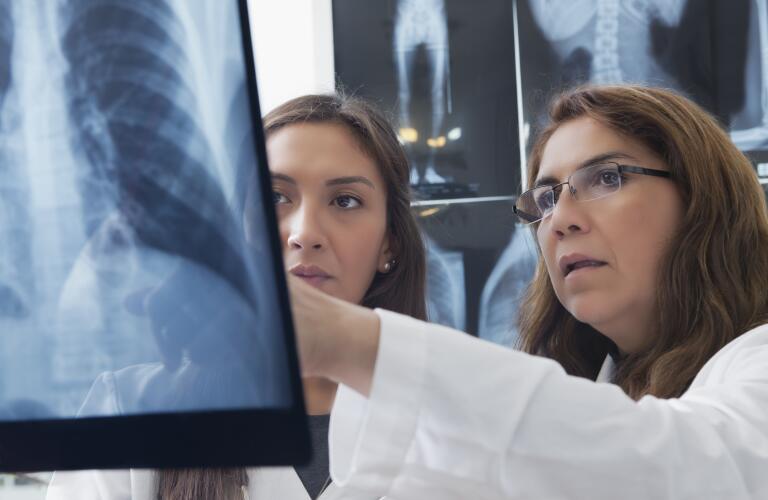 Pulmonary fibrosis is scarring of the lungs. Just as scar tissue on your skin is tougher and less flexible than uninjured flesh, scar tissue within the lungs is thick and stiff. Pulmonary fibrosis increases the work of breathing and makes it difficult for the body to get enough oxygen.
According to the Pulmonary Fibrosis Foundation, more than 200,000 Americans are currently living with pulmonary fibrosis. At least 200 different lung diseases can cause pulmonary fibrosis.
Often, doctors can't identify a specific cause for pulmonary fibrosis. When no cause is found, the condition is idiopathic pulmonary fibrosis, or IBF. IBF is the most common type of pulmonary fibrosis.
In some cases, pulmonary fibrosis appears to be inherited. Approximately 3 to 20% of affected individuals have another family member with the condition, according to the Pulmonary Fibrosis Foundation.
Risk factors and causes of pulmonary fibrosis include:
Drug exposure. Some chemotherapy and other medications (including amiodarone, a heart medication, and nitrofurantoin, a drug used to treat urinary tract infections) can cause lung scarring.
Environmental exposure. Regular or prolonged exposure to mold, pollutants or animal irritants can cause scarring.
Occupational exposure. Exposure to asbestos, coal, silica and other substances may cause lung scarring.
Some evidence suggests that viral infections, including COVID-19, may increase a person's risk of developing pulmonary fibrosis.
Cystic fibrosis is not a form of pulmonary fibrosis, although both diseases involve scarring (fibrosis) of the lung. Cystic fibrosis is a genetic (inherited) disease that causes excess mucus production and affects multiple systems of the body.
Symptoms of pulmonary fibrosis often show up between age 50 and 70. Unfortunately, some people dismiss their symptoms as "part of aging," which can delay diagnosis and treatment. Symptoms of pulmonary fibrosis include:
Persistent, hacking cough
"Clubbing" (widening and thickening) of the fingertips and toes
If you are experiencing pulmonary fibrosis symptoms, schedule an appointment with a healthcare provider.
There is no cure for pulmonary fibrosis, but appropriate medical treatment can ease symptoms and improve quality of life. Treatment is tailored to the individual, so two people who both have pulmonary fibrosis may have very different treatment plans.
Treatment may include medication, oxygen therapy, and pulmonary rehabilitation which is a comprehensive program that includes exercise training, breathing exercises, and patient education. Lung transplantation is an option for some patients.
With medical treatment, some people with pulmonary fibrosis remain active for a long time. Some experience extended stable periods; other people decline rapidly despite treatment. A person with pulmonary fibrosis can also experience acute exacerbations—short periods of worsening symptoms—during periods of relative stability.
Medical treatment may slow disease progression and improve overall quality of life. Sharing your symptoms and experiences honestly with your physician will help your healthcare team figure out how to best support you. Your treatment needs will likely change as your disease progresses. Regular medical appointments allow your team to monitor your condition and adjust treatment, as necessary.
Was this helpful?