Bronchitis: Frequently Asked Questions
Was this helpful?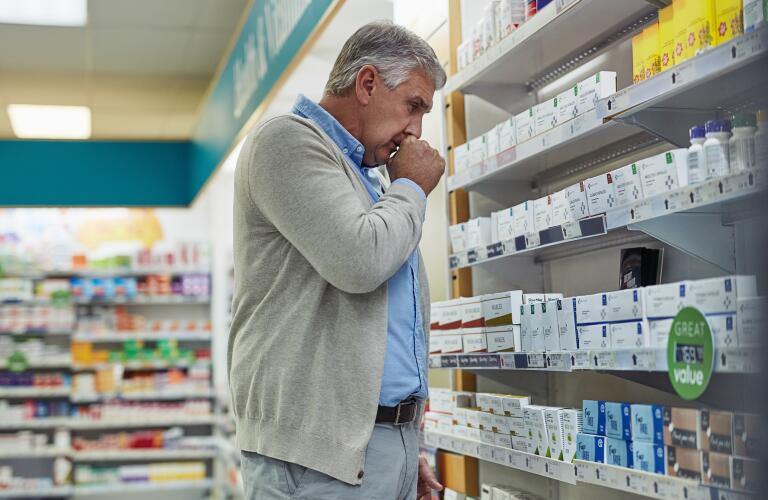 Bronchitis, either acute or chronic, is a common respiratory condition. It occurs when the lining along the bronchial tubes, the passage ways to your lungs, become inflamed. Learn about bronchitis, bronchitis symptoms, how long bronchitis lasts, and more.
Sometimes, the narrow bronchial tubes that bring air to the lungs become irritated and inflamed. This inflammation causes you to cough and produce more than usual amounts of mucus. The mucus further irritates the bronchial tubes and narrows them even more. And, the more you cough, the more irritation resulting in more coughing.
Bronchitis itself isn't usually a medical emergency, but it can be scary if you feel like you can't breathe. Some people may go on to develop pneumonia.
What is the difference between acute and chronic bronchitis?
Both types of bronchitis cause you to cough and produce mucus. Acute bronchitis is a short episode of bronchial tube inflammation, lasting from a few days to a few weeks. It usually comes on quite suddenly. Bronchitis is chronic if it lasts longer. Chronic bronchitis can last anywhere from a few months to years, and it can return after symptoms have gone away. Chronic bronchitis could be part of chronic obstructive pulmonary disease, or COPD. COPD is a serious, chronic respiratory condition that makes it difficult to breathe over time.
Most of the time, acute bronchitis is caused by a virus, like a cold or flu virus. Bacterial infections can cause acute bronchitis, but they are not as common.
Chronic bronchitis can have several causes, but the most common one is cigarette smoking, followed by other respiratory irritants, such as dust, allergens, and chemical fumes.
Risk factors for developing bronchitis include:
What are bronchitis symptoms?
Symptoms for acute bronchitis may include:
If you have chronic bronchitis, you may also have:

How is bronchitis diagnosed?
Acute bronchitis is usually diagnosed based on your history of cough and infection. If your doctor suspects there may be another problem, like pneumonia, you may need a chest X-ray. A diagnosis of chronic bronchitis takes more time. After a physical examination and taking your medical history, your doctor may recommend:
Is bronchitis contagious?
Bronchitis itself is not an actual infection. It is your body's response to an infection in the respiratory tract. You cannot catch bronchitis from another person but you can catch the infection that caused it (if a cold or influenza virus is the cause). Coughing and sneezing can send invisible droplets of contaminated mucus into the air around you. If someone comes into contact with a contaminated droplet, they have a risk of getting infected. However, they would develop a cold or the flu, which may or may not develop into bronchitis.
Are there complications associated with bronchitis?
Acute bronchitis can cause other health problems, such as pneumonia or even respiratory failure. This could happen to anyone, but those at highest risk are older people, the very young, people with a weakened immune system, or those with chronic illnesses like diabetes.
Severe coughing can cause pain in the chest and rib area.
How is bronchitis treated?
Most cases of acute bronchitis are caused by a virus. Since there is no treatment for the virus, treatment focuses on comfort. Your doctor may prescribe a cough suppressant to use at night so you can sleep. Your doctor also may prescribe an inhaler containing a bronchodilator medicine, which helps open your airways and helps you breathe easier.
There is no cure for chronic bronchitis. Doctors prescribe inhaled bronchodilators and oral or inhaled corticosteroids to help reduce the inflammation. A respiratory therapist can help you with a breathing program—pulmonary rehabilitation—giving you exercises and tips on how to breathe more efficiently. If the condition becomes severe, you may need to use oxygen from an oxygen tank.
People with chronic bronchitis are at higher risk for catching respiratory infections like influenza and pneumonia. Doctors recommend the annual flu vaccine as well as a pneumonia vaccine for people with chronic bronchitis or other lung diseases.
When should I see a doctor if I think I have bronchitis?
You should always see your doctor if you are concerned about your health, including symptoms of bronchitis. However, if you aren't sure, here are some tips of when you should make an appointment or go to an urgent care clinic:
Was this helpful?