The Stages of Small Cell Lung Cancer
Was this helpful?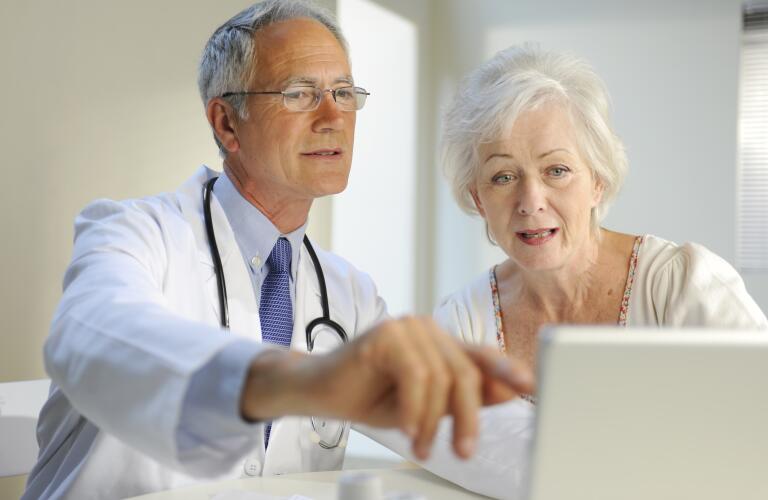 Small cell lung cancer (SCLC) is a type of cancer that develops in the tissue of the lung. It accounts for about 10 to 15% of all lung cancer cases. And while it's less common than non-small cell lung cancer (NSCLC), it tends to grow faster and spread more quickly. If you receive a small cell lung cancer diagnosis, you'll want to learn more about the stage of your particular cancer and the best treatment options.
Typically, small cell lung cancer is divided into two stages for treatment purposes: limited stage and extensive stage. Your treatment will depend on which stage the cancer is in. But another, newer method of staging is also used: the TNM method, which stands for tumor, node and metastasis. This method gives more detail about where the cancer is located and the areas to which it has spread.
If your doctor tells you that your cancer falls into the limited stage category, that means it's potentially curable.
Here's why. Limited stage includes cancers located in only one lung, as well as some cancers that have reached certain lymph nodes on only that same side of the chest. Your cancer is confined to a limited enough area that it can be treated with radiation to just that one area. But you may begin treatment with a combination of radiation and chemotherapy, as many people with limited stage SCLC do. Small cell lung cancer tends to respond well to chemotherapy, so that can be good news on the treatment front. Some patients may also be candidates for surgery to remove tumors.
Unfortunately, most people who receive a small cell lung cancer diagnosis learn that they have extensive stage SCLC. The American Cancer Society estimates that about 70% of people with small cell lung cancer have extensive stage disease. This means that their cancer has progressed beyond the easily treatable stage. The cancer is no longer contained to one lung or one lung and nearby lymph nodes. With extensive stage small cell lung cancer, the cancer has spread to both lungs (or is widespread in one lung) and even other parts of the body, as well as lymph nodes on the other side of the chest.
Because of the spread of the cancer, extensive stage SCLC is generally considered incurable. However, you can still begin treatment that can shrink your tumors, control some of your symptoms and potentially extend your life. You'll likely start your treatment with chemotherapy, possibly along with an immunotherapy drug that works to boost your immune system. Later, you could also receive radiation therapy to relieve symptoms that might develop if your cancer spreads to your brain, bones, or spine.
The TNM Stages of Small Cell Lung Cancer
Your doctor may also talk to you about your small cell lung cancer using descriptions from what the American Cancer Society calls a "more formal" system of staging the disease. The TNM system is a newer staging system. It was developed by the International Association of the Study of Lung Cancer (IASLC) in 2007 to describe the staging of both small cell and non-small cell lung cancers.
This system describes the growth and spread of the disease. There are three parts:
Tumor: Where is the primary tumor located? How big is it?
Node: Which lymph nodes are involved, and where are they located?
Metastasis: Has the original tumor metastasized and spread to other locations? What other locations are affected?
Using these criteria, your oncologist will assign a number to each of the three letters. A lower number usually means less involvement, which means a better prognosis. For example, an early stage of small cell lung cancer might have a designation like this: T1a, N0, M0. That means the tumor is a Stage 1 tumor that's 1 cm wide or smaller at its widest point, and there's no evidence of lymph node involvement or metastasis to other parts of the body. This would be considered a limited stage small cell lung cancer for treatment purposes. Meanwhile, an extensive stage cancer would have some metastatic involvement.
Essentially, you could think of this system as one that gives more specific details about limited and extensive cancers.
The Importance of Early Diagnosis
An early diagnosis is crucial because it's easier to treat a limited stage small cell lung cancer. So, don't brush off any potential symptoms of small cell lung cancer that you may be experiencing, such as a lingering cough, a habit of coughing up blood, shortness of breath, or chest pain that occurs when you cough or laugh. It might be nothing, but if you can get checked out, you can find out for sure.
Was this helpful?