The EGFR Mutation and Lung Cancer: What to Know
Was this helpful?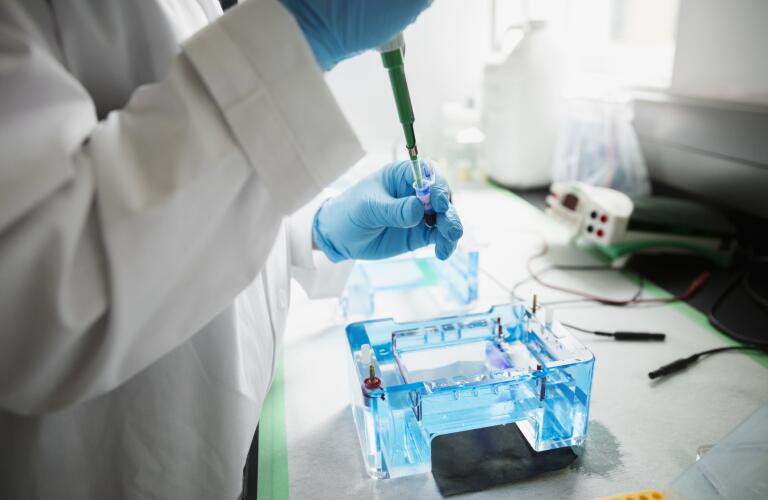 In many cases, the development of cancer can be traced back, at least in part, to genetic mutations. These mutations, also called variants, occur when there is a permanent change to the DNA sequence that makes up a specific gene.
While some genetic variants don't seem to cause serious changes to the DNA, others result in the development of diseases like cancer. In the case of lung cancer, the epidermal growth factor receptor (EGFR) gene mutation ultimately results in the growth and spread of abnormal cells.
Learning about the EGFR mutation in lung cancer can help you better understand the disease and your treatment options, especially since certain treatment methods have been developed to specifically target lung cancer in individuals with this (and other) mutations. Be sure to let your doctor know if you have any questions, since they can help guide you through important decisions about your goals for treatment and the therapies you try.
Like many other proteins, EGFR is expressed on the surface of body cells. In most cases, it's found on skin cells, but it's possible for EGFR to appear elsewhere in the body. When switched on, EGFR helps regulate cellular division—this is how cells reproduce in a process known as mitosis.
EGFR gene mutations cause the protein to stay switched on, which ultimately drives abnormal cellular proliferation. This, in turn, results in the formation of cancer. There are different types of EGFR mutations, and some of them are treated differently compared to others. The EGFR exon 20 insertion mutation, for example, doesn't respond to typical treatments for EGFR-positive lung cancer, but new therapies have been introduced to fill this gap.
Some people are more likely than others to have an EGFR gene mutation. You could be at higher risk for this genetic mutation if you:
Already have a diagnosis of lung adenocarcinoma
Are of Asian or East Asian heritage
Are a younger person with diagnosed lung cancer
Have never smoked or smoked only a little in the past
Women are also more likely than men to test positive for EGFR mutations.
If your doctor diagnoses lung cancer, it's like they will recommend EGFR testing to help determine your best treatment options. Doctors use two tests to determine if a person has the EGFR mutation in lung cancer. The first, called comprehensive next-generation sequencing, or comprehensive biomarker testing, uses a small sample of lung cancer tissue. This sample is placed inside a special machine that identifies biomarkers and lets doctors know which genetic mutations are present.
Another way to search for the EGFR mutation relies on blood testing. Your doctor will gather a small sample of blood, which will then be tested for the EGFR mutation. If you receive a lung cancer diagnosis, it's important to have at least one of these tests performed.
The treatment your doctor recommends will likely be based upon the tests that looked for the EGFR mutation. If this mutation is present, your doctor may suggest first trying an EGFR-targeted tyrosine kinase inhibitor (TKI). These drugs often control lung cancer's growth for several months to several years, depending on the drug used and how the body responds to it.
For some, cancer may "learn its way around" TKI, making it less effective than before. If this occurs, your doctor might recommend another type of EGFR inhibitor that's only used after surgery to remove cancerous lung tissue. In other cases, EGFR inhibitors are paired with other cancer treatments, like chemotherapy or immunotherapy. Ultimately, the specific treatment you receive depends on your goals for treatment and the specific type of lung cancer that's diagnosed.
If you have a diagnosis of lung cancer, make sure that your doctor tests for the EGFR mutation. Knowing whether or not you have this gene mutation can help doctors determine which treatments, such as EGFR inhibitors, may work best to help you stay as healthy as possible for as long as possible.
Was this helpful?