PATIENT VOICES

My Lung Cancer Journey: Connecting With My Immuno-Oncologist

Was this helpful?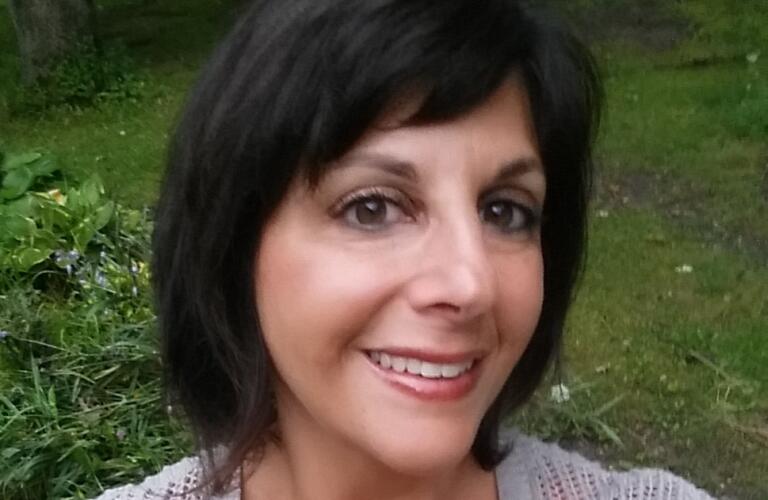 When you hear a doctor say, "You have cancer," it's a terrible thing. But now I know it's not an automatic death sentence. There is hope—you just have to find the right doctor and the right care.
A couple years ago, when I was 45 years old, a doctor gave me the news: I had stage IV non-small cell lung cancer. I'd been struggling to kick a cough for a while, and after spending weeks in and out of doctors' offices, thinking I had bronchitis and then pneumonia, a biopsy finally revealed the truth. It was cancer.
My doctor told me the diagnosis when I was in the recovery room after surgery to drain fluid from my chest. It didn't really kick in at first. It was totally unexpected—there's no history of cancer in my family, and I'd never even smoked a cigarette.
Since I was still waking up from anesthesia, the doctor talked to my husband in more detail about my diagnosis. He said I most likely had six months to live, which was shocking. The medical professionals at the hospital told my husband to take me home and make me comfortable. It was awful.
Fortunately, my husband absolutely refused that this was going to be the end for me. He supported me 100% and never lost hope. He helped me look forward, too. Once the idea of cancer had sunk in, I focused on next steps.
The oncologist laid out my treatment plan. I started receiving chemo, and it did not go well. The chemo wasn't effective in fighting my cancer, and I had horrible side effects that made life really difficult. I knew I had to try something else.
I decided to search for a second opinion—and I'm so glad I did. I found a cancer center that offered me many resources all under one roof. I felt the new hospital was familiar with new technologies and therapies to treat my type of cancer. I didn't realize what I was missing until I saw what the new facility could offer me.
I met with an oncologist at this new hospital, Bruce Gershenhorn, DO, and he told me he didn't believe in giving patients a time frame to live. He said that anything can happen. He was very honest and direct with me about next steps, and told me about my different treatment options. I knew I was in the right hands.
After trying a different variation of the chemotherapy, we realized it was time for something else. That's when immunotherapy was introduced. My oncologist told me there was a new drug available that he would like to try. He explained that this medication would help my immune system identify and fight foreign cancer cells in a new way. I didn't have anything to lose, and I trusted Dr. Gershenhorn, so I told him we should go ahead and try it.
My immunotherapy experience was a huge shift from what I'd gone through before. I had barely any side effects, which was fantastic, and I loved that I wasn't putting any harsh chemicals in my body. It was empowering to know I was training my own body to fight these foreign cancer cells using the immunotherapy medication, and it worked for almost a year, with a short break—my cancer metastasized to my brain before I started the immunotherapy, and we discovered that a few weeks later. I had to stop immunotherapy to receive radiation for six weeks, and it worked. Once I got back on immunotherapy, my scans were clear of cancer for a long time. My quality of life was high and I got back to my normal self, working, gardening, and living my life.
Finding the right oncologist was such an important part of fighting my cancer. And when the immunotherapy recently stopped working, Dr. Gershenhorn and my care team recommended another chemotherapy, which I am currently on. My side effects are managed well and I am able to continue working through treatment. I'll need to be on treatments for a long time, but to me, it's just a chronic disease that needs to be managed.
I want people to know how important it is to get a second opinion. Cancer doesn't mean your life is over—with the right resources and doctors, there is hope.
Stacy Foltz lives in Bristol, Wisconsin with her husband and children.
Was this helpful?