Caregiver Support for Stage 3 Lung Cancer
Was this helpful?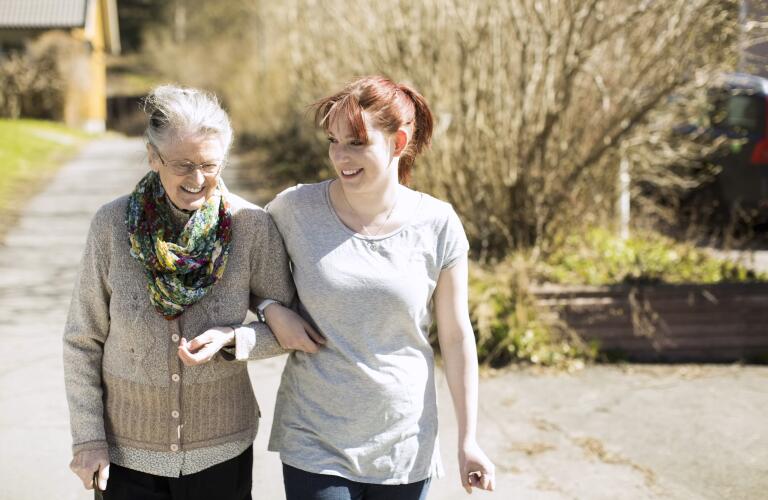 When you become a caregiver for someone with stage 3 lung cancer, you are signing up for a role that will help someone who is truly in need. It will be a big job, and quite demanding. Fortunately, you don't have to know everything at the beginning of the journey. You will gain a great deal of knowledge along the way. But no matter how you approach your role as a caregiver, be sure not to forget about yourself and your needs.
Understanding the Complexity of the Situation
By the time lung cancer has progressed to stage 3, it's considered advanced, and treatment can be very complex. Many patients undergo chemotherapy, radiation, surgery, or some combination of these treatments. As the caregiver for someone with stage 3 lung cancer, you will likely be juggling a seemingly endless array of tasks, including but not limited to transportation to and from doctor's visits, help with medications and treatments, communication with the person's other family members and friends, and household chores.
Staying Strong With Lung Cancer
As a caregiver, you'll also have to learn a whole new vocabulary. You'll need to learn about the diagnosis itself, of course, as well as the details of the treatment plan. If the person for whom you are caring is participating in a clinical trial, you may have to learn how you can facilitate their participation. You'll have to learn about the side effects of the cancer treatment so that you can help mitigate some of the pain and discomfort. You'll have to educate yourself about warning signs that something's wrong so you'll know when to call the doctor and ask for help. You'll have to learn about the psychosocial concerns that affect many people undergoing cancer treatment, so you'll know how to help your loved one get the mental and emotional care that they need.
It's a lot to learn. It's a lot to remember. It may take you a while to learn what you need to know, too.
You're undoubtedly familiar with the old expression, 'It's a marathon, not a sprint." Cancer treatment, indeed, can be a marathon–both for the person with cancer and for the person or people who are caring for them. You are going to be very busy helping your loved one. However, you cannot afford to relegate your own needs too far down on the "to do" list. You will need to take care of yourself so you'll have the endurance to be with your loved one throughout their journey.
Important ways to care for yourself while you're caring for your loved one with cancer:
Know your limitations. You must know when you've reached your limit–when you need rest, when you need some time away, when you need someone else to step in. Learn how to recognize this point before you get to it.

Recognize your feelings. You're a caregiver, not a robot. You may feel sad, scared, angry, helpless, or frustrated at times. You don't have to express all your feelings to the person for whom you're caring, but don't bury them down deep and pretend they don't exist.

Ask for help. You cannot be there for your loved one if your own energy levels are depleted. Resolve to ask for help when you know that you can't do it all by yourself.

Nurture your own needs. Know what you need to do to refresh and recharge. Do you need regular exercise? Time to meditate or pray? Some quiet time to read or listen to a podcast? The chance to spend a few hours with your spouse or friends? Schedule some time on a regular basis to devote to your needs.

Rest is non-negotiable. You may love the work you do as a caregiver, but you must get enough sleep and rest to sustain you so you can continue doing it. Eating a healthy diet can help give you strength, too.
Relying on Your Own Support Network
Just as a person with cancer can benefit from having a strong support network, a caregiver can benefit, too. A few strategies to try:
Reach out to your most trusted confidants. You may need a few trusted people in whom you can confide or even vent at times. Put these people on speed dial so you can reach out to them when you need them.

Connect with other caregivers. No one else can quite relate to your experience like another caregiver. They may have some good advice for others ways to take care of yourself, too.

Find back-up care. When you do need to help, where do you turn? Identify someone (or multiple someones) who can step in and provide respite care so you can get a break. The members of the cancer care team may be able to provide some suggestions for home health aides or others you could hire.

Connect with an online support group. Find an online support group for caregivers or chat room through the American Cancer Society Cancer Survivors Network or other sources.

Seek professional help. You may feel overwhelmed or anxious about your caregiving responsibilities. Don't hesitate to seek out a counselor or other healthcare professional who can help you navigate your way forward.
It may take you awhile to find the best collection of strategies to help you be the best caregiver you can be. Don't give up. Ask for help when you need it. And if something isn't working well, don't be afraid to try something else. It may just take you some trial and error to figure out what works best for you.

Was this helpful?