3 Things to Tell Your Doctor About Your Lung Cancer
Was this helpful?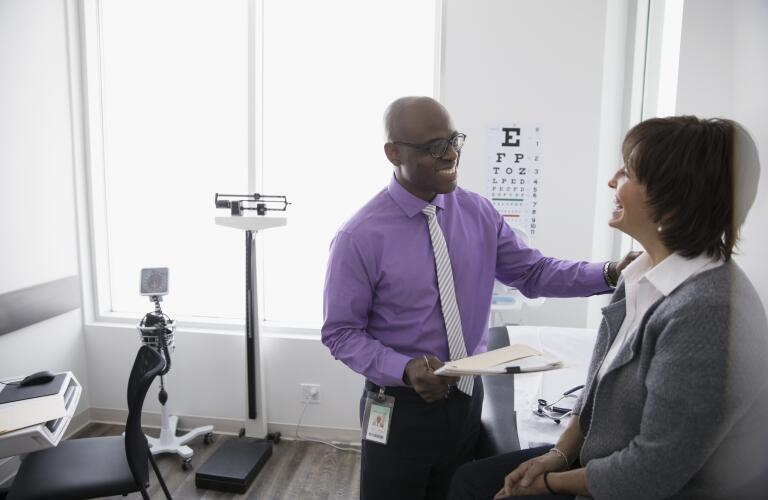 Lung cancer is the most common cancer affecting Americans today. Fortunately, treatments are effective and many people with this disease experience remission, and new therapies are making treatment more tolerable and more effective than ever. That's why a strong relationship with your oncologist is important. At your next appointment, don't forget to mention if you're experiencing any of these three things:
1. Trouble Quitting Smoking
The number one thing you should do after getting diagnosed with lung cancer is to quit smoking. It can be a very difficult thing to do, especially on top of the stress of a cancer diagnosis, but you don't have to do it alone. Talk to your doctor about your plans, and together you can come up with a doable path forward, whether that involves smoking cessation counseling, medication aids, or something else. Millions of people have quit smoking successfully using these resources, and you can, too–just don't be afraid to ask for help.
2. Problems Tolerating Your Treatments
When it's time to start treating your lung cancer, your doctor will determine the best therapies based on your type of cancer, how advanced your disease is, and your overall health. Depending on your specific case, you might be treated with surgery, radiation, chemotherapy, targeted drug therapy, immunotherapy, or others. It's likely you'll experience some side effects as a result of these treatments, but there's no reason to grin and bear it; if side effects are making your treatments seem impossible, and your quality of life is significantly worsening as a result, don't hesitate to talk to your doctor about it. There are different drug options available, and you might react better to one than the other. You can also try a variety of medications and alternative therapies to alleviate some of the side effects. Don't suffer in silence; be honest with your oncologist to resolve these problems while still treating your cancer effectively.
Dealing with lung cancer can be tough, and it's common for people to experience stress, anxiety, and depression as a result. Fortunately, there are effective resources available to help you cope with the emotional side effects of life with lung cancer, from medications to meditation. Don't be afraid to tell your doctor how you've been feeling. He or she can guide you to find the appropriate support and better manage your mental health. Getting outside help to boost your emotional wellbeing doesn't mean you've failed; it means you're using all the tools in your toolbox to live a fulfilling and healthy life.
Living with lung cancer can be difficult, but connecting with a doctor you trust can make all the difference. If you're open and honest about what you're experiencing, you're on your way to staying in control of your condition.
Was this helpful?