Giving Low T and Your Self-Confidence a Boost
Was this helpful?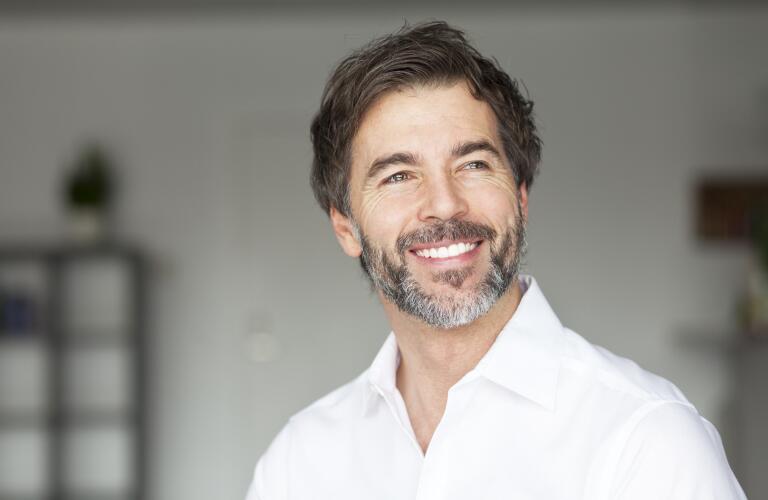 Problems performing in the bedroom? It happens to many men at some point. But when you have low testosterone (low T), it happens all too often. And even if you could perform, chances are you're not feeling up to it. While low T may be getting you down, this will give you a lift: there are some things you can do to get that lovin' feeling back.
Testosterone, often referred to as the "sex hormone," is produced mainly in the testicles and helps usher boys into manhood. It usually peaks during puberty as boys develop body hair, muscle mass and deeper voices, and it's what's needed to produce sperm.
As men age, their testosterone level typically declines. Certain health issues—such as high blood pressure, high cholesterol, diabetes, HIV/AIDS, and being overweight—can also cause low T. And some men have a disease called hypogonadism, which occurs when a problem with the testicles or pituitary gland prevents the body from producing normal amounts of testosterone.
Despite the sexual myth, not every guy wants it all the time (though some do!). But when you have low T, you are almost never interested in sex, and it can affect your ability to get and keep an erection. As if that's not enough, it's probably also leaving you feeling low, irritable and like your tank is completely empty. Sometimes friends and family members notice something's "off" before you do.
A simple blood test will tell you and your doctor if you have low T (it's the only way to know for sure, and your doctor may even want to test you twice). But here are some other clues:
Low sex drive

Lower energy

Reduced muscle mass

Increased body fat

Feeling depressed

Anemia (low iron)

Loss of bone density
It may seem like you'll never get back to your younger, livelier days, but you can feel more vigorous and get your groove back in more ways than you might think.
Ask about testosterone replacement. For men with hypogonadism, testosterone therapy can reverse those sex-zapping, energy-stealing effects. But the verdict is still out on whether it can help aging men who are otherwise healthy. For those it has helped, it's been shown to improve sex drive and erections, improve mood and energy, increase muscle mass, lower body fat, and help with sleep issues.
Your doctor may prescribe testosterone therapy as an injection, pellet, patch or gel. Be aware, though—the long-term effects of this therapy are unknown, and there may be risks involved. For example, testosterone therapy may contribute to sleep apnea, acne, blood clots, non-cancerous growths of the prostate, enlarged breasts, or testicle shrinkage. It could also limit sperm production. Talk to your doctor to see if it's right for you.

Go the natural route. There are also natural ways to boost testosterone (and your mood), such as losing weight and increasing muscle mass with resistance exercises. Regular exercise and healthier eating is always a good prescription (even with low T) to help improve libido and raise your energy level.

Sleep well. Good, quality sleep can also do wonders for the non-sleeping activities in the bedroom. The irony is that low T can sometimes make it difficult to sleep, so it may feel like you can't win. Talk to your doctor about ways to improve your sleep habits and get more rest.

Focus on your partner. When you can't get things moving (and there will still be those times), turn your focus to your partner who will find your undivided attention extremely sexy.
Was this helpful?