PHYSICIAN VOICES

Meet the Hepatologist: Liver Disease

Was this helpful?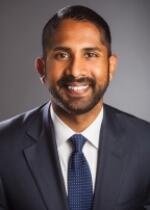 Dr. Arun Jesudian is a board-certified hepatologist with NewYork-Presbyterian and Weill Cornell Medicine in New York. In our "Meet the Specialist" series, we highlight the unique perspectives of various medical specialists on the types of patients they see and what they find rewarding and challenging in their daily practice.
As a hepatologist, I am a specialist in taking care of people with liver disease. The liver is the largest internal organ in your body and it has many, many jobs. Your liver processes a lot of what you eat and drink, including the medicines you take, plus it acts as a filter to remove toxins. It also produces a number of different proteins, like the proteins that help your blood clot and carry around important substances throughout the body, and it also produces bile, a fluid that helps us absorb nutrients we take in, like fats from our diet. On top of all that, your liver also helps your immune system fight disease—and that's just the tip of the iceberg.
Every day, I see patients with different kinds of liver issues, from hepatitis C to liver cancer. I also treat people with rare liver diseases, like primary biliary cholangitis, an autoimmune condition that affects the bile ducts in your liver. I am a transplant hepatologist as well, so I evaluate people in need of liver transplants and assist in the medical management of that process. Needless to say, my days are never boring!
For as long as I can remember, I wanted to be a doctor. I grew up in a family of doctors, and I never pictured being anything else. After medical school, I went into internal medicine because I really enjoyed learning about all the different organ systems. I eventually realized that I wanted to develop an expertise in one area, which led me towards gastroenterology—a specialty in gastrointestinal disorders. Gastroenterology is connected to hepatology, and as I learned more about it, I became more interested in and passionate about liver disease. I worked with really inspiring hepatologists while I trained as a medical resident, and I developed close relationships with my patients with liver disease. Hepatology just checked all my boxes, and I found it very rewarding to take care of really sick patients and help them to make amazing recoveries.
It is an exciting time to be a hepatologist, too. In the last several years, we have developed the ability to cure hepatitis C; where we once had medications that did not work that well, we now have treatments that work for almost every patient and rid them of the disease! We are also getting better at managing liver diseases; for example, when people develop advanced scarring of the liver, called cirrhosis, we are getting better at preventing and managing complications so that those who require a liver transplant can get one successfully.
It is important for patients to find a doctor who can explain problems to them in ways they understand. Liver disease can be very complicated, and it can be confusing for a patient to learn about so many aspects of the body and medical care all at once. If you find a provider who puts the medical jargon into a language you understand, you will be able to feel empowered about your health. I also recommend that patients look for hepatologists who have lots of experience taking care of patients with your specific liver problem. And it is key for patients to find a hepatologist they can trust. Some aspects of treatment will feel outside your control, but if you can find a doctor who will work with you to make decisions, you can feel confident putting your care in their hands.
Was this helpful?