What Is CBD Oil and How Does It Work?
Was this helpful?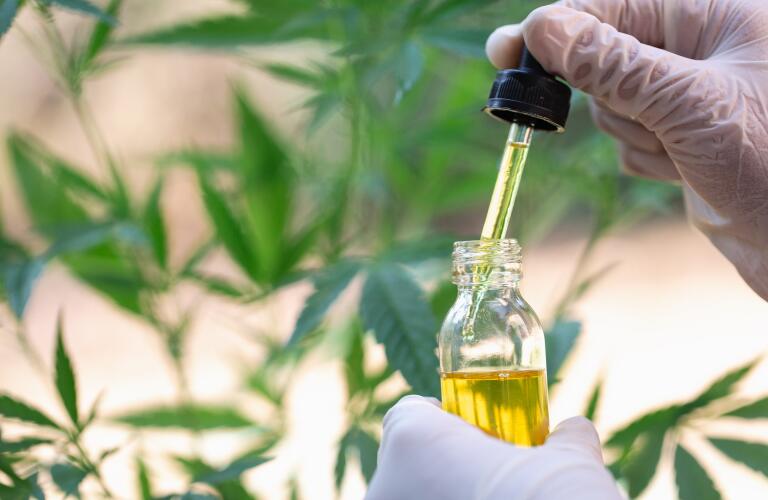 As the legal use of marijuana for medical purposes has become more widespread in the United States, researchers have begun to study the safety and efficacy of several compounds found in the cannabis (marijuana) plant, including cannabidiol (CBD).
Often touted as a "miracle drug" to treat–or even cure–conditions ranging from anxiety to epilepsy to cancer, CBD oil proponents point to many videos on the internet that purport to show the amazing, almost instantaneous effects of the substance when given to children with epilepsy. But what is CBD oil, exactly, and is it safe to use?
To understand what CBD oil is, you first must understand a little bit about the Cannabis species of plants. Used for thousands of years for medicinal purposes, cannabis plants contain numerous types of chemical compounds called cannabinoids.
The most famous cannabinoid is tetrahydrocannabinol (THC), the psychoactive compound in marijuana that produces an intoxicating effect in users. Cannabidiol (CBD) is the other main cannabinoid found in cannabis plants. Unlike THC, CBD is not psychoactive. The only commonality between these two compounds lies in the fact they both derive from the same plant species.
CBD can be extracted from any subspecies of cannabis plant. It will not cause the user to get "high" or otherwise produce any intoxicating effect. Once extracted from cannabis, the pure CBD (called "isolate") is added in various concentrations to bottles of oil, oil-filled capsules, lotions, waxes and even liquids for use in an e-cigarette (vape).
Cannabinoids, in general, have been studied for several decades. For example, clinical trials in the 1980s showed that an isomer of THC was effective at reducing nausea associated with chemotherapy. However, studies into CBD are lacking, probably due to the fact this compound has only recently reached the market.
Clinical research into how cannabinoids work has identified two cannabinoid receptors in the body, one in the brain and one on immune system B cells. Cannabinoid compounds may bind to these receptors to produce various effects, such as reducing nausea symptoms, but their exact mechanism of action remains unknown.
Scientists also have discovered the human body produces its own cannabinoids, called endocannabinoids. These compounds appear to play a role in pain modulation, movement control, mood, inflammatory processes, and memory–among other things. Experts wonder if CBD works in a similar way to these endocannabinoids.
Because researchers do not yet know exactly how CBD oil works, defining the benefits of using it can be difficult. However, studies support the idea that the following conditions can be helped by CBD oil:
Anxiety and insomnia: Early studies on CBD for anxiety and insomnia show promise, though this area requires further research.

Epilepsy, specifically Dravet syndrome and Lennox-Gastaut syndrome (LGS): In fact, the clinical evidence supporting CBD oil for these childhood epilepsy syndromes is so strong that the U.S. Food and Drug Administration (FDA) recently approved the first-ever cannabinoid-based drug (Epidiolex) for these conditions.
The current evidence does not support a therapeutic value for CBD oil beyond these three conditions, but that may change as the number of studies into CBD grows. The U.S. government's clinical trials website lists 178 research studies investigating CBD for its value in treating a wide range of conditions, including bipolar depression, graft-versus-host disease, Parkinson's tremor, inflammatory bowel disease, and many others.
CBD oil is not benign. In fact, it is known to raise the blood concentration of certain drugs, including the blood thinner warfarin and many anti-cancer (chemotherapy) drugs. It may have the same effect on many other medications that have not yet come to light. For this reason, you should always speak to your healthcare provider before you start taking CBD oil.
CBD also causes known side effects. Some users report increased nausea, fatigue, dry mouth, diarrhea and irritability when using CBD oil.
Because CBD oil is approved as a dietary supplement, the FDA does not regulate its production, which raises concerns about the purity of the products on the market. One recent University of Pennsylvania study revealed nearly half of the 84 CBD products they purchased from various manufacturers were under-labeled, which means they contained CBD that were more pure than the label specified. Additionally, more than a quarter of the samples contained less CBD than indicated. Using a product with an excessive amount of pure CBD could be harmful, especially if administered to children.
Bottom line? CBD is considered generally safe to use for most healthy adults. The jury is still out on whether or not it's effective for treating certain medical conditions. If you do decide to use CBD oil, be sure to consult your doctor.
Was this helpful?