When Is It Time to Start Treating Chronic Lymphocytic Leukemia?
Was this helpful?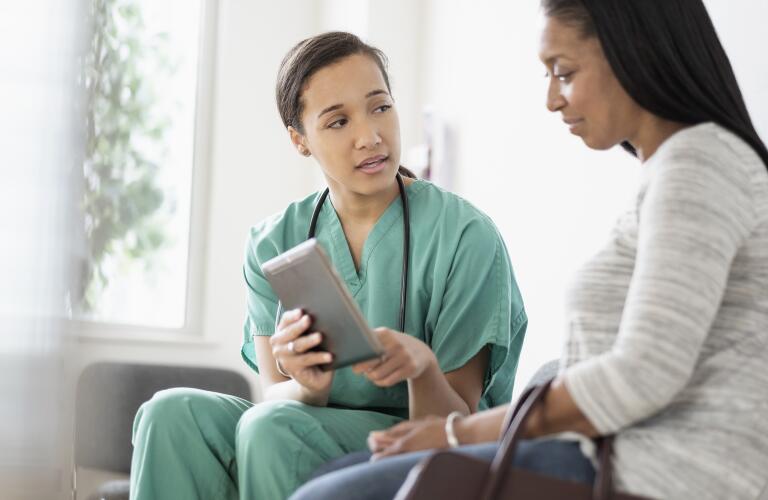 Chronic lymphocytic leukemia, or CLL, is a slow-growing form of cancer. In contrast to more aggressive cancers, many cases of CLL do not require immediate treatment, and some people won't need treatment for many years after diagnosis.
So, it begs the question: how do you determine when CLL treatment should be initiated?
Several studies have shown treating chronic lymphocytic leukemia early in the disease process doesn't improve your overall outcome or increase your life expectancy. And since most people don't experience any symptoms in these early stages, there's less of a benefit and more of a risk of side effects or complications from cancer treatment.
Instead, you may be monitored regularly by your doctor, a process also called "watchful waiting." Your doctor will check your blood work and examine you for any changes. If you continue to feel well and aren't showing any signs that your CLL is progressing, you may continue to hold off on treatment. However, if you start experiencing symptoms, it's time to discuss next steps with your doctor.
Chronic lymphocytic leukemia occurs when your body produces abnormal lymphocytes, a type of white blood cell. These abnormal lymphocytes don't function as white blood cells should to help your immune system. They also multiply faster and live longer. Over time, they can "crowd out" other healthy blood cells in your bone marrow, such as your red blood cells and platelets. The cancerous cells may travel through your blood to other organs, affecting them as well.
Eventually, this process can lead to symptoms, such as:
Feeling tired or weak

Swollen lymph nodes

Fever

Frequent infections

Night sweats

Weight loss
In addition to these symptoms, it might be time to start treatment based on exams and tests your doctor can perform. He or she may notice you have an enlarged spleen or liver on your physical exam. Your blood work can show a decrease in your red blood cells and platelets. Your white blood cells may start to increase at a rapid rate, doubling in a period of six months.
Signs such as these will prompt your doctor that it's time to begin treating your CLL.
Your doctor will look at several factors, including your age, your overall health, and the aggressiveness of your cancer to determine which CLL treatment is best for you. You may be treated with one or a combination of the following:
Targeted therapy: Targeted drugs have been developed to recognize certain features of cancer cells and stop them from growing or spreading. They are often used as a first-line treatment for CLL. Ibrutinib (Imbruvica), and venetoclax (Venclexta) are common examples.

Monoclonal antibodies: Considered a form of immunotherapy, these drugs use man-made antibodies to help your immune system fight cancer cells. Rituximab (Rituxan), obinutuzumab (Gazyva), or ofatumumab (Arzerra) are monoclonal antibodies that may be used to treat CLL.

Chemotherapy: Chemotherapy is used to attack fast-growing cells, like cancer cells. Chemotherapy agents fludarabine (Fludara) and cyclophosphamide (Cytoxan) are often combined with rituximab for patients with CLL.

Radiation: Low-dose radiation can help treat an enlarged spleen or lymph nodes.

Leukapheresis: If you have extremely high levels of white blood cells causing problems with your circulation, a machine can help filter them (including CLL cells) out. Another type of treatment, such as targeted therapy or chemotherapy, will still be needed afterwards.

Stem cell transplant: Very high-risk patients may receive a stem cell transplant early in the treatment process. In this process, the stem cells in your bone marrow that are producing abnormal lymphocytes are destroyed with chemotherapy and replaced with healthy stem cells. The new stem cells then create new and healthy blood cells.
Getting any kind of cancer diagnosis can be scary, but new treatments for CLL are often more effective and better tolerated than those of the past. With the addition of these novel therapies to the CLL treatment arsenal, the outlook looks brighter than ever.

Was this helpful?