Watchful Waiting for Chronic Lymphocytic Leukemia
Was this helpful?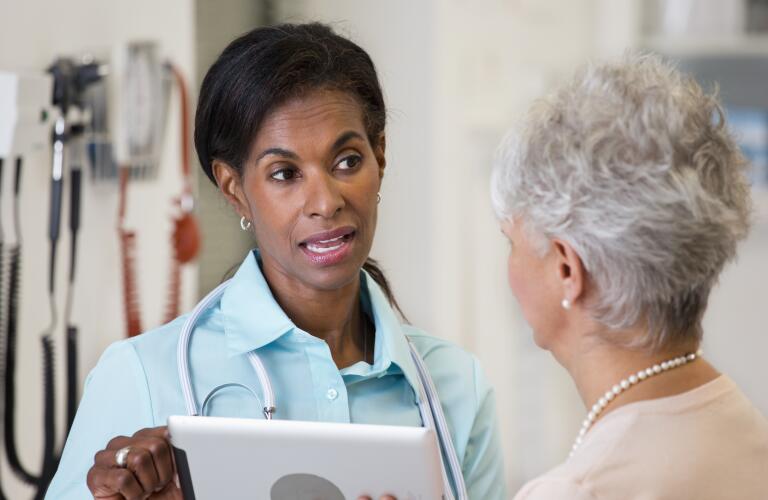 Chronic lymphocytic leukemia (CLL), a type of cancer that affects your blood and bone marrow, usually progresses quite slowly. Many people live for years with this chronic leukemia before it worsens and causes problems. If you have been diagnosed with early-stage CLL and your doctor tells you your cancer isn't progressing quickly, you'll likely be able to postpone treatment for a while, a strategy called "watchful waiting." Studies show treating CLL in people without symptoms who have stable blood counts doesn't actually benefit patients, and can cause challenging side effects. That's why you won't start treating your CLL until it progresses. However, this watchful waiting process can be disconcerting to many. Learning how watchful waiting works and what to expect during this period of time can help.
What is watchful waiting for CLL?
Watchful waiting is disease management without active treatment. Your doctor will monitor your CLL for signs that it's beginning to progress. You'll see your doctor every 3 to 6 months to assess your health. This will include checking the following:
Blood tests to look at your blood cell counts and how they may be changing over time

Signs of recurrent infections

Size of organs, such as the liver, spleen, and lymph nodes, to look for swelling

Symptoms, such as easy bruising or bleeding, fatigue, fever, night sweats, or unintended weight loss
Other names for watchful waiting include active surveillance, observation, and watch and wait.

Why do doctors recommend watchful waiting for CLL?
When you hear you or a loved one has cancer, it's a natural reaction to want to immediately tackle it with treatment. Often, finding cancer early means you can cure it. However, CLL is different. It is generally very difficult to cure, even if you treat it in the early stages.
Researchers have studied the risks and benefits of early treatment compared to watchful waiting. According to the Leukemia and Lymphoma Society, this research has shown the following:
There is no benefit to early treatment with current therapies versus watchful waiting in low-risk CLL patients. However, researchers are presently studying the effects of early treatment in CLL patients with a high risk of disease progression.

Early treatment with standard chemotherapy does not prolong life.

Early treatment, especially with standard chemotherapy, carries significant risk of side effects and potentially serious complications.

It is possible to develop resistance to drugs in early treatment that will no longer be useful when CLL becomes progressive.
Basically, these findings mean there are many potential risks with early treatment and no benefit for low-risk patients. However, science is always advancing. This could change as newer therapies become available and clinical trials reveal new data. Your oncologist is the best source for new developments that could benefit your health.
How do doctors decide when to stop watchful waiting and begin CLL treatment?
It's possible to live many years using only a watchful waiting approach to CLL. If your doctor starts to see signs of disease activity, it may be time to consider treatment. There are guidelines for determining whether or not CLL is active. Your doctor will look for the following criteria:
Autoimmune complications that don't respond to corticosteroids

Enlargement of lymph nodes or spleen on multiple visits

Increased lymphocyte count by 50% in two months or a doubling of the count in less than six months

Involvement outside the lymph nodes, such as in the skin, kidneys, lungs, or spine

Progressive bone marrow failure with anemia (red blood cell count <10g/dL) or thrombocytopenia (platelet count <100,000 u/L)

Symptoms of unintended weight loss of 10% or more in six months, fevers over 100 degrees Fahrenheit for two weeks or more without infection, night sweats for a month or more without infection, or fatigue that interferes with work or usual activities
If you have any of these conditions, your doctor may advise starting CLL treatment. The standard initial treatment is chemotherapy in combination with a monoclonal antibody. However, your doctor may have different recommendations based your age and other health conditions.

How can I take care of myself during watchful waiting?
Watchful waiting can make some people with CLL feel like they can't do anything about their disease. But there are still steps you can take to control your life and maximize your health. Staying healthy can help you tolerate treatment better once it's time to start. Consider the following ways to care for yourself during watchful waiting:
Go to all of your medical appointments, even if you're feeling fine.

Join a CLL support group with people who are also in watchful waiting.

Learn about advancements in CLL and its treatment.

Take an honest look at your lifestyle habits and make changes where necessary—eat healthy, exercise regularly, maintain a healthy weight, get enough sleep, practice stress relief strategies, stop smoking, and limit alcohol consumption.
You can also use this time to find a doctor who is the best match for you. You may already see a hematologist-oncologist with plenty of experience treating CLL. If not, do some research and visit a few doctors. When the time comes to treat CLL, you want to be confident you're getting the best and latest treatments available.

Was this helpful?