Understanding Treatment Options for Chronic Lymphocytic Leukemia
Was this helpful?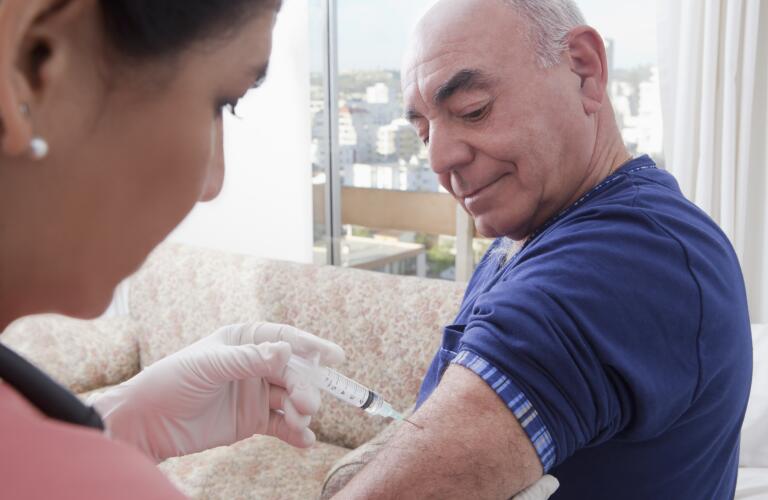 Chronic lymphocytic leukemia (CLL) is one of the most common blood cancers found in adults. It can progress either slowly or quickly and the form it takes influences your CLL treatment options. CLL is generally difficult to cure with current treatments. However, many people with the disease live for quite a long time and treatment can help manage the cancer and its symptoms. Your doctor will base your treatment on your lab results, your symptoms, and if the cancer has spread to your liver, spleen, and lymph nodes. Make sure you understand your options, including CLL medicine and other treatments.
Research has shown that early treatment doesn't help people with CLL live longer. And CLL often causes no or very few symptoms in the early stages. What's more, CLL treatment can cause significant side effects and problems. That's why the risks of treatment early in the disease far outweigh any potential benefits. As a result, doctors typically don't recommend treatment in the early stages of CLL. Instead, watchful waiting is the usual course of action. In watchful waiting, doctors monitor the disease for signs that it is getting worse or progressing. You'll see your doctor regularly during this watchful waiting period to review lab tests and any symptoms you have.
Chemotherapy (chemo) is the main treatment for most leukemias, including CLL. Your doctor may recommend starting chemo if your symptoms worsen or become bothersome. Changes in your lab results may also be a prompt for treatment to begin. The main chemo drugs for CLL include:
Bendamustine (Treanda)

Chlorambucil (Leukeran)

Cladribine (Leustatin)

Cyclophosphamide (Cytoxan)

Fludarabine (Fludara)

Pentostatin (Nipent)
Doctors typically use combinations of chemo drugs, usually along with medications called monoclonal antibodies. Corticosteroids are also CLL treatment drugs doctors may use with chemo. You usually get chemo over several cycles.
Chemo works by killing rapidly dividing cancer cells or stopping them from growing. Unfortunately, some types of normal cells grow and divide rapidly, too, like the cells in hair follicles and the lining of the digestive tract. As a result, chemo will have an effect on these cells as well. This is how chemo drugs cause some of their more notorious side effects, such as hair loss, mouth sores, and diarrhea.
The combination of chemo and a monoclonal antibody is standard treatment for CLL. Monoclonal antibodies are a form of immunotherapy, a type of treatment that boosts your immune system's ability to identify and fight cancer. They are man-made versions of antibodies, which are naturally-occuring immune system proteins. Monoclonal antibodies recognize and attach to specific targets on cells. In CLL, they react to proteins on the surface of cancer cells. Monoclonal antibodies for CLL treatment include:
Alemtuzumab (Campath)

Obinutuzumab (Gazyva)

Ofatumumab (Arzerra)

Rituximab (Rituxan)
You receive these drugs as IV (intravenous) infusions. They can cause side effects while you are getting the infusion and for a period of time afterward. In most cases, side effects are mild and may get better with more treatments. Side effects can include fever, chills, headache, fatigue, itching, and nausea. There are drugs available to take before the infusion to help prevent these reactions.

Targeted therapy can be a part of first-line CLL treatment. It uses drugs that recognize and attack specific cell characteristics and biologic pathways to prevent cancer cells from growing or multiplying. Targeted therapy drugs for CLL include:
Acalabrutinib (Calquence)

Duvelisib (Copiktra)

Ibrutinib (Imbruvica)

Idelalisib (Zydelig)

Venetoclax (Venclexta)
Side effects of targeted therapy and their severity depend on the drug. They can include nausea, diarrhea, headache, fatigues, body aches, joint and muscle pain, rash, fever, and chills. More serious side effects are possible, but infrequent.

Less Common CLL Treatments
Surgery, radiation therapy, and stem cell transplants are less common treatment options for CLL. Doctors may recommend radiation therapy or surgery when the only problems related to CLL are enlarged lymph nodes or an enlarged spleen. Doctors don't use stem cell transplants as often as in the past. However, they may still be useful in recurrent cases or cases that are resistant to standard treatment.
Researchers are studying several new treatments for CLL. This includes new combinations of existing medicines, new medications, and new approaches to immunotherapy. Some treatments currently under investigation include:
CAR (chimeric antigen receptor) T-cell therapy: This immunotherapy involves removing a person's T-cells, which are a type of immune cell. Scientists then modify the T-cells with specific proteins to fight leukemia, grow them in a lab, and put them back into the patient. Doctors have already been using CAR T-cell therapy for similar cancers, such as multiple myeloma.

Checkpoint inhibitors: These are another targeted therapy treatment doctors already use for multiple myeloma. These drugs basically turn on a switch that helps the immune system see and respond to cancer cells better. They prevent cancer cells from evading the immune system. Examples include nivolumab (Opdivo) and pembrolizumab (Keytruda).

Lenalidomide (Revlimid): This is a new option for CLL. Like CAR T-cell therapy, doctors have been using this drug already to treat multiple myeloma. It stimulates T-cells to kill leukemia cells.
In addition, there are a few new monoclonal antibodies in the research phase. Scientists are also studying the potential benefits of early treatment with some of these newer therapies. Lastly, they are evaluating potential genetic markers to see if they can help determine the best treatment options and predict success for individual patients. To find out more about clinical trials, talk with your oncologist.

Was this helpful?