Treatment Options for Waldenstrom Macroglobulinemia
Was this helpful?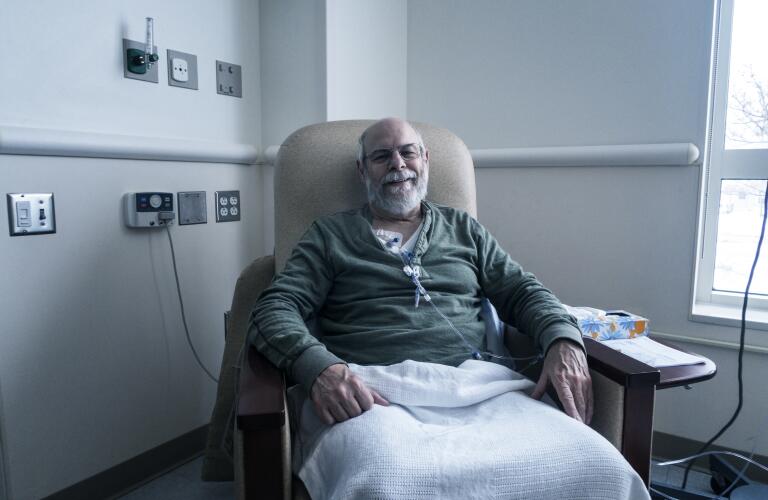 Waldenstrom macroglobulinemia (WM) is a rare and slow-growing, or indolent, lymphoma that begins in your white blood cells. It's one of several types of B-cell lymphoproliferative disease. Another name for WM is lymphoplasmacytic lymphoma.
Although current therapies can't cure it, WM generally responds well to treatment. Many people live with the disease for years using treatment to control it and manage symptoms. Your doctor will use your lab results and your symptoms to guide your treatment. Here are some options your doctor may recommend.
Waldenstrom macroglobulinemia treatment may not be necessary immediately after diagnosis. About 25% of people don't have symptoms at diagnosis and about half of these people won't need treatment for another three years. Instead of exposing people to potentially toxic treatment that can cause side effects and do little to prevent the cancer from advancing, watchful waiting may be an option. Other names for watchful waiting include observation, watch and wait, and active surveillance.
In watchful waiting, you see your doctor every few months to monitor your symptoms and lab results. In the past, doctors used levels of "M protein," a protein that's produced by WM cells, to decide when to start treatment. However, now we know that M protein levels alone don't accurately predict prognosis or tumor burden. Instead, your doctor will recommend starting treatment if you have any of the following:
Bothersome symptoms, such as fatigue, night sweats, weight loss, or persistent fevers

Lab results indicating anemia (low red blood cell count) or thrombocytopenia (low platelet count)

Symptoms indicating complications from high levels of M protein, such as hyperviscosity syndrome (when blood gets too thick and causes problems), neuropathy (nerve pain), or changes in kidney function
People with any of these criteria at diagnosis would likely start treatment instead of watchful waiting. Starting treatment before any of these changes occur does not prolong survival for people with WM. Once symptoms develop, your doctor will base treatment on the type and severity of your symptoms.

Plasmapheresis—or plasma exchange—is the main treatment for symptoms related to high M protein levels. It uses a machine to separate your blood into its two main components: plasma and cells. Plasma is the liquid portion of your blood, and it contains the M protein. The machine removes the plasma and returns the blood cells and some fluid replacement to you. The result is a reduction in the thickness—or viscosity—of your blood.
Chemotherapy—or chemo—is a main treatment for WM. Chemo kills rapidly dividing cancer cells or stops them from growing. This effect on cells that grow quickly also accounts for many of chemo's side effects. For example, the cells in hair follicles and the digestive tract lining turn over faster than many other cells in your body. Chemo can interfere with them as well, causing hair loss and diarrhea. Side effects will vary depending on the specific chemo drugs in your treatment regimen.
Your doctor may recommend chemo for symptoms related to the cancer itself, such as fatigue, night sweats, and weight loss. Doctors typically use combinations of chemo drugs, along with other WM treatments like corticosteroids. You usually receive chemo in cycles, to give you time to recover from any challenging side effects and allow the chemo to work over time.
Common chemo drugs for treating WM include:
Bendamustine (Treanda)

Chlorambucil (Leukeran)

Cladribine (Leustatin)

Cyclophosphamide (Cytoxan)

Doxorubicin (Adriamycin)

Fludarabine (Fludara)

Vincristine (Oncovin)
Monoclonal antibodies are a form of immunotherapy, which is a type of treatment that boosts your immune system's ability to identify and fight cancer. Monoclonal antibodies are commonly used in treating WM; they are man-made versions of naturally occuring antibodies. Antibodies are immune system proteins that recognize and attach to foreign invaders, such as viruses and bacteria. Monoclonal antibodies for WM are designed to identify targets on the surface of cancerous B-cells.
Common monoclonal antibodies for WM include:
Alemtuzumab (Campath)

Obinutuzumab (Gazyva)

Ofatumumab (Arzerra)

Rituximab (Rituxan)
These drugs are given by IV (intravenous) infusion. Side effects can occur during the infusion and for some time afterward. Side effects are typically mild and can include fever, chills, headache, fatigue, itching, and nausea. Some people find these side effects may lessen with future treatments. Your doctor can prescribe medicines to take before your infusion to help prevent these reactions.
Other forms of immune therapy are available to treat WM, including immunomodulating drugs such as thalidomide (Thalomid) and interferon.
Targeted therapy can also be a part of WM treatment. These drugs recognize and attack specific characteristics of cancer cells to prevent them from thriving and multiplying. This could be certain genes or proteins inside the cells, or the target could be the processes that occur in order for cancer cells to grow. Targeted therapy drugs for WM include:
Bortezomib (Velcade)

Carfilzomib (Kyprolis)

Everolimus (Afinitor)

Ibrutinib (Imbruvica)

Temsirolimus (Torisel)
Side effects will vary depending on the drug. Possible side effects include nausea, diarrhea, headache, fatigue, rash, fever, chills, and body, joint, and muscle pain. Other more serious side effects are also possible.

A stem cell transplant replaces blood-forming stem cells with new ones from a donor. In WM, doctors use a method called an autologous transplant. The process removes your own stem cells and stores them for a later transplant after high-dose chemo. That means you are your own donor. Currently, this is not a common treatment for WM. However, it may be an option for people under 70 years of age when other treatments stop working.
Researchers continue to explore new treatments for WM. Many of these investigational approaches are already used to treat other blood cancers. Some treatments currently being studied include:
CAR (chimeric antigen receptor) T-cell therapy. This treatment involves taking a sample of a person's T-cells—a type of white blood cell—and reprogramming them with proteins to attack WM cells. Then, doctors grow this line of cells in a lab and return them to you to fight the cancer. CAR T-cell therapy is approved as a treatment for similar blood cancers, such as multiple myeloma.

New targeted therapy drugs, such as carfilzomib (PR-171). This may be better tolerated with fewer side effects than other targeted therapies, but it's still in clinical trials so we can't know for sure yet.

Personalized cancer vaccines, such as BiovaxID. This is thought to stimulate the immune system to attack cancerous B-cells.
Your hematologist-oncologist is always the best source of information about WM treatments. Talk with your doctor to learn more about which treatment option is best for you or to find out about cutting-edge treatments on the horizon.

Was this helpful?