Treating Small Lymphocytic Lymphoma
Was this helpful?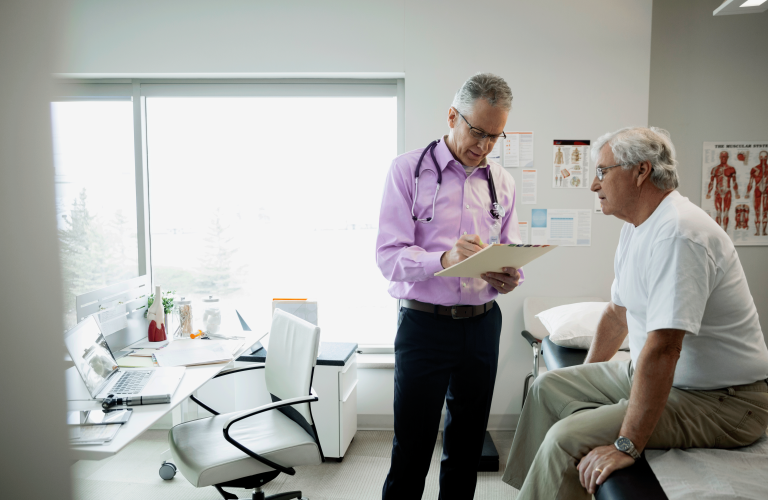 Small lymphocytic lymphoma (SLL) is a type of non-Hodgkin's lymphoma, or cancer that resides within the blood. Specifically, SLL affects the B-lymphocyte cells, which are small white blood cells in your immune system that produce antibodies to fight off infection. Experts call it an indolent type of cancer—that means it progresses fairly slowly. Treatment can range from careful observation when the cancer is in the very early stages to more intensive treatment later on.
Similar Diseases, Similar Treatments
You'll often hear small lymphocytic lymphoma linked together with chronic lymphocytic leukemia (CLL). There's a good reason for that: the two are essentially two versions of the same disease, and they're treated almost exactly alike. You'll even see them referred to as CLL/SLL. The main difference is that cancer cells are present in the blood and bone marrow in people with CLL, while the cancer cells show up in the lymph nodes and lymph tissue like the spleen in cases of SLL.
Watch and wait. That's often the first strategy you'll encounter when it comes to managing a case of small lymphocytic lymphoma. Sometimes they call it "watchful waiting," "active surveillance," or "careful observation." Whatever you or your healthcare team choose to call it, if your particular case of small lymphocytic lymphoma is in the early stages and doesn't seem to be growing or causing any problems, a common initial strategy is to watch it closely and wait for any changes to develop.
When you start exhibiting symptoms of SLL, like swollen lymph nodes, unexplained weight loss, or fever, it may be time to start lymphoma treatment. Also, if testing shows that your cancer is growing, your oncology team will recommend starting treatment. A stage 1 SLL can usually be treated with radiation therapy.
When the disease has advanced beyond stage 1, chemotherapy is the typical first-line treatment. You might take just one chemotherapy drug, or you may be a candidate for a combination of chemotherapy medications. For example, you might begin treatment with a chemotherapy drug such as chlorambucil (Leukeran), bendamustine (Treanda), or fludarabine (Fludara). Sometimes, your doctor might add in rituximab (Rituxan) or obinutuzumab (Gazyva), both of which are monoclonal antibody agents. In some cases, a doctor might even try you on rituximab by itself. Another first-line treatment for SLL/CLL is ibrutinib (Imbruvica), which is a type of targeted therapy that works by blocking a protein that the abnormal (cancerous) B cells need to survive.
The choice will depend on several factors, including your age and your overall health, as well as your tolerance of the chosen treatment's side effects. Additionally, treatment will take into account any DNA abnormalities such as missing parts of particular chromosomes, which are known as deletions.
Unfortunately, first-line treatment doesn't always knock out the disease for good. Some patients relapse, which means their disease returns after their treatment stops. However, it's possible for some people with SLL to achieve remission again after another round of treatment. Depending on the earlier treatment they received, they may undergo a round of different chemotherapy drugs or monoclonal antibody therapy.
Some individuals stop responding to treatment, allowing the cancer to return or to keep progressing. The medical term for a case of small lymphocytic lymphoma that stops responding to treatment is "refractory." Many people with refractory SLL undergo a treatment regimen that includes ibrutinib alone or the chemotherapy drug idelalisib (Zydelig) along with rituximab.
In some cases, a person with SLL may be a good candidate for a stem cell transplant. Doctors use very strong chemotherapy drugs to kill off the stem cells in your bone marrow that are producing the cancerous cells. Then, they infuse donor stem cells back into your body to create new, healthy bone marrow, which will then produce healthy blood cells.
Several other new therapies are in the pipeline, too. Scientists have been working on new treatments to help people with refractory small lymphocytic lymphoma. In fact, in September 2018, the U.S. Food and Drug Administration (FDA) approved a drug called duvelisib (Copiktra) for people with SLL or CLL who had refractory or relapsed cases after going through at least two prior treatments. The approval came just a few months after the approval of another drug, venetoclax (Venclexta), for cases involving a partial deletion of chromosome 17 and at least one round of previous treatment. Venetoclax, which is a chemotherapy drug available in a pill form, is considered a form of targeted therapy because it works in a very specific way. It binds to a particular protein and causes cancer cell death.
Communication With Your Healthcare Team
If you are diagnosed with small lymphocytic lymphoma and begin treatment, be sure to let your healthcare team know how you're feeling. Most treatments do cause side effects, and you may need supportive care to cope with them. Talk to your oncologist so you can make sure you're getting the care you need.
Was this helpful?