Treating CLL Leukemia: Chemo Isn't Your Only Option
Was this helpful?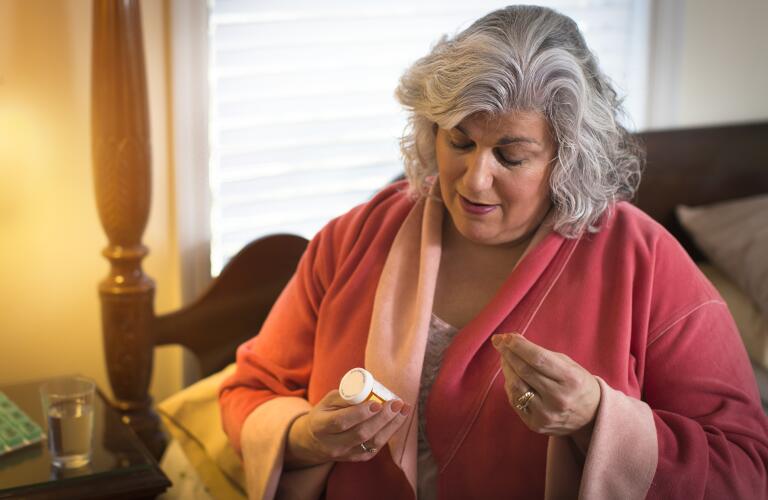 Chronic lymphocytic leukemia (CLL), a cancer that begins within the bone marrow, is the most common type of leukemia in adults. Many people do not need any treatment for their CLL until they develop symptoms or show signs their disease is quickly progressing.
For many years, the most common treatment for CLL was chemotherapy. Many doctors still suggest starting treatment for CLL with chemo, as it can be a very powerful cancer treatment option. The problem is, although it wipes out cancer cells, it can wipe out healthy cells, too, which can cause some serious side effects. Many people experience nausea, vomiting, weight loss, hair loss, diarrhea, fatigue, mouth sores and other issues. Depending on the type of chemo drugs they received, some people later on develop other side effects, which can include nerve damage, lung damage, kidney damage, and heart problems. In general, although it's effective, receiving chemo is tough and can take a toll on your physical and mental health.
The good news is chemo is not your only option. In fact, there is a growing number of other treatments available to treat CLL. For example, you could be a candidate for one of two drugs that are relatively new to the treatment arsenal. If you're hoping to avoid chemotherapy for your CLL, you may be interested in trying drugs that have bolstered treatment options in recent years: ibrutinib (Imbruvica) and venetoclax (Venclexta).
Ibrutinib, a Chemo-Free Treatment Medication
Ibrutinib is a type of targeted drug known as a kinase inhibitor. That means it interrupts a process that would help a type of white blood cell, called a b cell, thrive. Ibrutinib can prevent abnormal b cells that have become cancerous from sticking around and multiplying.
In February 2014, the U.S. Food and Drug Administration (FDA) approved ibrutinib for use in people with CLL who had already undergone at least one treatment. Then, in early 2019, ibrutinib was approved as a first-line therapy for CLL patients when combined with a drug called obinutuzumab (Gazyva). Obinutuzumab is a type of medication called a monoclonal antibody; these drugs help your immune system identify and attack cancer cells.
If you and your doctor agree you're a good candidate for this medication, your doctor will watch you very closely while you take it. Side effects tend to be mild, but can include stomach upset, fatigue, shortness of breath, feet and hand swelling, body aches, and rashes. Ibrutinib may also cause bleeding problems because it can decrease the levels of platelets in your blood that you need for clotting. Additionally, it can raise your risk for developing infections. If you start taking it, talk to your doctor about avoiding any interactions this drug might have with any other medications you're already taking.
Venetoclax, Another Chemo-Free Option
Just a few years after ibrutinib hit the market, people with CLL gained yet another chemo-free treatment option. In 2018, venetoclax was approved for people whose CLL had progressed after undergoing one or more previous treatments, or who have a specific genetic mutation. In 2019, the FDA approved venetoclax combined with obinutuzumab as a first-line therapy for CLL patients. The treatment regimen is designed to only last one year, which is shorter than many other standard timelines.
Venetoclax works by targeting and blocking a protein in cancerous cells that helps them survive and flourish. But it, too, can have side effects you'll want to consider. It can lead to anemia, neutropenia (low levels of white blood cells called neutrophils), low platelet counts, and fatigue. You may be more vulnerable to serious infections like pneumonia. And some people can develop a condition called tumor lysis syndrome (TLS). With TLS, your kidneys can get overwhelmed by the volume of CLL cells targeted by the medication, and excess minerals can build up in your bloodstream. To reduce side effects, some doctors prefer to start you out on a very low dose and ramp up from there, while keeping a close eye on your blood work.
Of course, there are other treatment options available to you, if you choose not to go with either of those chemotherapy-free medications. Depending on your treatment needs, you may be eligible for:
Other monoclonal antibodies or targeted drugs, potentially in combination with chemo

Radiation on your swollen lymph nodes or spleen

Splenectomy, a surgical procedure to remove an enlarged spleen

Stem cell transplant, which replenishes damaged stem cells with healthy ones

Leukapheresis, which lowers your blood count to address problems with your circulation (although this is rare)
And finally, chemotherapy is still an option. A combination of chemo medications known as FCR is still a common first-line treatment for CLL. This combination includes drugs called fludarabine, cyclophosphamide, and rituximab.
The treatment plan you follow may depend on how advanced your disease is, and what other treatments you may have tried. Your overall health and tolerance for side effects may also be factors in the treatment choice.
The right treatment for your CLL may be different from someone else's treatment plan. It's worth taking the time to learn about your options and discuss them with your doctor. Be sure to consider side effects and the length of treatment as you chart a course forward.
Was this helpful?