Talking With Your Doctor About Acute Myeloid Leukemia
Was this helpful?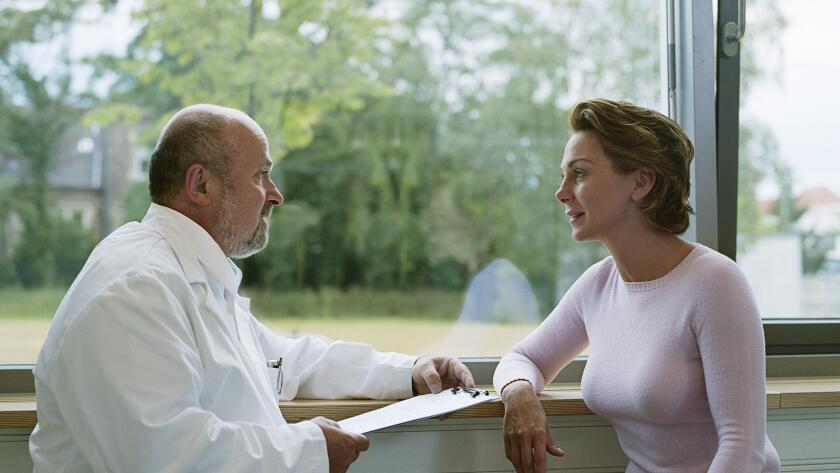 If you or your child is undergoing diagnostic testing or has already received a diagnosis of AML (acute myeloid leukemia), your doctor and treatment team are your best resources for information. They dedicate their careers to helping people like you through a difficult and likely stressful time, from diagnosis and treatment to supportive care. You'll need to make certain decisions along the way. Preparing for the conversations to come with a list of questions and topics to discuss with your doctor will help you feel confident that you are making the right choices.
Ask About What Diagnostic Tests You Might Have
If you have acute myeloid symptoms, such as unintentional weight loss, fevers, frequent infections, and unusual bleeding, your doctor will examine you, take your medical history, and order tests. Here are some questions to ask:
What tests do I need? You will likely undergo blood tests, genetic tests, imaging studies, lumbar puncture for spinal fluid, and a bone marrow aspiration and biopsy.
When will the test be done?
What will the tests indicate? Ask your doctor if you need all the tests and which ones are most informative.
What subtype of AML do I have? The subtype is determined by the characteristics of the leukemia cells, which varies between cases. What do the results of the genetic and molecular tests (of the cancer cells) tell you about how the leukemia will progress and respond to treatment?
Are there potential complications or risks to watch for after the tests?
Ask Questions About Your Care Team and Contact Information
Understanding who is on your care team is important. You will be spending time with your healthcare team during and after treatment. It's important not only that you know who is on your team, but where you will see them—in the clinic at treatment, at follow-up appointments, or both. Members of the team can include your oncologist, a nurse practitioner, a clinical nurse, a social worker, a dietitian, and more.
Questions you may want to ask include:
Who is on my (or your child's) care team?
For what symptoms and under what situations should I contact my treatment team or primary care provider?
How do I contact my care team if I need help? Can I email them?
Where can I turn to for support, such as a group that meets regularly?
Ask Questions About Your Treatment
There are different subtypes of AML and, depending on how far your cancer has progressed, treatment options vary. Ask your doctor to explain the different treatments that are available to you. Also ask if there are pamphlets or other types of information you can take home, or recommended websites you can visit to learn more.
Other questions to ask include:
What are the goals of treatment?
What is the typical prognosis for the AML subtype?
Do I need to begin treatment right away?
Am I eligible for any clinical trials?
What types of tests will have I during and after treatment, and how often will I have them?
How will the treatment affect my everyday life?
How do I deal with side effects? What precautions do I need to take to minimize complications of treatment?
What type of support services are available and how can I access them?
Who can help me manage my insurance coverage regarding treatment?
If you have other medical issues, such as diabetes or hypertension, ask your doctor how the care will be coordinated between your cancer team and your other specialists.
You may not remember everything you want to ask your doctor, so plan ahead for your appointment. This will allow you to make the best use of your time during your appointment. While at work or at home, keep a notebook or paper handy so you can write down questions as you think of them and remember to bring the list with you. (You can print a copy of this article from your browser's print function.)
If you can, ask a family member or friend to accompany you to your appointment. He or she can be your second pair of ears and remind you of concerns you may have mentioned previously. If a friend can't come with you, record your visit (if you have a smartphone or digital tablet) so you can listen to the responses later, when things are less stressful.
Before you leave your appointment:
Make sure you understand what your doctor said. If not, ask for clarification.
Ask who you should contact should you need further information or clarification, and how to get hold of this person.
If you've gone into remission (no detectable leukemia cells), you will likely need to continue treatment to keep the AML from coming back. You may also undergo a bone marrow, or stem cell transplant. Ask your doctor to explain what is involved in these treatments and other treatment options.
Being a cancer survivor may bring a mix of emotions—relief, joy, optimism, anxiety or fear of cancer returning—as you try to adapt to life after cancer. If you are struggling, ask your doctor or healthcare team about resources to help you as a survivor. There may be in-person or online leukemia support groups available to you, or one-on-one counseling. The Leukemia & Lymphoma Society is a good online resource for patients and caregivers.

Was this helpful?