Starting Treatment of CLL Leukemia
Was this helpful?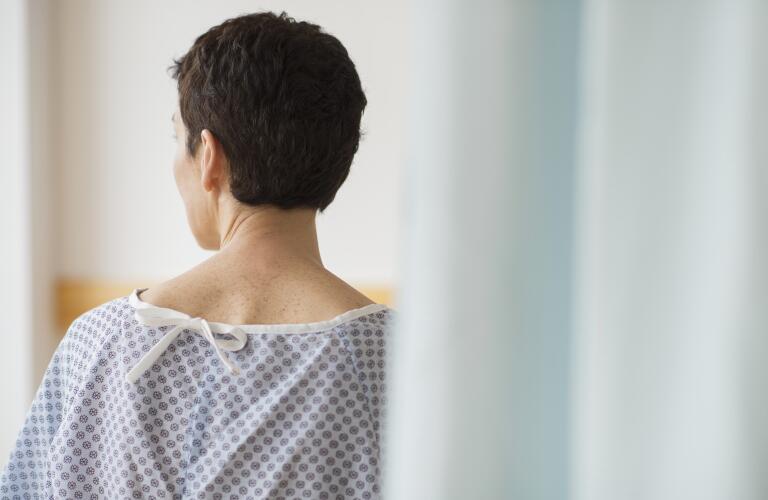 After receiving a cancer diagnosis, most people expect to start treatment right away. But if you've been diagnosed with chronic lymphocytic leukemia, or CLL, you may not need treatment for years.
You may wonder why your doctor wants to hold off on treatment or how you can tell when treatment should be initiated. Here's what you need to know about this approach to treating CLL.
Chronic lymphocytic leukemia occurs when your body makes too many abnormal lymphocytes, a type of white blood cell. CLL is often found as part of a routine blood screening since most people don't have any symptoms in the beginning. As the abnormal cancer cells increase in number, they can build up in your blood, lymph nodes, liver, and spleen. CLL may eventually impact your body's ability to make healthy blood cells, including white blood cells, red blood cells, and platelets.
Your doctor will look at several things to decide if you're ready for treatment. Your cancer will be given a stage, which indicates the extent of the disease and whether it's affecting other parts of your body. You may also undergo special blood tests to look at the genetic changes within your cancer cells. This can help determine the "aggressiveness" of your leukemia and the likelihood of the cancer progressing.
CLL often advances slowly. If you are in the early stages of the disease and not experiencing any symptoms, the benefits of treatment usually don't outweigh the risks. This is called "watchful waiting." Your doctor will continue to monitor your blood work and your overall condition at a checkup every few months.
It may be time to start CLL treatment if you develop the following:
Swollen lymph nodes

Enlarged spleen or liver

Decreased red blood cells or platelets on blood work

Rapidly increasing lymphocytes on blood work

Symptoms like fever, infection, fatigue, chills, night sweats, or weight loss
We have more options than ever for treating CLL. Your doctor will consider the stage of your cancer, its genetic characteristics, your age, and your overall health when selecting which treatments will be most effective.
When starting treatment for CLL, your doctor may recommend one or more of the following:
Chemotherapy: Until recently, this was the primary method of treating CLL leukemia, but treatment advances including targeted therapies and immunotherapies have given us more options with fewer side effects. Chemotherapy attacks rapidly growing cells in your body, like cancer cells. But it can also damage fast-growing healthy cells, like those in your hair follicles and intestines, and lead to unpleasant side effects. Fludarabine (Fludara) and cyclophosphamide (Cytoxan) are two examples.

Targeted therapy: This treatment targets specific parts of cancer cells, slowing their ability to grow and spread while leaving normal cells unharmed. Examples include ibrutinib (Imbruvica) and venetoclax (Venclexta). Possible side effects of targeted therapies include low white blood cell counts (neutropenia) and infections.

Immunotherapy: These drugs are human-made antibodies that help your immune system recognize and fight cancer cells. When treating CLL, rituximab (Rituxan), obinutuzumab (Gazyva), or ofatumumab (Arzerra) may be used. They are given as an IV infusion into a vein. Potential side effects include fever, chills, anemia, infection, stomach upset, fatigue, and others.

Stem cell transplant: If your CLL is considered high-risk, you may be a candidate for this procedure. Chemotherapy is first used to kill your cancer cells, as well as the stem cells in your bone marrow that are producing the abnormal lymphocytes. Then, new stem marrow cells from a donor are transplanted into your system. These cells take over the process of creating new healthy blood cells for your body. With this type of treatment, side effects can include a greater infection risk, low blood cell counts, increased risk of bleeding, and sometimes a reaction called graft versus host disease, in which the new cells attack your existing cells. Your doctor will monitor you carefully to watch for any of these symptoms.
Occasionally, radiation may be used to treat an enlarged spleen or lymph nodes. In some cases, the spleen may be surgically removed.
If you're preparing to start CLL treatment, there's good reason to be optimistic. Though there is still not a cure, much progress has been made in treating this leukemia over the last several years. Patients are achieving longer periods of disease-free remission with treatments that are better tolerated than in the past. Meanwhile, research continues to explore different ways of combining existing CLL treatments, and many promising new targeted therapies and immunotherapies are expected to become available in the future.
Was this helpful?