How to Get the Most Out of a Virtual Doctor Visit for Chronic Lymphocytic Leukemia
Medically Reviewed By William C. Lloyd III, MD, FACS
Was this helpful?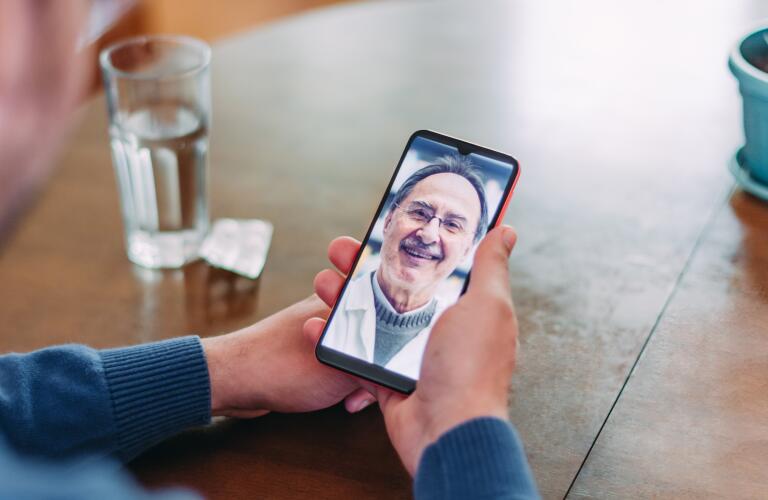 Thanks to advances in technology, doctors around the country are using telehealth to provide patients with the care they need, even if they can't make it to the doctor's office. Telehealth enables you to meet with your doctor virtually over phone call, video chat, or even text message. If you don't have any experience using telehealth for chronic lymphocytic leukemia (CLL), you may wonder how to make sure you get the most out of your appointment.
Fortunately, it's easy to prepare to meet with your doctor online, even if you've never done it before. And using telehealth for continued treatment can do more than just keep you safe from contagious diseases—it may also save you a significant portion of time and money. If your doctor offers CLL treatment online, learn more about how you can prepare.
If you have CLL, you may already know you're at higher risk for infections. It's especially important to be careful during an infectious disease outbreak or flu season. But using telehealth for chronic lymphocytic leukemia does more than prevent the spread of germs:
It's more convenient. It's possible to participate in a telehealth appointment from almost anywhere, if you have an internet connection. But most people using telehealth interact with an online oncologist from the comfort and privacy of their There's no need to spend time traveling to and from your appointment, and you receive the same detailed level of care from a licensed physician.
It gives you greater access. Doctors often refer people living with CLL to specialists, but one may not be available in your geographic location. However, CLL treatment online makes it possible to connect with oncologists around the country.
It saves you money. In some cases, the cost of a telehealth appointment is less than an office visit. Medicare now covers telehealth appointments at the same rate as in-person appointments, as do many private insurers. Always check your coverage in advance to make sure.
To prepare for your telehealth appointment, you'll first need to find out if your visit will take place over the phone or via live video conference with your doctor. If your doctor conducts telehealth sessions over video, you'll need to make sure your computer, smartphone, or tablet is working and charged; additionally, check to confirm your webcam and microphone are functioning well, and make sure your internet connection is strong.
Your doctor may use a private patient portal website to conduct appointments. In this case, you'll need to decide on a username and password for your account. Take a minute to register with the portal before your appointment time. Your doctor may also request you download a specific app onto your smartphone or tablet, and this should be completed prior to your visit.
You can take other steps to prepare for your virtual doctor visit:
Fill out your paperwork. Your doctor may ask you to fill out paperwork before your online appointment, just like you would if you were going into a medical office. Be sure to complete these forms before your consultation so your doctor has all your information available.
Pick a private, quiet location. It's important to consider the setting for CLL treatment online. Crowded, noisy areas can interrupt your conversation and make it difficult to focus on what your doctor says. Instead, try to pick an area of your home that's quiet, well-lit, and private.
Have a pen and paper handy. It can be very helpful to have a pen and paper ready to write down any notes or questions you may have. Then, you can look back over your notes if you forget something after your appointment.
Have someone join you. You may also find it helpful to have a family member or close friend join you during your appointment. This person may bring up concerns or questions if you forget.
Using telehealth for chronic lymphocytic leukemia may be a great option for you to stay safe while continuing your care. If you're interested in this option, your doctor can help you decide whether you'd benefit from this treatment approach.
Was this helpful?