How Targeted Therapies Work to Treat CLL Leukemia
Was this helpful?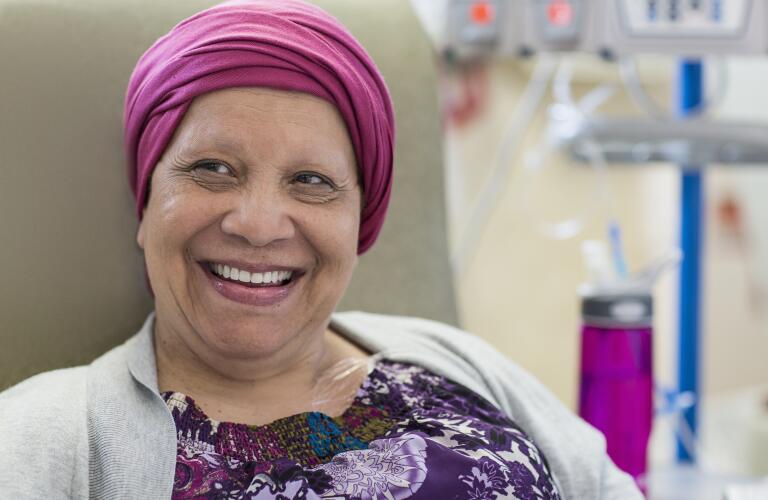 If you have chronic lymphocytic leukemia (CLL), your doctor may recommend you try targeted therapy as part of your treatment plan. CLL is a type of cancer that begins in the bone marrow, where your blood cells are made. CLL specifically involves a select group of white blood cells called lymphocytes, which help your body fight off infection. Targeted therapy is a newer type of treatment for many cancers, including CLL. In fact, standard treatment for CLL involves combining chemotherapy and a form of targeted therapy called monoclonal antibodies. Other types of targeted therapy can be part of first-line CLL treatment, too. If you and your doctor have decided it's time to start CLL treatment, knowing how targeted therapy works can help prepare you for what to expect.
Targeted therapy works differently than standard chemotherapy to treat CLL.
Chemotherapy—or chemo—is a standard CLL treatment. Chemo kills rapidly dividing cells, such as CLL cancer cells, or stops them from growing. Unfortunately, chemo also affects healthy cells that normally grow and divide rapidly, such as the cells of hair follicles and digestive tract lining. This accounts for some of chemo's side effects, including hair loss and diarrhea.
In contrast, targeted therapy only affects cancer cells, leaving other healthy cells alone. Your doctor may have explained to you how cancer develops: when the genes that regulate cell function change, or mutate, this alters how the cell works, and it may start to multiply rapidly or live longer than normal. Targeted therapies can work on the critical pathways that trigger these actions. Additionally, targeted therapies can act on specific proteins of the cell, or the cell's environment, in order to block cancer cell growth.
Monoclonal antibodies are a type of CLL targeted therapy.
Monoclonal antibodies are man-made versions of antibodies. Antibodies are proteins that attach to invaders, such as bacteria, identifying them so the immune system can destroy them. In cancer treatment, monoclonal antibodies target and attach to cancer cells. You can recognize these drugs by their names—they end in -mab, for monoclonal antibody.
You receive monoclonal antibody therapy either as an injection or an infusion. The monoclonal antibodies for CLL target two different cellular proteins: CD20 and CD52.
CD20 is a protein on the surface of B lymphocytes, one of the white blood cell types that CLL affects. Drugs that target CD20 include:
Obinutuzumab (Gazyva), which can be a first-line treatment for CLL in combination with other drugs

Ofatumumab (Arzerra), which is mainly an option when CLL stops responding to other treatments

Rituximab (Rituxan), which is often a main treatment in combination with chemo
CD52 is a protein on the surface of T lymphocytes, another type of white blood cell. Currently, there is one drug that targets CD52:
Alemtuzumab (Campath), which is mainly used when other CLL treatments aren't working. It is sometimes a first-line treatment, such as when doctors find CLL with a chromosome 17 deletion; this means part of your chromosome 17 is missing, which can change how your body responds to CLL treatment
Small molecule drugs are the other type of CLL targeted therapy.
Small molecule drugs target specific processes that occur inside cancer cells. These drugs can also target processes inside normal cells that perform functions the cancer cell needs to grow and spread. They typically work by interfering with or inhibiting an enzyme. You can recognize these drugs by their ending -ib, for inhibit.
The small molecule drugs that treat CLL come as either tablets or capsules. The main type of small molecule drug for CLL is a kinase inhibitor. Kinases are enzymes that relay signals to cells. There are many different types of kinases, but the two main ones that CLL drugs target are Bruton's tyrosine kinase (BTK) and phosphoinositide 3-kinase (PI3K).
BTK plays a role in survival and growth of CLL cancer cells. Drugs that target BTK include:
Acalabrutinib (Calquence), which can be initial therapy or as an option when other CLL treatments fail

Ibrutinib (Imbruvica), which is often first-line therapy, but is also useful in recurrent CLL and treatment-resistant CLL, such as when a chromosome 17 deletion is present
PI3K helps control cell growth and is overactive in CLL. Drugs that target PI3K can help treat CLL when other treatments have failed. The drugs in this class include:
Duvelisib (Copiktra)

Idelalisib (Zydelig)
Another type of small molecule drug for CLL treatment is the B-cell lymphoma-2 (BCL-2) inhibitor. BCL-2 helps CLL cells survive longer by delaying cell death. Drugs that block BCL-2 will cause CLL cells to die. Currently, there is one drug in the class for treating CLL:

Researchers are studying new CLL treatments using targeted therapy.
There are several new monoclonal antibodies in various phases of clinical research for treating CLL. This includes checkpoint inhibitors like nivolumab (Opdivo) and pembrolizumab (Keytruda). Checkpoint inhibitors are a form of targeted therapy that target a switch in the immune system. When drugs turn on the switch, the immune system can see cancer cells better and attack them. Doctors have used checkpoint inhibitors in other blood cancers, such as multiple myeloma. They hope to see benefits in using these drugs to treat CLL, as well. To find out more about new CLL treatments and trials, talk with your oncologist.
Was this helpful?