PATIENT VOICES

Chronic Lymphocytic Leukemia: Vincent's Story

Was this helpful?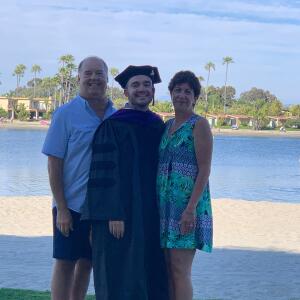 Chronic lymphocytic leukemia (CLL), a slow-progressing cancer of the blood and bone marrow, is the most common type of leukemia in adults.
Dr. Vincent Turosky, a chiropractor in northeastern Pennsylvania, shares his experience with CLL treatment and offers tips for others starting out on their journey.
Not everyone with CLL experiences symptoms before their diagnosis, but I did. Lymph nodes in my neck and groin were enlarged and I had difficulty swallowing. My nasal passages felt blocked and it was hard just to talk. I also had limited range of motion–it was challenging to eat or lean over. My right leg swelled with lymphedema, and I learned through testing that my spleen had become enlarged, as well. I knew something was wrong and I was concerned about what I could do about it.
I went in to see a surgeon and had a biopsy. The doctor gave me the diagnosis with my wife present and did an excellent job explaining everything thoroughly. I asked a million questions and got answers that helped me think positively. I decided to get another opinion at a cancer-specific hospital, and ended up undergoing treatment there.
My care team was established and I spoke with two hematologist-oncologists, Dr. Pamela Crilley and Dr. David Topolsky, about my treatment options. I appreciate this "tag team" approach because I get ideas and opinions from both doctors. I enjoy the balance of their two different styles. I moved forward with treatment as soon as possible. I felt positive about the daily oral medication my care team determined would be the most effective option for me, and they made sure I fully understood the plan.
I have an incredible support team made up of family and friends, chiropractors, health coaches, an acupuncturist, and more. I continue to read about CLL and educate myself on what's new, and I also turn to personal techniques that I've used for years to boost my emotional wellbeing, like meditation and practicing mindfulness.
CLL affects my life to some degree. CLL treatment can cause anemia, which I manage. I feel fatigue some days, and my stamina is not the same as it used to be. I am less active than I was before, and I have scaled down in my career.
Do not ignore the early signs of CLL. Personally, I would have liked to start treatment earlier, but I wasn't diagnosed until my symptoms were severe. It is important to be aware of all of your symptoms and not accept them as normal.
Build a support system that can be there for you mentally and emotionally. It is important to have someone who will be an advocate for you, check in with you about your symptoms and side effects, and be as informed as you are about your quality of life, treatment reactions, and possible complications.
When it comes to finding the right oncologist, I would recommend finding someone experienced, who has been around for a while and is open-minded and knowledgeable regarding integrative therapies. The "whole person" approach is important.
Dr. Vincent Turosky has been in the field of chiropractic for the past 30 years and lives in Laurel Run, PA with his wife, Marianne.
Was this helpful?