Building Your Leukemia Treatment Team
Medically Reviewed By William C. Lloyd III, MD, FACS
Was this helpful?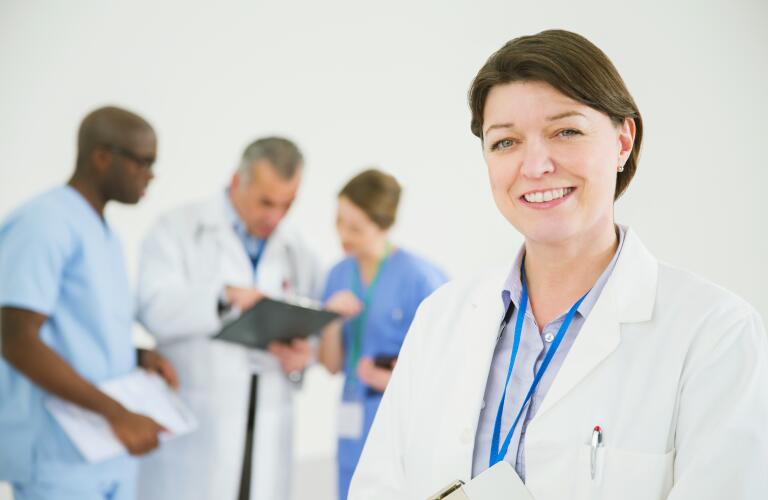 Being diagnosed with leukemia can be a frightening situation, and you could be feeling alone and powerless. However, you'll find you have many people on your side, ready to answer your questions and help you navigate the road ahead. While the first person you turn to will be your oncologist, he or she won't be the sole person caring for you. Many different healthcare professionals will be able to assist you in your treatment plan.
Besides your oncologist who diagnosed the cancer, you'll have one or more specialists on your team when you and your doctor have determined the right treatment for you. Physicians specializing in the type of treatment you choose will help you move forward.
Medical oncologist: If your treatment plan includes chemotherapy or other drug therapy, you'll have a medical oncologist on your team. He or she may be the person leading your treatment plan.
Bone marrow transplant specialist: Just as the title suggests, this doctor will lead the way if you will undergo a bone marrow transplant. This physician may also be a medical oncologist because a bone marrow transplant includes chemotherapy.
Radiation oncologist: This doctor would be in charge of your treatment plan if you'll be undergoing radiation to treat the leukemia.
When you begin your leukemia treatment plan, you may encounter unpleasant side effects and other symptoms of the disease. But you won't be alone in dealing with these issues.
Pain control specialists: These can include a variety of medical professionals, such as nurses, pharmacists, and pain medicine doctors, who are experts in pain control. The hospital or treatment center you choose may have these people available to help you manage pain.
Palliative care specialists: Similar to pain control specialists, palliative cancer care specialists also include doctors, nurses and pharmacists who will help you manage pain or other symptoms, such as fatigue, nausea or gastrointestinal problems. These healthcare professionals can help you at any stage of cancer, starting at diagnosis.
Psychologist: You may feel anxiety or depression after your diagnosis, and a psychologist or psychiatrist can help you maintain your mental well-being. This specialist can provide counseling or medication to help you cope with any mental health issues you may have.
Oncology social worker: While this person isn't a medical professional, he or she can be an invaluable asset to your treatment team. An oncology social worker can help you manage any financial problems that your treatment might cause. He or she can also help you coordinate housing or childcare if your treatment plan takes you to a care center away from home. The social worker can refer you to other specialists to help you manage symptoms as well.
Patient navigator: Because the medical system can be complex and overwhelming, a patient navigator can help guide you through the process. He or she will be your advocate in managing any problems that may come up.
Religious figure: If you would like to have spiritual support, you might choose to enlist a chaplain, priest or other clergy member for guidance.
Family and friends: These people will likely be the ones you lean on most, and they will also be your biggest cheerleaders. Ask them for help when you need it—anything from picking up groceries to taking you to doctor's appointments.
And remember, you are the first and most important member of your treatment team. You must be your own advocate by asking questions and taking an active role in your treatment plan decisions. Know your rights as a patient, and don't be afraid to get a second opinion if you're unsure about your diagnosis. The more you know, the better prepared you'll be to make the best choices moving forward.
Was this helpful?