Advances in Treating Mantle Cell Lymphoma
Was this helpful?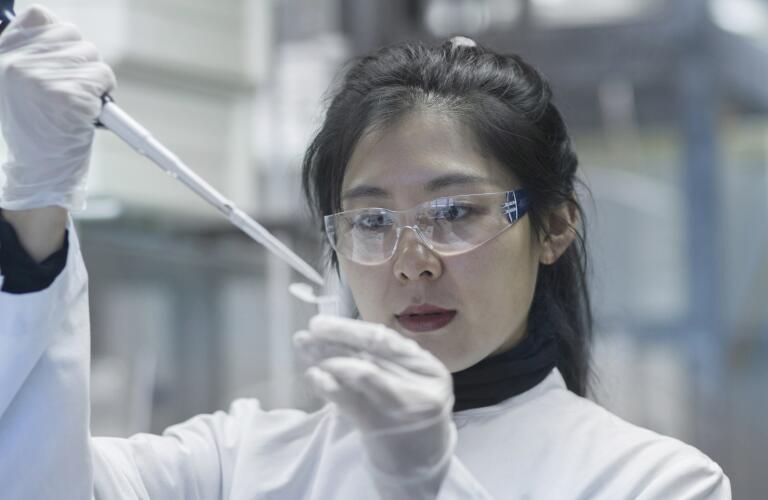 Mantle cell lymphoma is a rare type of non-Hodgkin lymphoma (NHL) that accounts for about 6% of NHL cases. Lymphomas are cancers that primarily affect cells in the lymphoid tissues. Mantle cell lymphoma is cancer of B-cells, which are a type of white blood cell. It gets its name because the cancerous B-cells originate in an area called the "mantle zone" within the lymph node. Because it is often widespread at diagnosis, doctors tend to treat it aggressively and quickly. Here is a look at some of the treatment advances doctors can use to battle mantle cell lymphoma.
To understand where some of these new therapies fit in, it helps to know about standard mantle cell lymphoma treatment. Doctors typically treat mantle cell lymphoma with chemotherapy plus immunotherapy—most often rituximab (Rituxan). Immunotherapy is a type of treatment that helps to boost your immune system's ability to fight cancer. Younger patients may also have a stem cell transplant after this treatment. Older patients usually take a prolonged course of rituximab following chemotherapy.
Relapse is common in mantle cell lymphoma. When this occurs, treatment often involves a combination of drugs that include a targeted therapy. Targeted therapies are medications that identify specific characteristics, proteins, or actions used by cancer cells to grow and multiply, and then prevent them from being effective. Some targeted therapy drugs also have approval for first-line treatment.
Mantle Cell Lymphoma Treatment Advances
The U.S. Food and Drug Administration (FDA) has approved several new treatments for mantle cell lymphoma in the last 10 years. These recently approved drugs are targeted therapies. They include:
Acalabrutinib (Calquence) was approved in 2017 to treat mantle cell lymphoma in adults with at least one prior treatment for their cancer. It's a BTK (Bruton's tyrosine kinase) inhibitor. BTK is a protein that plays a role in the survival and growth of some types of cancer cells. Acalabrutinib is related to ibrutinib (Imbruvica), another BTK inhibitor for mantle cell lymphoma. Acalabrutinib may have a better response rate than ibrutinib and lacks the bleeding and atrial fibrillation problems that may occur in some people with ibrutinib. However, no trial has compared them head to head.

Bortezomib (Velcade) gained approval in 2014 for adults with no previous treatment for mantle cell lymphoma. It is a proteasome inhibitor that was originally approved for previously treated patients. Proteosome inhibitors block a pathway that breaks down excess proteins in cells. As proteins buildup inside the cell, it stops growing and dies.

Ibrutinib (Imbruvica) was approved in 2013 for people with at least one prior mantle cell lymphoma treatment.

Lenalidomide (Revlimid) gained approval in 2013 for people who have already received two prior treatments for mantle cell lymphoma. It works by blocking new blood vessel formation and stimulating cancer cell death.

Zanubrutinib (Brukinsa) is also a BTK inhibitor for previously treated adults with mantle cell lymphoma. In clinical trials, its response rate was similar to, or even better than, acalabrutinib's. But again, there has been no head-to-head comparison of the two.
New Mantle Cell Lymphoma Treatments Under Study
Several clinical trials are currently studying new treatments for mantle cell lymphoma. Some of these trials are looking at new drugs, while others are researching new combinations or uses for existing drugs and treatments. Potential treatments under study include:
CAR-T cell therapy, which is an immunotherapy doctors have been using for other blood cancers. CAR stands for chimeric antigen receptor. The process involves removing a patient's T-cells (a type of white blood cell) and genetically modifying them to attack mantle cell lymphoma. After they're genetically modified, doctors put them back into the patient.

Ibrutinib in combination with rituximab as first-line treatment in at least two studies. One is studying it in older adults without any prior treatment. The other is looking at the combination with chemotherapy afterwards in younger adults.

Idelalisib (Zydelig), which is a targeted therapy with approval for treating chronic lymphocytic leukemia (CLL). Researchers are exploring its use in combination with chemotherapy, monoclonal antibodies, and other drugs in mantle cell lymphoma patients who have already had multiple treatments.

Ofatumumab (Arzerra) is a monoclonal antibody that is useful in treating other blood cancers. Studies are looking at it alone and in combination with other drugs as first-line and relapse therapy for mantle cell lymphoma.

Umbralisib (TGR-1202) is an experimental drug in the PI3K class of targeted therapy drugs. There are several clinical trials of this drug looking at its safety and effectiveness for various blood cancers. One study in mantle cell lymphoma is combining it with ibrutinib. This combination targets two different B-cell proteins.

Venetoclax (Venclexta) is a targeted therapy with approval to treat other blood cancers. Researchers are studying it alone and in combination with ibrutinib.
There is also other research in the preclinical phase, meaning it hasn't been tested in humans yet. One example is the BET (bromodomain and extra-terminal domain) inhibitors. This would be a totally new targeted therapy approach for mantle cell lymphoma should it progress to clinical trials.
All of this is good news for people facing a mantle cell lymphoma diagnosis. It means scientists are continuing to advance treatment for this rare lymphoma. Talk with your hematologist-oncologist for more information about cutting-edge mantle cell lymphoma treatments.
Was this helpful?