4 Hematologist-Oncologist Tips for People With Chronic Lymphocytic Leukemia
Was this helpful?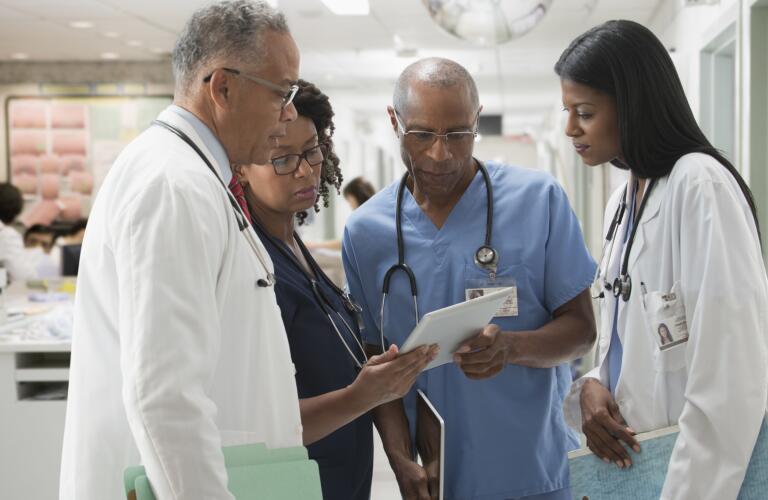 As we look at our current era of cancer treatment and how much we're learning about the biology of chronic lymphocytic leukemia (CLL)–not to mention how we're able to better target treatments to specific individuals–there's been so much growth in this field. This growth was what first inspired me to become a hematologist-oncologist, a medical specialist who focuses on treating cancers that originate in the blood, like CLL–and the momentum has continued to ramp up over the years.
Even though it's an exciting time for the field, and there are many new treatments available to treat CLL, receiving a diagnosis can be overwhelming and frightening. But by educating yourself and finding a hematologist-oncologist you trust, you can make the process easier and more meaningful. As someone who values my relationships with patients above all else, here's what I want them to know.
Every case of chronic lymphocytic leukemia is different, and every patient I treat is different. CLL tends to grow really slowly and doesn't always require immediate treatment. That means we'll enter a "watchful waiting" period, where patients check in regularly with me but don't take any medications for a while. Some patients are glad to not have to take any therapies, while others feel anxiety about knowing they have cancer without being able to do anything about it.
I'm dedicated to patient education. I feel like patients need to know what their disease is, what's happening in their body, and why we're choosing a specific therapy to fight their CLL (or delaying treatment). I want them to know what to expect, even though that can vary and we can't predict the future. But to me, educating patients allows them to have a better idea of the questions they want to ask me, especially because at the time of diagnosis, people can be scared, in shock, and feel confused about what's coming next.
My point is, no matter what we decide regarding your treatment, I want you to be as educated as possible about the decision-making process. Even if we decide not to start treatment right away, I'm still here to answer any questions you have about the future. Watchful waiting doesn't mean we're doing nothing for your cancer. It means we're delaying active treatment while still checking in often, performing tests to see if your CLL has progressed, and staying in touch so we're both on the same page. I teach my patients the symptoms to look out for that can signal their CLL is progressing, but even before that happens, I'll still be thinking about you and what treatments may be best so we're ready to take action once we decide it's time. Just because you're not actively treating doesn't mean you're alone in this. Your medical team will be with you every step of the way.
If you're in a watchful waiting period, or if you're actively treating your CLL, making positive lifestyle changes can make a big difference. People on active therapy may have more restrictions, but in general, it can really help to maintain a positive attitude, rely on a strong social support system, exercise, eat a healthy diet, and maintain a healthy weight. That way, down the road once you do start treatment, or start a more intense treatment, you're in better shape to tolerate it and benefit from a better outcome. For those who are not yet treating, I highly recommend getting regular exercise and maintaining a generally active lifestyle. Staying active not only helps your body get stronger and more resilient, but it also improves your mental health during a time that can be really stressful. When you're receiving treatment, talk to your healthcare team about your exercise options and what makes sense for you. Be mindful of your symptoms and treatment side effects and track if they change based on your activity level, letting your doctor know anything you find. And, of course, quit smoking if you smoke, lower alcohol intake, and just lead the healthiest life you can. Improving your overall health is going to help your body manage side effects and lead to better outcomes.
Once we do begin treatment for CLL, it can last for many years, like treating a chronic disease. I always tell my patients to think of cancer treatment as one part of your life–not your entire life. I still want them to enjoy the things they enjoy, and one way to help them do that is, again, education. I give them as much insight as I can about their disease and treatment, so they can live their daily lives feeling confident in their understanding of what can come next. A lot of patients have anxiety when we do follow-up tests and scans to check on CLL's progression, and they stress about what their next treatment will be if their current one fails. I try to give them as much clear information as possible so they can feel prepared with expectations about the next steps, rather than let the wondering and worrying consume them. I include them in treatment decisions and explain why I think the best route is the way to go, and then share other potential options down the road. I make sure they know I've got a plan B in mind already, so we're not scrambling if or when plan A doesn't work. I tell them that genomic testing helps me better understand their specific case of CLL so I'm making informed decisions about their care. And this testing gives us lots of insight into what therapies are more likely to be effective so we can skip ones that don't look as promising for that specific person. I also let them know about clinical trials they could be good candidates for, so when the time comes to look into that option, they have a better understanding of the risks and benefits and we can make an informed choice.
I find when patients have more information about their leukemia, they feel more confident about what to expect moving forward and there's more space in their lives to focus on their normal routines and interests. That's a big reason why it's so important to find a hematologist-oncologist you trust and can develop a strong relationship with. If you don't feel like you're a partner in your care, it may be time to look for someone else who can put you more at ease and empower you to understand your leukemia while not letting it take over your life.
Many of my patients, whether they are in watchful waiting or actively receiving treatment, can live relatively normal and full lives for years. I can think of lots of people I care for who take daily medications and feel strong; they continue to travel, enjoy time with family and friends, and don't allow CLL to impact their day-to-day lives in a big way. If you stay in contact with your healthcare team, take care of your overall health, and take medications as prescribed, CLL doesn't have to get in the way of what's important to you.
Was this helpful?