3 Hematologist-Oncologist Tips for People With Chronic Lymphocytic Leukemia
Was this helpful?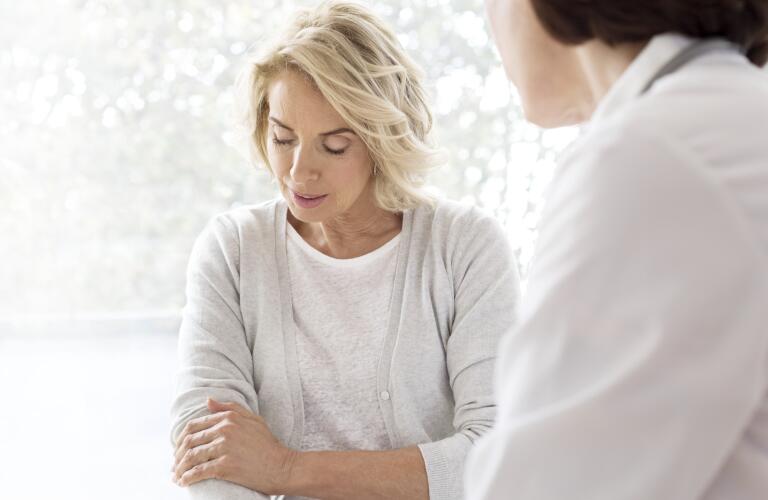 As a hematologist-oncologist, I take care of people with cancer that affects their blood. I see a lot of patients with lymphomas and leukemias; a large percentage of my patients have chronic lymphocytic leukemia (CLL), the most common leukemia found in adults. CLL is a cancer that impacts the lymphocytes, which are a type of white blood cell in the bone marrow. Cancerous lymphocytes grow rapidly and make new cells, eventually spilling out of the bone marrow and into the bloodstream. This can ultimately cause trouble by reducing healthy blood cells, causing fatigue, or affecting other organs.
CLL is typically a slow-moving cancer, and the good news is we're learning more about it every day. Our deeper understanding of this leukemia is leading to new treatments that can improve patients' quality of life and outcomes, and it's rewarding to be able to provide even better care to my patients living with this type of cancer. CLL is different than other cancers in that it moves slowly, and that can lead to anxiety and lots of questions. Here's what I want my patients to know.
CLL can be found at different stages. For many people, it's detected on routine bloodwork that shows an elevated level of lymphocytes in the blood. Oftentimes, these people have no symptoms, so the first step is to determine if treatment is needed or not. Typically, people with early stage CLL don't need any therapy until their cancer progresses–and that can take months or years. Some people have CLL their whole lives and never need treatment because it doesn't cause any trouble. For those with early stage CLL, we practice "watchful waiting," which means we watch it carefully to see if it progresses. Patients will come in for testing on a regular basis. We've studied CLL extensively and know that early treatment doesn't improve outcomes, and in fact, the side effects of treatment can make quality of life worse unnecessarily. For these patients, we consider CLL more of a chronic disease that's actively monitored. If they start to experience symptoms like enlarged lymph nodes, sustained fatigue, weight loss, or night sweats, we ask them to call us immediately, and go from there.
For others, their CLL is diagnosed in later stages, so they may be experiencing symptoms already, and we will almost certainly notice a high lymphocyte count on their blood tests. In these cases, the next step is to determine the right treatment for them.
It can be hard to be told you have cancer and learn you're not immediately going to treat it. But I want patients to know that just because it's not being treated, it doesn't mean their physician isn't thinking about them and looking out for their health. As your hematologist-oncologist, I'm with you the whole way during this journey. Based on your individual case and genetic testing, I'll be ready with a treatment plan if/when your CLL progresses and it's time to start treating. I tell my patients undergoing active observation that now is a good time to be doing that–new treatments are currently being studied and coming to the market, so you may have even better options down the line when it's time to treat your leukemia. Personally, I'm a "doer" and I like to take action, so I understand it can be hard to feel like you're not doing anything to fight your cancer. But watchful waiting for early CLL is in your best medical interest. Trust that your doctor has a plan ready for when you need it, and try to focus on other aspects of your life as much as you can.
If your anxiety about watchful waiting is really impacting you, this is normal; don't be afraid to tell your doctor. I often refer patients to counselors who can help them work through their stress. I've seen firsthand how much people benefit from talking through some of their anxiety triggers and learning coping mechanisms to deal with their diagnosis. Additionally, I recommend my patients check out the resources and support offered by the Leukemia and Lymphoma Society or other patient education groups. They can connect you to local support groups and get you in touch with people who know your specific anxieties because they've felt them, too.
We have developed a deeper understanding about the different factors that affect the behavior of CLL and the response of the leukemia cells to chemotherapy. Therefore, once we determine it's time to start treatment, we will order genetic testing on the CLL cells in addition to the usual CAT or PET scans. This information helps us predict which treatment someone is likely to respond well to, so we don't have to waste time and energy trying other therapies. This way, patients get the most effective treatment for them without suffering through needless side effects of therapies that aren't a good match. Many people with certain genetic mutations can avoid chemotherapy–and its side effects–off the bat, thanks to newer medications like ibrutinib (Imbruvica), venetoclax (Venclexta), and rituximab (Rituxan) or other CD20 antibodies. These drugs target parts of your cancer cells to inhibit them from growing and spreading. And side effects tend to be mild, although they can include diarrhea, fatigue, and low blood counts which can increase your risk of infections, a heart condition called atrial fibrillation, and bleeding. For the most part, my patients do well on these drugs, although I emphasize to them the importance of letting me know about their side effects. We can make changes to your treatment if side effects are significantly impacting your quality of life, so there's no reason to keep it to yourself.
Some people with CLL will benefit most from traditional chemotherapy, and side effects can be a challenge. I tell my patients that improving overall health through diet and exercise may help make the chemo process more tolerable. Plus, we have more chemo options if your heart and kidneys are healthy. Stay on top of your blood pressure and cholesterol levels, and make sure to see your family doctor regularly so you're taking care of your body as a whole.
Receiving a diagnosis of cancer is scary, and learning you may live with it for many years can be really overwhelming. But we're learning a lot about CLL and know more than ever before, which has led to treatment breakthroughs that can make the process easier. Find a hematologist-oncologist who you trust and feel comfortable with, lean on friends, family, and other patients for support, and know that your medical team is working hard to keep you healthy.
Was this helpful?