Recovery After Knee Replacement: What to Expect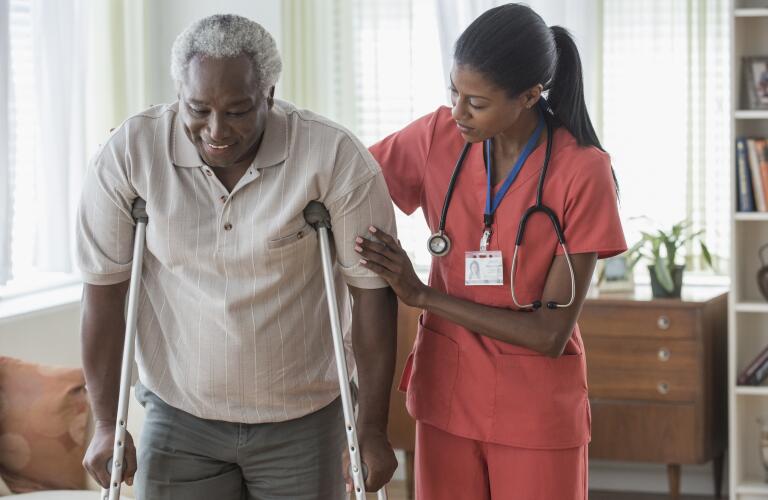 Your knee is the largest joint in your body. Replacing it with an artificial joint has a good track record in returning most people to an active life. But it is major surgery that requires you to set aside enough time for a full and thorough recovery. While everyone experiences knee replacement recovery differently, there are some common elements to it. Here is a general knee replacement recovery timeline so you know what to expect if you decide to have this surgery.
In most cases, you will stay in the hospital after a knee replacement. The average hospital admission lasts from 1 to 4 days. The number of days depends on the type of surgery and your overall health. You will start exercising your new knee the day of or the day after surgery. Some doctors use a continuous passive motion (CPM) machine. The CPM moves your knee for you while you are in bed with your knee elevated. This can help reduce swelling and prevent blood clots.
Before you can go home, you will need to achieve several goals. This includes being able to get in and out of bed without assistance and being able to walk using a walker, crutches or cane. Your care team will also need to verify that you can perform your home exercise program. A physical therapist will help you reach these goals.
You will continue working with a physical therapist once you are home. The therapist will teach you strategies to protect your knee. You will also continue to work on knee replacement recovery exercises. These exercises are important. They will speed your recovery and put you on the road to regaining your independence.
Pain and discomfort will be a reality during this early time frame. You will have pain medicine to help you get through it. Taking it before doing your rehab exercises will improve your comfort and tolerance. During this time, it's also important to keep your incision clean and dry until it has healed. At the end of this recovery period, your doctor will remove your stitches or staples.
Pain and discomfort should gradually improve during this part of knee replacement recovery time. However, discomfort with activity and at night is still common. Tell your doctor or therapist if your pain is not improving or if it is getting worse. This could be a sign of a complication.
Your main focus during this recovery period will be increasing your activities. Your home exercises are essential for a good recovery, as is getting daily physical activity. Your home rehab plan will likely have you completing your exercises several times a day. Walking will be one of the best things you can do to increase movement in your knee. Your therapist will continue to adjust your rehab program, adding and changing activities as you heal. Eventually, you will be climbing stairs and using an exercise bike to improve strength and endurance.
Staying committed to your home exercises will help you regain knee function and strengthen its supporting muscles. Outpatient physical therapy will also continue during these weeks. As you progress, your leg will be able to bear more weight and you will walk without assistance. Your therapist will let you know when you can go from walking around your house to walking outside. Gradually, you will increase the distance you walk.
Most people can resume some light daily activities during this time. But you will need to make some adjustments to keep yourself safe at home. Here are some knee replacement recovery tips to consider before surgery:
Create a first-floor living and sleeping space to use during these first weeks when navigating stairs will be challenging.

Find a footstool or ottoman so you can elevate your leg.

Get a shower bench and raised toilet seat for your bathroom.

Install safety bars and handrails in your bathroom.

Remove rugs, cords, and other potential tripping hazards.
You will need help with household tasks, such as laundry and cleaning, while you heal. If you live alone, your care team can help you find assistance in your home. Sometimes, a stay in a rehab center is necessary for people to return home safely.
This is the recovery period when life starts to get easier. Most people return to their normal activities, including work and driving. However, it's important not to push too hard. You will likely still have some weakness and limitations on your activity. Your strength and abilities will continue to improve in these months after knee replacement. Your doctor will let you know when it is safe to return to sports and other strenuous activities. Keep in mind, you may never be able to return to high-impact activities, such as running or sports involving jumping.
Full recovery from knee replacement surgery can take six months or longer. Your new knee should have improved motion compared to before surgery. But many people still have some stiffness and limitations in range of motion. Most people will be able to almost fully extend their new knee. And while kneeling won't be harmful, it may be uncomfortable. It's also common to feel or hear clicking when you walk. All of these issues tend to get better with time. Maintaining your strengthening exercises will help stabilize your knee and prevent future problems.
Was this helpful?