How 3D Printed Knee Replacements Work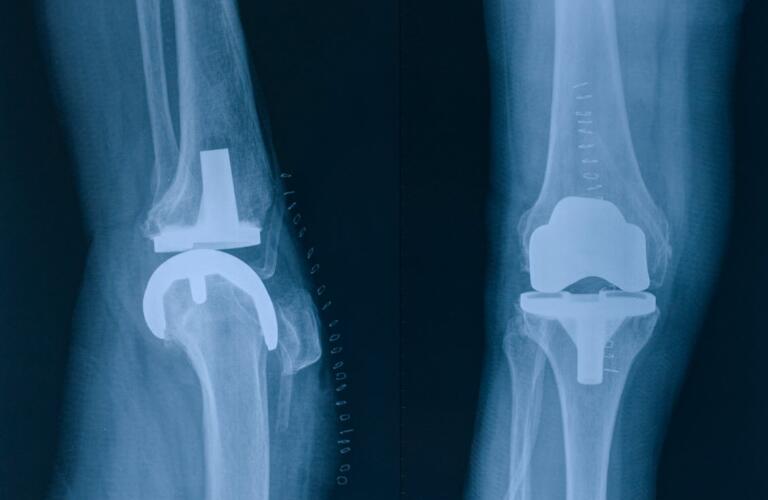 Your knee joint is unique. It is not the same size or shape as anyone else's. If you need to have knee replacement surgery, why not get a customized knee replacement that looks identical to your natural knee joint? Today, you can do just that.
3D knee replacements have been approved for use by the Food and Drug Administration since 2011, and many people say a customized joint replacement feels much more natural than an "off-the-shelf" knee implant. Learn more about how 3D printed knee replacements work, and whether your health insurance will cover the cost of this customized joint.
The original prosthetic knee joints were one-size-fits all, which means they didn't really fit anyone. Manufacturers recognized this problem and began to manufacture artificial joints in various sizes to better suit an individual patient's needs.
However, size is not the only unique aspect of a knee joint. The shape of the joint and the angle at which the femur (thigh bone) meets the tibia (shin bone) varies significantly between people. Even the precise placement of various ligaments in the upper and lower portions of the knee joint can be different among individuals. When using one-size-fits-most implants, some surgeons had to remove certain ligaments and tendons in order to make the joint fit.
The advent of 3D printing technology made customized knee joints a possibility. Today, many orthopedic surgeons recommend custom-printed knee joints, in part because some studies suggest that patients who receive customized knee implants recover faster and experience fewer postoperative adverse events than patients receiving a traditional knee implant.
Receiving a customized prosthetic knee joint involves more steps than receiving a traditional knee implant, including:

Obtaining high-resolution imaging of the knee joint
Creating a computer model of the natural joint
3D printing of the custom joint by the manufacturer
Implanting the joint using computer modeling to determine angle of placement and other surgical approaches
3D printing of knee joints usually employs a technique called "additive manufacturing." The printing material is applied in layers, one on top of the other, until a precise model of the natural joint has been created. 3D artificial knees can be made of metals, plastics, or a combination of the two, just like traditional prosthetic joints.
Sometimes, orthopedic surgeons also order customized 3D printed tools to aid in placing the artificial joint during surgery. They may use computer programs that guide them in placing the prosthesis at the precise angles required to mimic the natural knee's function.
As with any orthopedic surgery, the cost of a joint replacement can vary widely between providers and where in the country the providers work. A 2019 study determined the overall healthcare cost for a customized total knee replacement was $18,585 (for the Conformis brand customized, individually made knee implant). This was about $1,600 less than the total cost for a standard "off-the-shelf" knee implant. Costs included Medicare reimbursement, preoperative imaging, and 12-month postoperative healthcare needs, such as skilled nursing care after surgery.
Most insurance companies cover the cost of customized, 3D printed knee replacements. Keep in mind that Medicare and other insurance providers negotiate with healthcare providers in determining the allowed amount for reimbursement, but the allowed amount and what the insurance provider pays varies. If you have medical insurance, your out-of-pocket costs will depend on your plan and other variables. Check with your insurer to find out about coverage limits and in-network providers before you explore this surgery.
Many patients say that a customized, 3D printed knee replacement feels as natural as their original joint. If an artificial knee is your next step for pain relief and more function, a customized implant might be an excellent choice.

Was this helpful?