PATIENT VOICES

Choosing a Knee Replacement Surgery

Was this helpful?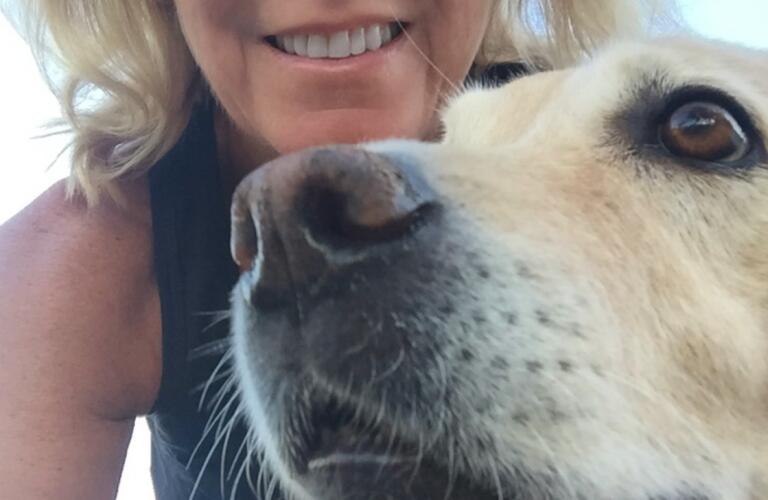 For me, an active lifestyle isn't just what I do for pleasure; it's been my work too. For years I worked for a supplier of frozen foods and was often carrying packages and arranging foods on shelves in different grocery stores. In those days, high heels were the norm for professional women. When I started my own faux-painting business, I was hauling buckets of paint and working on my feet for long hours. I did all this in addition to personal hobbies like water skiing, snow skiing, and yoga.
So when I started experiencing debilitating pain in my knees, I knew I had to make a change. After several, ultimately unsuccessful treatment plans, I found a doctor able to help me find relief.
A few years ago, I was working on a big painting project for a company. Not far into the job my right knee swelled up and I couldn't be on my feet. I went to a see doctor and got an MRI, which revealed two tears in my meniscus and a cyst on the back of my leg. The orthopedist I was seeing prescribed a Synvisc-One injection in my knee, a treatment designed to cushion the bone and treat arthritic pain. That shot staved off pain in my knee for a year and in the meantime, I moved to Florida.
There, I walked my dog for 1 to 2 miles a day until my knee started to really hurt again. My knee felt like when the tongue of your shoe gets out of place while you're walking, only more painful. I had found another orthopedist in Tampa, and ended up having surgery to repair the tears in my meniscus and move the cartilage that was out of place between my bones. Despite doing rehabilitation exercises and following the recovery plan, two months later I could barely walk again.
This time the doctor tried giving me cortisone shots every three months. A cortisone shot made me feel brand-new for a short time, but the pain always caught up to me again to the point where walking upstairs became excruciating.
During this time I went on vacation to Italy, thinking my cortisone shots would allow me to do everything I wanted there. I was wrong, and again my knee swelled up so badly that when I got home, it took two full syringes to drain the fluid that had pooled there. At this point I started looking for a different doctor, and after some research, began to consider the possibility I might need a knee replacement.
I had done everything I was supposed to do in my treatment. I had done the rehabilitation exercises, I had taken the shots I needed, and I had lived a healthy lifestyle. When the treatments weren't working, I realized it wasn't just my meniscus that was troubling me. After asking around and doing some research online, I found a clinic called Coastal Orthopedics and was impressed by the orthopedic surgeon I met there. He specialized in the knee, and told me I had bone-on-bone arthritis. Initially he recommended I go back to the Synvisc-One shot, but with an increased dosage and frequency. He said he thought I was too young to get knee replacement surgery since I would probably need to get another done in 15 to 20 years. But once I explained my history with knee issues and that I needed lasting relief, he agreed and we scheduled the surgery.
My procedure went amazingly well and I was again impressed by the medical staff. I remember feeling nervous waiting for the anesthesiologist to put me under, and the efforts he made to reassure me. When I was released after the procedure, I was able to walk out of the hospital. The preparation I had done through physical therapy really paid off, and my therapist told me I'm already ahead of the curve in my healing process.
I'm a big believer in alternative treatment methods and in homeopathic remedies. But when this wasn't enough to allow me to live fully, I bit the bullet and found a specialist willing to listen to me and to treat the root of the problem. I haven't looked back, and I expect to get back to my active lifestyle as soon as possible.
Know the Lifestyle You Want
I think people need to find a doctor they feel comfortable with. When I met with the orthopedic surgeon at Coastal Orthopedics, barely able to walk, I knew he was acting both as a caring person and as a professional. A critique I always hear of different practices is they just want you to spend money on a big procedure without considering other options. This surgeon actually counseled me against going straight to surgery, so I knew this wasn't the case with him. But when I explained that I was done with shots and done with therapies that didn't work, he heard me and made the necessary arrangements.
I would also tell anyone facing a surgery or a health-related decision to be sure to know what kind of lifestyle you want. I'm 57, recently retired, and I'm not ready to slow down. Before my knee issues started, I was enjoying feeling good and going to exercise classes, so I decided I wasn't going to let this problem put my life on hold. For me, that means sticking with the rehabilitation plan the doctor and physical therapist prescribed for me, even when it's challenging. I feel confident that having a good doctor and being proactive with my recovery means I will be back to 100% in just six months after my major procedure.
Was this helpful?