What to Expect With a Telehealth Appointment for Kidney Disease
Was this helpful?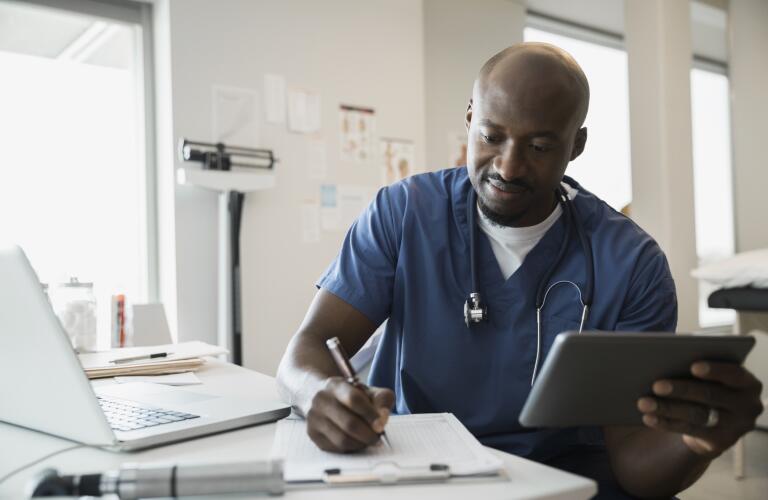 Your nephrologist suggests that you make a telehealth appointment for your next visit, but you're not entirely sure what that entails. You may wonder, does that mean a phone call? An online chat? A video call? An exchange of emails? While most telehealth appointments are conducted via phone or video call, you can also stay in touch with your doctor between visits using text messaging, emails, and other tools. Telemedicine technology allows a wide array of options for you and your doctor to connect.
When you schedule a telehealth visit with your doctor, be sure to get all the details about the technology requirements in advance. If you're planning a live virtual video chat, find out if you need to download an app or register online to use a particular telemedicine platform. If you're not sure, ask your doctor's office. They should be able to tell you what you need to know.
Typically, to use most teleconferencing platforms, you'll need:
A computer, tablet, or smartphone
Access to a web camera and microphone
A reliable high-speed internet connection
Don't wait until the day of your appointment to download the app or register online. If you happen to encounter any technical difficulties, you'll need plenty of time to get those sorted out before your telehealth appointment. If you're using a portable device, make sure it's charged up in advance, too.
Telehealth offers multiple ways for you and your nephrologist to exchange information about your kidney health. You may schedule a virtual doctor visit using teleconferencing software that lets you see and talk directly to your doctor, but you may also use some additional modes of communication before and after your virtual chat.
Here's one example. Your doctor's office may use text messaging to send you reminders about your upcoming telehealth appointments, to provide patient education, and to request information from you. Another example: your doctor may ask you to submit blood pressure readings electronically or with a telemonitoring device in order to review it prior to your next telehealth visit.
Also, some patients who are undergoing peritoneal dialysis at home may need to electronically submit data about their dialysis to their doctor, so their doctor can review it and discuss it with them.
If you're uncertain about how you'll be expected to contribute, be sure to ask. You and your doctor can discuss the best ways to make sure you both have access to data that will help you make informed decisions about managing your kidney disease.
As with any doctor's visit, give yourself some time to be ready for your appointment before it starts. Put your telehealth appointment on your calendar so you don't miss it. Find a quiet space where you can log on and connect with your doctor without any distractions, and let members of your household know that they shouldn't interrupt you during your call. Sketch out a list of questions or concerns that you wish to discuss with your doctor. Finally, grab a notepad and pen so you can take notes during your conversation with your doctor.
If you've never participated in a two-way video chat with your doctor, you may be curious or even skeptical about how useful it can be. You may be surprised. In many ways, it's very much like a regular visit to your doctor's office. Chronic kidney disease is all about effective management, and telehealth is a very effective tool for achieving that goal. A telehealth visit gives you the chance to talk to your doctor and ask your questions directly, without having to wait for a response to show up in your inbox or voicemail later on. It also gives your doctor the chance to raise questions with you, in case there are some concerns about your situation. Ultimately, it may even help you and your doctor identify potential complications before they get too serious so you can intervene early.
Was this helpful?