The Stages of Chronic Kidney Disease
Was this helpful?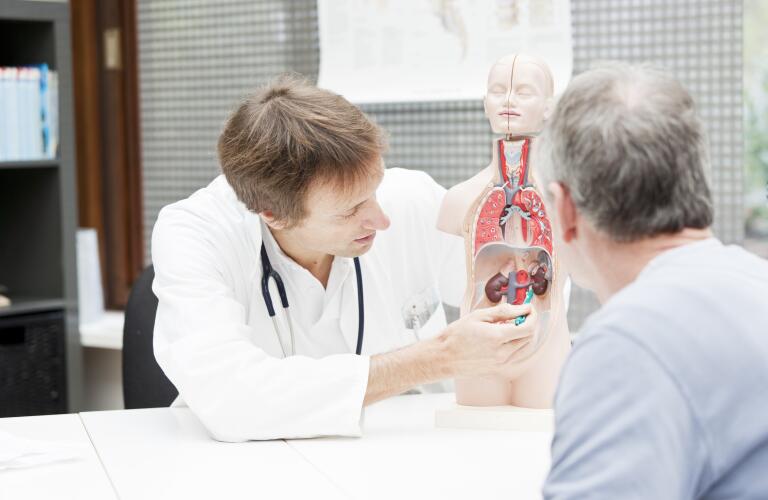 Chronic kidney disease (CKD) changes over time. Usually, it slowly gets worse as time goes by. At first, you might have few or no symptoms. Later on, your kidneys could stop working altogether. Doctors divide this range into what they call stages. CKD has five stages. The bigger the number, the more severe the disease. Your doctor will test your kidney function and monitor your symptoms to determine the stage of your condition.
This is the mildest stage of CKD. The kidneys are damaged but still working well. Stage 1 CKD usually has no symptoms. Doctors will detect it through blood and urine tests. If you or someone you know has risk factors for kidney disease, such as diabetes and high blood pressure, ask a doctor about screening for kidney disease.
Treatment for stage 1 CKD involves protecting your kidneys so they keep filtering waste products from your blood like they should. The term doctors use for this filtering is GFR. It stands for "glomerular filtration rate"—or how well your kidneys filter. You want to keep your GFR from dropping. A change in diet may help. For instance, you may need to eat less protein.
CKD also increases your risk of developing other health issues like heart disease. People with signs of kidney damage must take steps to prevent these health issues. That includes eating a healthy diet, getting regular exercise, and quitting smoking.
Stage 2 CKD is still mild. However, blood and urine tests show that your kidney function has started to decline. Because your kidneys aren't working as well, more waste may build up in your body. This can make your blood pressure rise. If you have stage 2 CKD, you may need medication to lower your blood pressure.
Your doctor also may tell you to shed any extra pounds. You may need to follow a low-protein diet too. That keeps your kidneys from having to work so hard. It's also important to limit your use of salt to help keep your blood pressure under control.
When CKD advances to stage 3, your kidneys are only working about half as well as they should. Some people with stage 3 CKD still do not have symptoms, but they may feel tired. You could also experience:
This can lead to more complications, like a low level of red blood cells (anemia) and heart disease. It's important to treat these other health issues to protect your kidneys and prevent more damage. This may include taking:
By stage 4, CKD has become severe. Your kidney function has dropped significantly. You are at greater risk for complications, such as:
In addition to changes in your diet, medication, and exercise, treatment for stage 4 CKD usually involves planning ahead for the next stage, which is kidney failure. This may include kidney transplant surgery or dialysis to remove waste from your blood. It's important to begin considering your options before kidney failure. You'll need time to prepare for these treatments.
Stage 5 CKD means you are in kidney failure. Most of your kidney function is gone. Kidney failure may cause several symptoms, such as:
There is no cure for kidney failure. However, doctors can treat it with a kidney transplant or hemodialysis. With a transplant, you get a healthy kidney from a donor. You will need medications for the rest of your life to keep your body from rejecting the new kidney. With dialysis, your blood is pumped into a machine, which filters it as it is pumped back into your body.
Was this helpful?