How to Get the Most Out of a Virtual Doctor Visit for Kidney Disease
Was this helpful?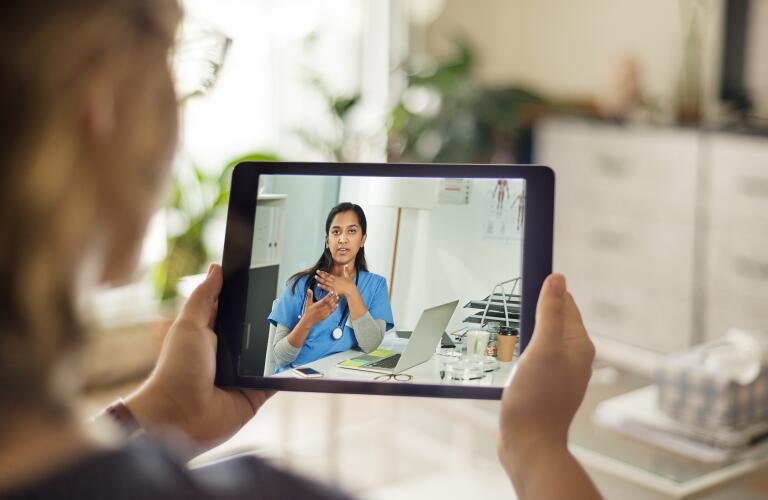 If you have kidney disease, you already know how important it is to meet with your doctor regularly to monitor your progress and help slow the progression of the disease. But there are times when traveling to your doctor's office to meet face-to-face isn't ideal. Fortunately, many doctors are using telehealth to stay connected with patients and continue treatment.
A virtual doctor visit for kidney disease differs from an in-office appointment, but connecting this way can still be as vital to your health. If you've never experienced telehealth before, you may wonder how you can truly get the most out of your visit. Learning more about receiving kidney disease treatment online can help you prepare for and get the most out of your meeting with an online nephrologist.
Online nephrologists are fellowship-trained and board-certified physicians; in fact, your virtual doctor visit will probably be conducted by the kidney specialist you already know. Telehealth visits can help your doctor monitor your health, check to see that your medications are working, and address any questions or concerns you may have. Your doctor may suggest telehealth to:
Counsel and educate you about your condition and treatment plan
Monitor your progress between regularly scheduled office visits or dialysis appointments
Prescribe, refill, or otherwise manage your medications
Review test results to evaluate your kidney function
Other conditions, like diabetes and high blood pressure, are risk factors for chronic kidney disease. Using telehealth technologies, you can send your doctor information like blood sugar logs or blood pressure readings for a specific period of time. Your doctor can review this information and use it to help guide your treatment.
Keep in mind that you'll probably still have to see your doctor in-person regularly to assess how well your kidneys are working. But telehealth appointments can bridge the gap between those face-to-face visits and prevent any interruptions in treatment.
Taking steps to prepare for your virtual doctor visit helps ensure you get the most out of the time spent talking with your physician. In most cases, doctors use telecommunication technologies, like smartphones or tablets, to virtually meet with you. Thanks to these tools, you can see and speak with your doctor in real time using your internet connection. And if you don't have internet access, don't worry. Some doctors prefer a simple phone call to check in and see how you're progressing.
If you'll be using video conferencing, it's important to make sure your internet connection is both strong and secure, since you'll be sharing personal health information with your doctor. Your doctor may ask you to connect using a private patient portal, or through an app. If this is the case, you'll need to ensure your login information works and that you have the app downloaded before your appointment.
You can take other steps to help make your appointment run smoothly, such as:
Ensuring your doctor has all information, such as blood sugar logs, before your meeting
Filling out any office paperwork your doctor requires before your appointment
Finding a quiet, private setting within your home where you can talk with your doctor openly and without distraction
Having another person join you to ask questions and help you remember information
Writing down notes from the session that you can refer to later
A virtual doctor visit for kidney disease can allow you to stay on top of your kidney health from the safety and comfort of your home. Your online nephrologist may suggest a telehealth appointment to manage your medications, educate you about your condition, review test results, and monitor your progress. If you're interested in this way of connecting, ask your doctor if telehealth could become part of your treatment plan.
Was this helpful?