PHYSICIAN VOICES

Expert Insights on Treating Autosomal Dominant Polycystic Kidney Disease

Was this helpful?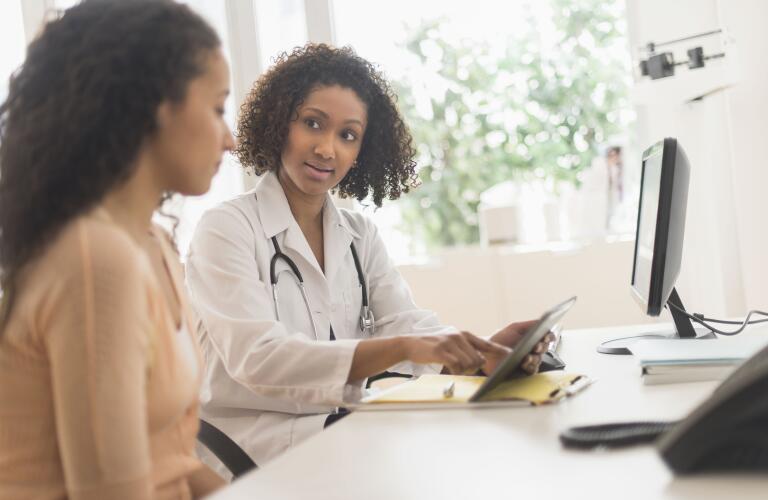 Autosomal dominant polycystic kidney disease (ADPKD) is the most common genetic kidney disease, and although there isn't currently a cure, it's important to work with a kidney specialist, or nephrologist, to slow its progression and manage the disease. Dr. Meyeon Park, a board-certified nephrologist and director of UCSF's Polycystic Kidney Disease Center of Excellence, shares what patients should know.
A: To put it simply, if you have autosomal dominant polycystic kidney disease, that means there's a mutation, or change, in a gene that affects the way your kidneys handle fluid. If you have a parent with ADPKD, you have a 50% chance of inheriting the condition. Because of this genetic defect, your kidneys will develop small cysts that eventually get bigger and bigger as more fluid accumulates inside them, which can lead to serious complications. Fortunately, there are treatments available and lifestyle changes you can make to slow down the disease progression, ease the complications, and allow you to live a relatively normal life.
A: With ADPKD, cysts can become very large and painful, and may even rupture, causing complications like bleeding, kidney stones, and a decline in kidney function. ADPKD can also cause high blood pressure and scarring of the kidney tissue; additionally, you may develop cysts in other organs, most commonly the liver, but sometimes the pancreas and spleen as well. You're at risk of developing a hernia, in which an organ protrudes through surrounding muscle or connective tissue. ADPKD can also cause abnormal heart valves and weakening of the blood vessels, which can cause aneurysms, especially in the brain. An aneurysm occurs when part of an artery wall weakens and bulges. If this bulge ruptures, it can cause internal bleeding, and if it's located in the brain, you may have a stroke. This list can sound scary, but your nephrologist will prescribe treatments that keep your condition as controlled as possible so you can avoid most of these problems.
A: The treatment depends on the stage of the disease and the symptoms a patient is experiencing. As a polycystic kidney disease specialist, I see many people early on in their lives before the disease progresses; since this condition is genetic, many patients know they're at risk and work proactively to stay on top of it. The number one consideration when it comes to treating ADPKD is managing blood pressure with angiotensin-converting enzyme (ACE) inhibitors like lisinopril (Prinivil) or angiotensin receptor blockers (ARBs) like losartan (Cozaar). We've learned from some research studies that aggressive blood pressure control early on in ADPKD may be especially beneficial. This can be a painful disease at times, so I may recommend patients take over-the-counter pain relievers like acetaminophen (Tylenol) or pursue alternative pain management strategies such as acupuncture. Some patients might get urinary tract infections, so I'll prescribe antibiotics in those cases.
We now have a medication that can directly impact the growth of the cysts. There are ways to gauge how quickly ADPKD is progressing in patients and make treatment decisions based on those results. If cysts have already grown quite a bit in a young person, I might consider initiating a new treatment, tolvaptan (Jynarque), that has been shown to slow disease progression. This drug blocks a hormone that influences cyst growth, and while cysts will still expand, they will do so more slowly. This preserves kidney function and keeps patients healthier for longer.
Ultimately, about half of people with ADPKD will need dialysis or a kidney transplant. But until that point, there's a lot we can do to slow disease progression and minimize complications.
A: We talk a lot in our clinic about diet, because new data suggests obesity is associated with worse outcomes in people with ADPKD. And since this condition also increases your risk of heart disease and often raises blood pressure, it's important to follow a heart-healthy diet that's low in salt and red meat and high in veggies. Drinking lots of water is also key.
I encourage my patients to take care of their mental health as well, and to make lifestyle changes that boost their mood and help them relieve stress. Living with a chronic, lifelong disease like ADPKD can be daunting at times, and there's a lot of anxiety associated with having a genetic condition. Not knowing how the disease will progress can be extremely stressful, so I try to help ease that burden by educating my patients, involving them in the discussion about their treatment plan, and recommending they receive guidance from a mental health professional if needed.
A: We've learned there are ways to control polycystic kidney disease if you start early, including aggressive blood pressure control, drinking lots of water, the new drug called tolvaptan that may slow down cyst growth, and other ways to manage various factors known to exacerbate the condition. We also know there's a lot of pain associated with the disease, especially as cysts grow larger. For these reasons, it's very important for PKD patients in early stages to be under the care of a nephrologist experienced in treating their condition. Look for a nephrologist with extensive experience treating PKD, who demonstrates an understanding of how painful the disease can get and shows a commitment to a patient's wellbeing. Often, the same PKD specialist will treat several members of the same family, so it's important to find a doctor you connect with and trust. With the right doctor and treatment plan, you can live confidently with ADPKD.
Was this helpful?