PHYSICIAN VOICES

5 Nephrologist Tips for People With Autosomal Dominant Polycystic Kidney Disease

Was this helpful?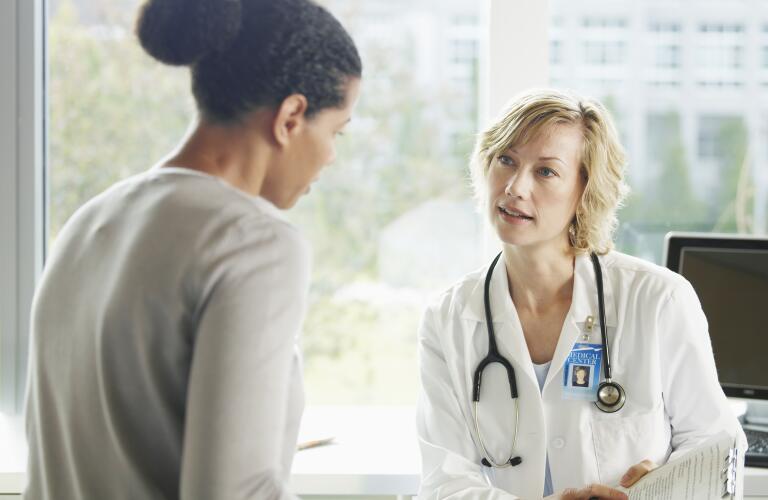 Autosomal dominant polycystic kidney disease (ADPKD) is a genetic disease in which cysts grow and multiply in the kidneys, preventing them from functioning as they should. As director of UCSF's Polycystic Kidney Disease Center of Excellence, I see many patients every day with this condition, and since it's inherited, I often get to know many members of a family and develop strong relationships that can last years. Although ADPKD can affect everyone in different ways, there are a few things I think patients should keep in mind.
ADPKD is a genetic disease; that means if one of your parents has it, there's a 50% chance you'll develop it as well. As a result, many of my patients know they have a family history and come to see me in early adulthood before the disease has progressed significantly, in order to maximally protect their health and stay on top of it. This is ideal, because by treating early, we can be proactive and take measures to keep kidneys healthy for as long as possible. Over time, the cysts caused by ADPKD will grow larger and larger, which can lead to kidney damage that causes high blood pressure, digestive problems and hernias, as well as increase the risk of heart disease, brain aneurysm, pregnancy complications, and ultimately kidney failure. If we start protecting the kidneys early, though, we can keep them healthy for longer and possibly delay the need for a kidney transplant or dialysis. Typically, we'll treat patients with blood pressure medication and lifestyle changes; in fact, we've learned through clinical studies that aggressively treating blood pressure early on in the disease may be especially beneficial. There's also a new drug called tolvaptan (Jynarque) that's specifically indicated to slow the progression of the disease. Tolvaptan is typically prescribed for people whose kidney cysts have already started to affect the kidneys or if there is evidence of a high risk of this happening. This isn't always the case in young people, but if you know you have ADPKD, it's important to seek care as soon as possible in case your specific case has progressed more quickly than expected.
One of the main concerns with ADPKD is keeping blood pressure controlled. Your kidneys regulate your blood pressure, among other important functions, and when cysts grow and multiply, this damages the kidney tissue and prevents them from working well. This means your blood pressure isn't well managed, which can lead to serious problems including heart attack and stroke. So keeping blood pressure in a healthy range is paramount. Most ADPKD patients will be prescribed blood pressure medications like angiotensin-converting enzyme (ACE) inhibitors, for example lisinopril (Prinivil), or angiotensin II receptor blockers (ARBs) such as losartan (Cozaar). We also talk a lot in our clinic about diet, because new data suggests that obesity is associated with worse outcomes in ADPKD. Research hasn't shown that losing weight protects the kidneys, but it seems like a reasonable and safe choice to eat a healthy diet that helps you keep blood pressure under control. For most people, that means following a diet that's low in sodium and red meat, and high in vegetables.
ADPKD is a disease that typically progresses really slowly, over decades. That means it could take years before you see the results of your healthy diet and medications you take. In fact, the goal is to avoid ADPKD complications like cardiovascular disease and kidney failure, so if you're lucky, you may not see the concrete effects of your hard work at all. Some patients won't experience symptoms for a long time, and it can be frustrating to make lifestyle changes and take medications without noticing a difference in your quality of life. But since about half of all ADPKD patients will ultimately need a kidney transplant or dialysis, it's crucial to do all you can before that point to keep the kidneys healthy and protected. You may not notice the impact of your hard work, but your kidneys certainly will!
There can be a lot of anxiety associated with a genetic condition like ADPKD. Patients know they have a disease, but they don't know what the trajectory will be or the time frame of how the condition will progress. And if they've watched parents or other family members struggle with the disease, it can cause a lot of anxiety for people–with respect to their own health, worrying about their parents or siblings, or worrying about their children. I try to help alleviate that anxiety by being intentional in how I discuss ADPKD with each patient, making sure they feel empowered, educated, and that they are playing a crucial role in their own healthcare team. I'll also direct patients to pursue stress reduction strategies like practicing mindfulness and meditation, and I'll often recommend they see a mental health professional who can provide even more resources. It can be stressful to know you've got a lifelong disease that could cause your kidneys to fail, but part of my job is to make sure patients feel like I've partnered with them on this long journey.
Often, since ADPKD affects families, many family members will see the same nephrologist. But if you're the first one in your family or your location to get diagnosed, it can be intimidating to find the right doctor. Fortunately, there are many nephrologists who subspecialize in treating polycystic kidney disease, who know the ins and outs of this condition. I recommend patients check out the Polycystic Kidney Disease Foundation's website for a list of clinics around the country that treat PKD, and I also think it's smart for patients to get involved in the greater PKD community. If you need to move to a different area, ask your nephrologist for a referral to someone near your new home; most PKD specialists know each other well because it's a smaller community, and your doctor will likely be able to point you in the right direction. Look for a doctor who you connect with and trust, because this disease is going to affect you for the rest of your life; it's important to find someone you can develop a strong relationship with because they'll be with you for the long haul.
Was this helpful?