3 Things to Tell Your Doctor About Polycystic Kidney Disease
Was this helpful?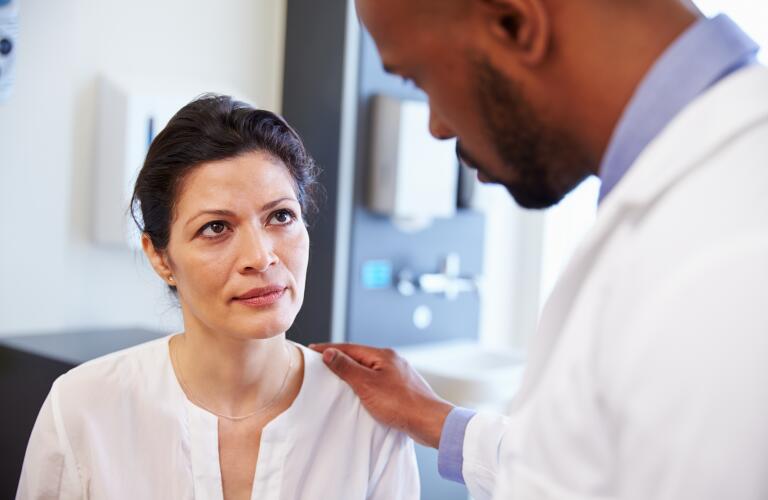 Managing polycystic kidney disease (PKD) can be challenging, which is why it's important to build a strong relationship with your kidney specialist.
Next time you see your nephrologist, make sure you discuss these three things:
1. You're planning to get pregnant.
Since polycystic kidney disease is a genetic disease, meaning it's passed down from parents to their children, it's important to be prepared if you plan to get pregnant. If you have PKD, there's a 50% chance you'll have a child who inherits the gene for PKD, so making the decision to conceive can be stressful and difficult. Your doctor will be able to help guide you and educate you on what to expect if you become pregnant. Typically, women with PKD who have healthy kidneys and normal blood pressure levels have uneventful pregnancies and give birth to healthy babies. Women with PKD have a higher chance of developing high blood pressure, or hypertension, during pregnancy, and this can last after delivery, so it's important to be closely monitored while you're expecting. You may also be at higher risk of developing a condition called preeclampsia during pregnancy, which can lead to premature birth, low birth weight, and other issues. Be open with your doctor about your concerns, and consider asking for a referral to a specialized center that performs pre-implantation genetic diagnosis (PGD), a process that can identify healthy embryos created by in-vitro fertilization (IVF), which may allow you to give birth to a child without PKD.
2. You're having trouble following your treatment plan.
Managing your polycystic kidney disease can be challenging, which is why it's crucial to follow your doctor's treatment plan, whether that means committing to taking medications, making lifestyle changes, or trying other strategies. However, it can be hard to stick with these therapies if you're experiencing side effects or your treatments don't fit with your lifestyle. If you aren't able to commit to your treatment plan, there's nothing to be ashamed about. Be honest with your doctor about these challenges so you can work together to find a solution, which might mean a different drug or therapy, an adjusted dosing schedule, or a practical lifestyle change.
3. You're struggling with mental health.
Dealing with a chronic condition like polycystic kidney disease can be stressful, and it's common for people to experience anxiety and depression as a result. If you're experiencing feelings of depression for extended periods of time, or even just every so often, it's crucial to talk to your doctor about it so you can find help. Depression and anxiety are both treatable conditions, and treating them can greatly improve your quality of life. Just because your polycystic kidney disease doctor isn't a psychiatrist or counselor doesn't mean he or she can't provide you with mental health support–and send you in the direction of a mental health professional.
Living with polycystic kidney disease can be extremely difficult at times, but you don't have to do it on your own. Your nephrologist is there to help you manage all aspects of your condition, from the physical to the emotional. Make a commitment to be honest with your physician so you receive the best care possible.
Was this helpful?