Nutrition Tips for IBS With Constipation
If you've ever felt too uncomfortable to eat much of anything, you're not alone. People who have irritable bowel syndrome (IBS) with constipation, or IBS-C, often cite this sensation as a chief complaint.
You don't have to accept the discomfort. These seven nutrition tips can help you take charge of your diet and make some improvements.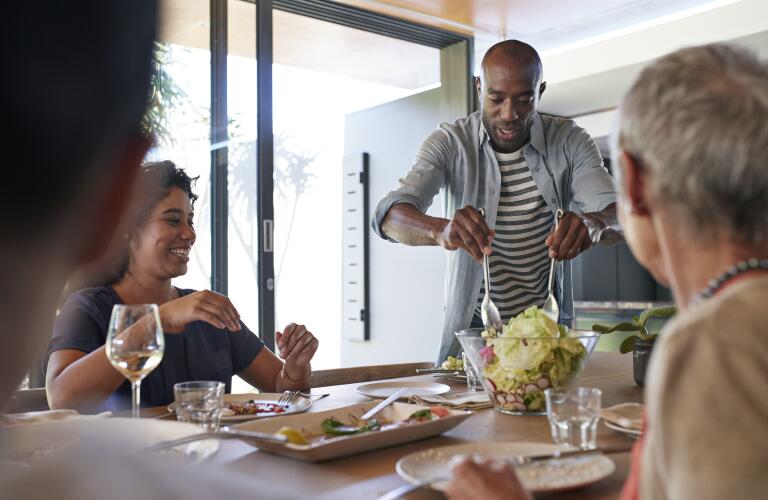 Do you drink enough water each day? The Institute of Medicine suggests 9 cups of fluid for women and 13 cups for men each day. Keep a refillable water bottle with you to make it easy to take sips throughout the day. Add a twist of lemon or orange—or even a slice of cucumber—for a little flavor.
Fiber keeps your system moving along, i.e. it softens your stool enough that it can pass through your body more easily. Women should aim for 25 grams of fiber daily, while men should eat 38 grams. Put these items on your grocery list: beans, whole-grain bread, vegetables, and fruit. Also, try sprinkling some ground flaxseed on your cereal, or down a few prunes or apricots. The key is to go with soluble fiber, insoluble fiber is more likely to cause flatulence and bloating.
When you ramp up the fiber, you tend to experience more gas and bloating. It can even be painful. That's why it's important to gradually boost your consumption of high-fiber foods. Add a little extra fiber each day—say, 2 or 3 more grams—until you reach the desired level, so your body will have time to adjust.
Maybe some of those high-fiber foods aren't working out so well for you. Consider a fiber supplement instead. Be sure to drink plenty of water. And talk to your doctor before adding a supplement to your diet regime.
Foods that are high in fat can worsen your constipation. Full-fat dairy products may also cause some problems, so you may want to be judicious about your consumption of cheese, sour cream, ice cream and other dairy products. And speaking of dairy products, many IBS-C sufferers are lactose intolerant and others with IBS-C report symptom improvement with lactose avoidance – even if they are not 'lactose intolerant'!
Get your body on a regular schedule by eating at the same times each day. Don't skip breakfast. The International Foundation for Functional Gastrointestinal Disorders suggests this is the meal most likely to stimulate your colon and produce a bowel movement.
Have you noticed certain foods—or combinations of foods—make your constipation worse? Certain foods tend to be problematic for many IBS sufferers, including foods with caffeine, chocolate and nuts, but there may be others that give you trouble. Make a note or write it down in a journal, and then avoid those foods as much as possible.
There's not a perfect one-size-fits-all diet that works for everyone with IBS, according to the International Foundation for Functional Gastrointestinal Disorders. Everyone's body reacts differently.
So if you've boosted your fiber intake but are really having trouble with gas, talk to your doctor. Your doctor may suggest avoiding certain foods that tend to cause gas—think cauliflower, broccoli and carbonated drinks. And you will learn what other stressors tend to set off your symptoms.
Your doctor may also be willing to discuss other potential treatments, like probiotics or certain type of laxatives, that might be able to help relieve some of your symptoms.
Was this helpful?