Which Hand Sanitizers Are Safe?
Was this helpful?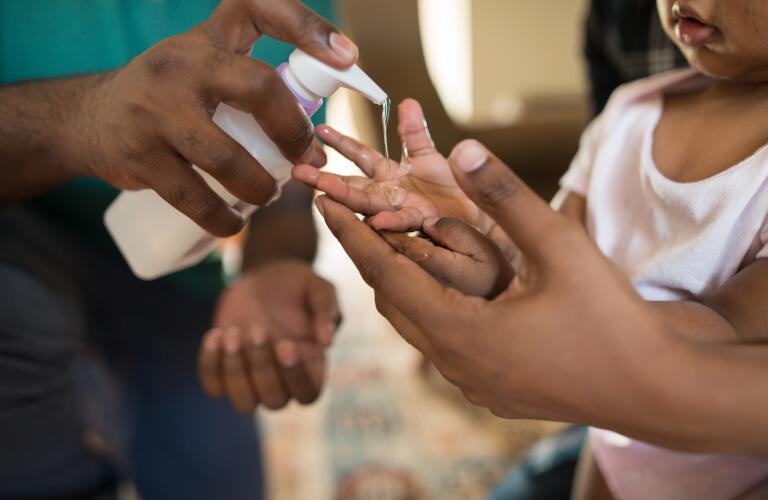 At the onset of the coronavirus pandemic, the supply of hand sanitizers experienced a shortage. That wasn't surprising, given hand sanitizer is the next best thing to washing your hands with plain soap and water. However, in the rush to restock shelves with hand sanitizer, some manufacturers included unsafe ingredients, leading the U.S. Food and Drug Administration (FDA) to issue a watch list of unsafe hand sanitizers. So what makes a good hand sanitizer? Learn how hand sanitizers work, the active ingredients in hand sanitizer, which hand sanitizers are safe, and the dangers of hand sanitizer contaminated with methanol.
In July 2020, the FDA issued warnings to consumers to avoid hand sanitizers that contained methanol. Methanol, which is wood alcohol, can be toxic when absorbed through the skin or ingested, and can be life threatening when ingested. The effects of methanol poisoning include nausea, vomiting, headache, blurred vision, permanent blindness, seizures, coma, permanent damage to the nervous system or death. Anyone experiencing these symptoms needs to seek immediate medical treatment to reverse the methanol poisoning.
Although hand sanitizers with at least 60% alcohol can help stop the spread of germs, they are not as effective as hand washing. While they can reduce the number of microbes on hands when first applied, they don't kill off all types of germs. The main reason for this, according to the U.S. Centers of Disease Control and Prevention, is people don't usually use a large enough volume of hand sanitizer to kill germs; or, they wipe it off before it has dried on their hands. They also may not be as effective if hands are visibly dirty, greasy, or are contaminated by harmful chemicals, such as pesticides or heavy metals like lead.
The FDA recommends hand sanitizers with a minimum of 60% alcohol for the most effectiveness. Types of alcohol include ethanol, isopropanol and n-propanol. However, consumers should avoid hand sanitizers with 1-propanol, which also can be toxic. Some formulations also include emollients like glycerin or aloe to soothe the skin and keep it from drying out.
Hand sanitizers are usually liquids, sprays, foams or gels. According to a 2018 study on the impact of hand sanitizer format and dose amount in The Journal of Hospital Infection, liquids provide a cleaner, smoother, more moisturized feel. However, increased difficulty in handling and applying the product counteracted these benefits. Foam and gel were seen as more desirable than liquid thanks to fast absorption, a soft/moisturized feel, low smell and no stickiness. The study also stated the preferred dose is 1.5 mL (about one-third teaspoon).
When you can't wash your hands, using hand sanitizer is the next best thing. Although it doesn't remove all germs, hand-sanitizing products help eliminate many germs. Using hand sanitizer with at least 60% alcohol (up to 90%) is more likely than weaker formulations to kill the germs on your hands. (Some microbes can survive in alcohol-based sanitizers.) Hand sanitizer can be less irritating to skin than soap and water. In some cases, it may even improve the skin's condition.
For hand sanitizer to be most effective, it's imperative for users to apply it correctly. According to the CDC, you should apply an adequate dose of hand sanitizer to the palm of one hand, and then rub the hand sanitizer over the surface of your hands and in between your fingers. Make sure you continue to rub in the hand sanitizer until your hands are dry. Do not wipe off excess hand sanitizer as this wipes away the product, reducing its effectiveness.
When the hand sanitizer shortage hit following the onset of the coronavirus pandemic, many people started making their own homemade hand sanitizer. While these can provide some benefits, it's important they contain the right ingredients to be effective. The Franciscan Missionaries of Our Life Health System's homemade hand sanitizer includes:
2/3 cup of rubbing alcohol (starting purity of 91-99%)
1/3 cup of aloe vera
5 to 10 drops of essential oil for fragrance, if desired. This should be well-blended to ensure all ingredients are properly mixed.
The World Health Organization (WHO) hand sanitizer formula, for 1 liter—approximately 1 quart—of liquid sanitizer made with isopropyl alcohol is as follows:
751.5 ml isopropyl alcohol (starting purity of 99.8%)
41.7 ml hydrogen peroxide, 3%
14.5 ml glycerol, 98%
Fill to 1000 ml (1 liter) with distilled or sterilized water
Shake the container gently to mix the contents. The WHO does not recommend adding additional ingredients.

Was this helpful?