5 Reasons Why Grandparents Should Be Vaccinated for Whooping Cough
Was this helpful?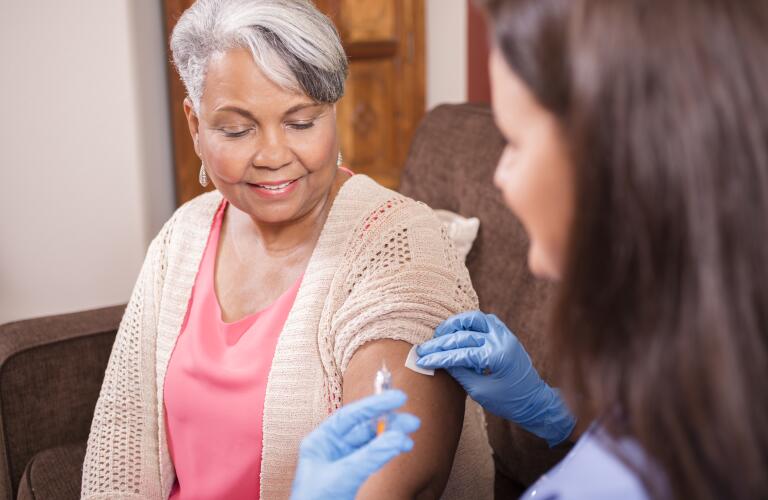 If you're eagerly awaiting the birth of a grandchild, congratulations! You're probably already stocking up on baby gifts, like burp cloths and board books.
But the best gift you can give to your new grandchild is their health. You can help your grandchild stay healthy by getting vaccinated against whooping cough, which is also known as pertussis. Whooping cough can be very dangerous for newborns and infants—and even deadly. The last thing you want to do is inadvertently expose a vulnerable new baby to a preventable illness before the baby can be vaccinated. In fact, there are several other reasons why you should call your healthcare provider to scheduled a Tdap booster shot.
1. You can help "cocoon" the infant with protection.
Babies can be vaccinated for whooping cough—but not right away. The vaccine for babies that provides protection against diphtheria, tetanus, and pertussis is called the DTaP, and babies need an entire series of DTaP vaccinations, starting at two months of age. The next vaccination follows at four months, then another at six months, and then two more later on. Babies are vulnerable before they're fully protected, especially in those early months. Their bodies can't fight off pertussis bacteria if they're exposed to it by a well-meaning person, even a loving grandparent who comes bearing gifts.
By getting vaccinated for whooping cough, you are helping to form an imaginary protective cocoon around the baby when the baby needs it most. This cocoon is a vital defense mechanism for babies in the early months of life when they're too young for their own immune systems to be fully prepared to fight off those diseases.
2. You'll boost your waning immunity.
"But I've already been vaccinated," you might point out. "Why do I need another vaccination?"
Unfortunately, immunity to whooping cough (and other diseases) tends to wane over time. That's why you very likely need a booster shot to, yes, boost your immunity and reduce the chances you'll unknowingly spread pertussis to vulnerable babies (as well as other people who can't be vaccinated).
The booster shot for adults is known as the Tdap, which stands for Tetanus, Diphtheria, Pertussis). It's also given to preteens, teenagers, and expecting mothers during their third trimester of pregnancy. And it's safe to get the Tdap vaccine even if you've already had the Td vaccine recommended for adults by the Centers for Disease Control and Prevention (CDC) to provide protection against tetanus and diphtheria.
3. You might not even realize you're contagious.
You might avoid being around babies or young children when you're sick. That's a good plan, but it's not enough. Whooping cough doesn't manifest the same way in adults as it does in babies and children. Infants and young children tend to develop the telltale "whoop," a sudden, sharp inhalation of breath after a violent bout of coughing.
Adults, however, often don't "whoop" when they cough. As a result, they might not even realize they have whooping cough. They might just write off their persistent cough as an unpleasant annoyance--not something potentially dangerous. If they don't get treated for whooping cough with antibiotics, they might be unknowingly spreading the disease to anyone who comes into close contact with them.
4. You can reduce your grandchild's chances of developing whooping cough's dangerous complications.
Contracting whooping cough is, at best, a very unpleasant experience. Adults may bemoan the annoying, lingering cough, but for children, it's more problematic. Babies and children are far more likely to develop complications from whooping cough that can threaten their health. For example, babies can develop pneumonia, seizures or another serious neurologic condition called encephalopathy that could develop from reduced oxygen to the brain. You can do your part by getting vaccinated so that you don't expose them to this illness that could cause such dangerous complications.
5. Everyone who spends time around babies needs this vaccine.
It's not just grandparents who need a whooping cough vaccine. The bottom line is that anyone who spends time around babies, especially newborns, should make sure all their vaccinations are current. Adults who were vaccinated for whooping couch as children very well need a booster of the Tdap vaccine to make sure they're fully protected.
Was this helpful?