HIV: What to Know About Your CD4 Count
Was this helpful?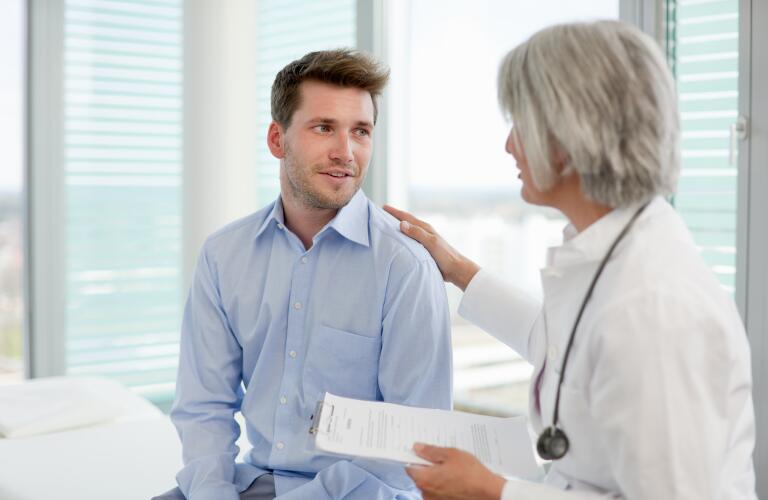 CD4 cells, also called T-cells, are a type of white blood cell that helps the body fight infection and are an indicator of how healthy your immune system is. A healthy adult's CD4 count can range from 500 to 1,600. People infected with HIV (human immunodeficiency virus) typically have a lower CD4 count because the virus infects and kills these cells. A person with HIV whose CD4 count drops to less than 200 will be diagnosed with AIDS (acquired immune deficiency syndrome), which is the most advanced stage of HIV. A blood test to count the number of CD4 cells in your body can be a good indicator of how well your HIV treatment is working.
Knowing the results of your CD4 count test can help you and your doctor make the best plan of treatment. If the number of CD4 cells in your blood falls in an abnormal range, from 250-500, it becomes more urgent to begin antiretroviral therapy, or ART. All people with HIV are recommended to start ART right away, and those with low CD4 counts have an even more pressing need to begin therapy. If someone diagnosed with AIDS is not already taking antiretroviral medicines, it's critical to begin AIDS treatment immediately.
If you have already started ART, a CD4 count is a good way for your doctor to see how well your HIV treatment is working. Your CD4 count may improve and strengthen your immune system if you take your HIV medications as directed. However, if the CD4 level continues to drop, you may need to try a different form of HIV treatment.
Getting the CD4 Count Test
The CD4 test is like any other blood test. When you are first diagnosed with HIV, your doctor will want to get a baseline CD4 count to see how the disease is affecting your immune system. This baseline count will give the doctor something to compare CD4 numbers with as time goes on. Your doctor will likely recommend getting your CD4 count checked every 3 to 6 months. You may need to get more frequent CD4 tests if your count is falling or if you're beginning a new treatment. If your CD4 count is above 300 and you've been taking ART for 2 years or longer, you may need less frequent tests. It's important to follow your doctor's recommendation for these and other HIV-related tests.
If one test comes back abnormal, your doctor may want you to have another test right away to make sure the test was accurate. However, one abnormal CD4 count is not necessarily a cause for panic—the progress over time is what matters most, so having regular CD4 tests is important to guide your HIV treatment decisions.
What Happens When Your CD4 Count Is Low
If your CD4 count drops below 200 and you receive a diagnosis of AIDS, it means the virus has severely damaged your immune system. With a compromised immune system, you have a higher risk of developing cancer and so-called opportunistic infections. These are caused by bacteria, viruses, fungi, and other microbes that take advantage of a person's weakened immune system. ART can help control HIV and preserve the number of CD4 cells you have, which can help fight other infections. Opportunistic infections common among people living with HIV include yeast infections, tuberculosis, and pneumonia.
In addition to these opportunistic infections, you're also more at risk for toxoplasmosis, which can be deadly for someone with AIDS. You can be screened for toxoplasmosis, which is caused by a parasite and can severely damage your brain, eyes, and other organs. If you're at risk for exposure to this parasite, which can be found in undercooked meats, contaminated soil or cat feces, you may need preventive treatment and regular screenings, especially if your CD4 count drops below 100.
Was this helpful?