HIV: What Men Need to Know
Was this helpful?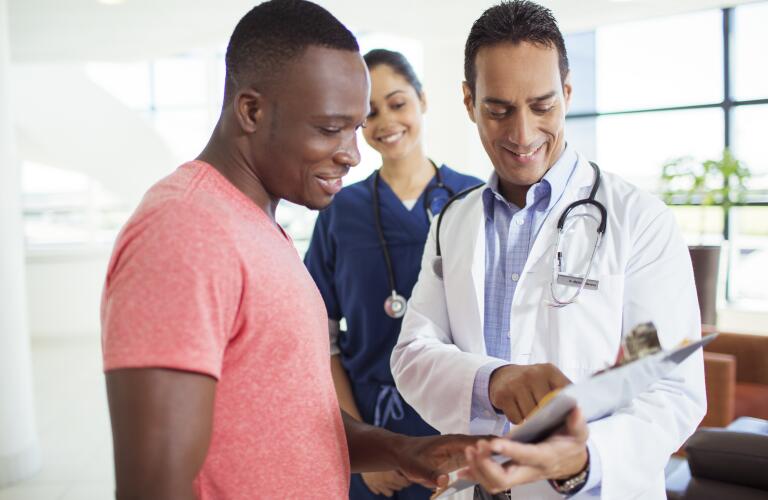 If you're a man who has sex only with women, your chances of getting HIV are very low. If you're a man who has sex with men (an MSM), your chances of getting HIV are much higher. The Centers for Disease Control and Prevention (CDC) estimates that almost 20% of MSM are HIV positive.
According to the CDC, gay and bisexual men make up about 2% of the American population, but they make up roughly 60% of all American men newly infected with HIV.
HIV is a virus that spreads through oral, vaginal, or anal sex. Anal sex is the most dangerous kind of sex because the lining of the rectum is thin. It can tear and allow the virus to enter your bloodstream. One reason you're at a higher risk if you have anal sex with men is that a high percentage of MSM partners are infected with the virus (20% percent of MSM are HIV positive).
The best way to prevent HIV is to always use a condom and to avoid anal sex. Other ways for you to prevent HIV include:
Don't use illegal intravenous drugs (the virus can spread through shared needles).

Don't have unprotected sex if you have a sexually transmitted infection. Having a sexually transmitted infection makes it 10 times more likely for you to get or spread HIV.

Don't combine sex with abuse of drugs or alcohol. This has been shown to increase risky behaviors that lead to HIV.
If you're circumcised, your risk of HIV may be reduced. According to a review of several studies, being circumcised reduces the risk of contracting HIV from vaginal sex, but it doesn't seem to reduce the risk from anal sex.

One of the most important things to know about symptoms of HIV is that you may not have any symptoms for up to 10 years. In fact, according to the CDC, almost half of all MSM who are positive for the virus don't know it. The only way to diagnose HIV is with a blood test. If you're a sexually active man who has sex with men, you should get tested at least once a year.
Symptoms of HIV are caused by a reduced ability to fight off infections and may include:
The outlook for people infected with HIV is much better than it was two decades ago. HIV is no longer considered a fatal disease. It's now a disease that can be controlled. So, don't let the stigma of HIV keep you away from treatment. Although there is no drug yet that can cure HIV, you can get the virus under control through a combination of drugs.
The current regimen is to use three drugs from two of the available types of HIV drug classes to get your viral load—the amount of HIV virus in your system—down to undetectable levels. There are currently over 20 government-approved anti-HIV drugs grouped into six different classes. Each class of drug inhibits specific enzymes and proteins that the virus needs to infect your cells and multiply. Combination drugs reduce the number of pills you need to take.
Ask your doctor about the specific drug regimens he or she prescribes, and why he or she will use a particular regimen for you. You might want to ask about the success rate for the different regimens—how well the treatment has worked for his or her patients. Stay healthy by working closely with your HIV healthcare team and by not missing doses. Your HIV infection could become drug-resistant if medication is inconsistent.
Treatment of HIV has improved so much that life-threatening complications, like severe infections, cancers, and mental changes, are much less common these days. In fact, a recent study published in the journal AIDSestimates that a 30-year-old man diagnosed with HIV in 2010 has a life expectancy of 75 years if he is diagnosed early and stays on treatment.
Gay and bisexual men are most at risk for HIV.

Many men who are positive for HIV don't know they have the infection.

If you're at risk, get checked at least once every year.

You can stop HIV from becoming a fatal disease with an early diagnosis and comprehensive medical treatment.

Educating yourself about HIV and practicing safe sex are the best ways to prevent its spread.
Was this helpful?