Benefits and Risks of Hip Replacement
Was this helpful?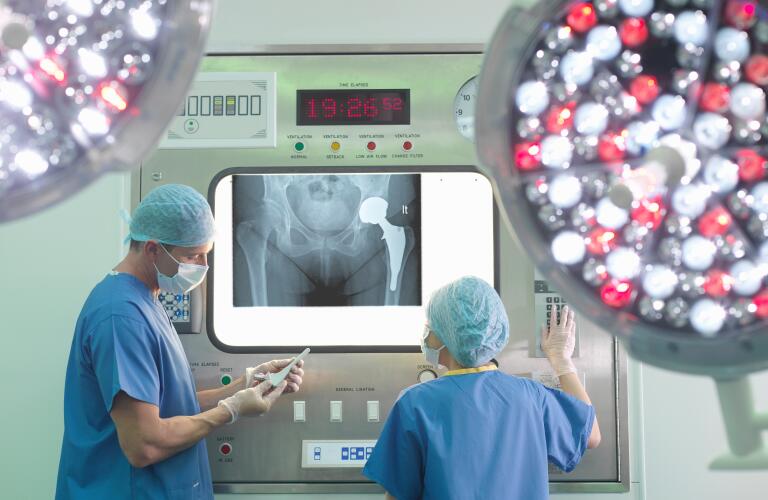 When you are considering major surgery, there is a lot to think about. The decision doesn't always come easily. If you are thinking about hip replacement, you are probably at a place where hip pain and dysfunction is interfering with your life. The thought of returning to a more normal life is a powerful motivator to agree to surgery. But you need to make sure you have a good understanding of what's ahead when you choose that route. Here is a look at hip replacement benefits and risks.
Hip replacement surgery involves replacing a diseased or damaged hip joint with an artificial one. After hip replacement recovery, most people can return to an active lifestyle. Low-impact activities are safest for a new hip joint. People with hip implants can enjoy walking, hiking, biking, swimming, golfing, and other activities that do not overly stress the joint. However, it's usually best to avoid high-impact activities, such as running or activities that involve jumping, like basketball.
Hip replacement has a very high success rate. More than 95% of people who have the surgery find relief from hip pain. The success rate remains high through 10 years. However, the reality is hip implants are mechanical devices and will wear out over time. The typical life expectancy of a hip implant is 15 to 20 years. At 20 years, hip replacement success rate is about 80 to 85%. Revision surgery will be necessary should your hip implant fail or wear out.
All surgeries have risks and hip replacement is no exception. It's possible to have problems during the surgery itself or during your recovery period. Potential hip replacement complications include:
Dislocation, which is when the ball of the new joint comes out of the socket. While this problem is not common, the risk is highest in the first few months after surgery. This is when muscles and tissues are still weakened and healing. You can help prevent this complication by following your physical therapist's instructions for how to move your hip and leg positions to avoid. If it happens, you may need to wear a brace to stabilize your hip while it heals. Recurrent dislocations may require surgery.

Implant wear and tear. Implants generally last 15 to 20 years. Depending on your age, this may mean a future surgery to revise your hip replacement.

Surgical risks including bleeding, blood clots, and infection of the surgical site

Uneven leg lengths including the leg with the implant feeling slightly longer or shorter than the other leg. Surgeons try to avoid this situation, but it is a possibility. Wearing shoe lifts can offset any difference in leg length and improve your comfort.
As you can imagine, pain will be part of any hip replacement recovery. However, the type of surgery you have can influence the amount of pain you have. Minimally invasive hip replacement tends to have less pain and a quicker recovery than traditional surgery. Having minimally invasive surgery will not change the kind of implant you get, but it will change your incision. Traditional hip replacement involves a large incision on your hip. Minimally invasive techniques use smaller incisions. An anterior hip replacement is one approach that can be minimally invasive. Ask your doctor about minimally invasive surgery to find out if it might be the right choice for you.
Numbness around the incision and hip stiffness can also occur after surgery. Both of these issues tend to resolve over time. Most people have improved mobility despite any lingering stiffness.
Another long-term issue with hip replacements is setting off metal detectors. While this is not technically a risk, it can be an inconvenience. Your doctor can give you a card explaining your implant. This will not exempt you from screening during travel, but it will alert officials that you may need additional screening procedures.
The benefits of hip replacement usually outweigh the possible risks. You can do your part to prevent complications by following your doctor's instructions carefully. This includes being diligent about your home rehab program. Doing the exercises and being active every day is critical to the health and healing of your hip. Talk with your doctor beforehand about the recovery process so you understand everything involved. If you decide on surgery, commit to working with your doctor and physical therapist for the best outcome possible for you.
Was this helpful?