Talking With Your Doctor About Hypertension
Was this helpful?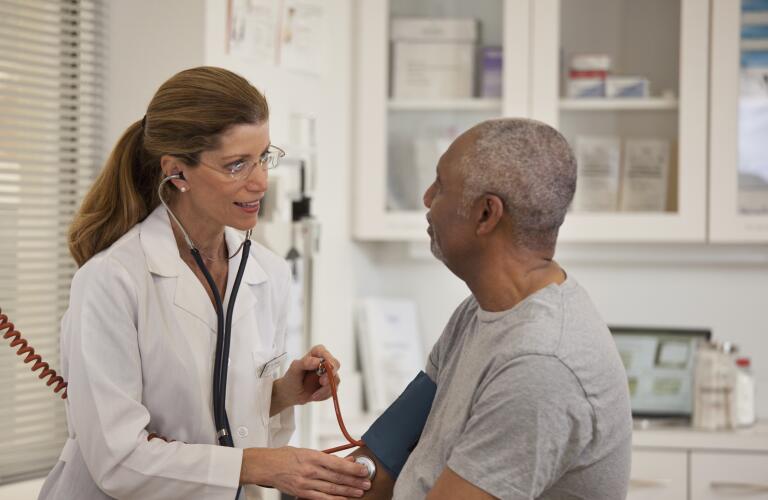 If your blood pressure reading exceeds 130/80 mm Hg on more than one visit to the doctor's office, you are diagnosed with hypertension (high blood pressure). Hypertension refers to higher-than-normal blood pressure inside the arteries, which can damage the arteries and the heart. High blood pressure also can lead to stroke, kidney damage and other health issues. Hypertension management often requires both medications and lifestyle changes. Your doctor can give you a personalized treatment plan to address the main cause of your hypertension.
Diagnosing High Blood Pressure
Your primary care doctor may diagnose hypertension if your blood pressure reading is persistently high at your office visits. Your primary care provider may refer you to a hypertension doctor, such as a cardiologist, who specializes in treating diseases of the heart. Either doctor can diagnose high blood pressure and prescribe treatment for it.
Here are the categories of hypertension:
Elevated blood pressure: systolic 120-129 mm Hg (top number) and diastolic less than 80 mm Hg (bottom number). Another name for this is prehypertension.

Stage I hypertension: systolic 130-139 mm Hg or diastolic 80-89 mm Hg

Stage II hypertension: systolic 140 mm Hg or higher or diastolic 90 mm Hg or higher
A systolic reading higher than 180 mm Hg or a diastolic reading higher than 120 mm Hg is hypertensive crisis and requires immediate medical care.
If your doctor diagnoses hypertension, questions you may want to ask your doctor include:
What is the underlying cause of my high blood pressure?

Does my hypertension increase my risk of heart disease or stroke?

Can my high blood pressure be managed with medication?

Will I have to take medication for the rest of my life?

What things can I do at home to lower my pressure?
Sometimes high blood pressure is caused by a medication or a medical condition like kidney disease. If your doctor suspects your hypertension may be secondary to some other factor, he or she may change your medications or order more tests to diagnose and treat the underlying cause.
Most people, though, experience primary (essential) hypertension, which means it is caused by factors other than kidney dysfunction or related causes. Essential hypertension is the form highly correlated with increased risk of heart disease, including heart attack and stroke. More than 95% of people with hypertension have essential hypertension.
Many lifestyle factors can contribute to developing high blood pressure, and treatment reflects its possible causes. Treatment for hypertension usually involves a prescription medicine along with diet and exercise changes. You and your doctor will likely talk in detail about your lifestyle, including your diet, level of physical activity, stress level, sleep quality, and such habits as drinking and smoking.
Common lifestyle changes to manage high blood pressure include:
Adopting a heart-healthy eating plan, such as the Dietary Approaches to Stop Hypertension (DASH diet)

Checking and recording your blood pressure at home on the schedule your doctor recommends (often once a day or more)

Increasing physical activity levels

Losing weight

Reducing sodium consumption
Be frank with your doctor about how to approach recommended lifestyle changes (if any). It's difficult for most people to make a lot of changes at once, so perhaps focus on one thing at a time. Develop a plan of attack and a specific goal, such as 30 minutes of physical activity a day (or five days a week) until your next appointment.

High Blood Pressure Medication
Most people with hypertension need to take medicine to reduce blood pressure and avoid damaging the arteries. Your doctor can choose from many different types of high blood pressure medication and will prescribe one that is best suited for you based on your medical and family history and other health conditions (if any) you have. There are five main classes of high blood pressure drugs. Some of them help your body eliminate excess fluids, while others directly affect arterial constriction. Before taking a blood pressure medication, ask your doctor:
How does this drug work?

What are the potential side effects of this drug?

Will I need to take this medication for the rest of my life?

Why do you recommend this specific drug for me?

Can I try lifestyle changes first, before starting blood pressure pills?
Anyone who takes blood pressure medicine should monitor their pressure at home regularly and report persistently low or high pressure to their doctor. Anyone with a blood pressure reading above 180 systolic or 120 diastolic (for example, 180/120 mm Hg or 193/128 mm Hg) should call 911 for emergency medical attention. That type of reading indicates hypertensive crisis and can cause stroke.
Because being overweight is often an underlying cause of hypertension, shedding pounds may make it possible for you to discontinue taking blood pressure pills. Engaging in a heart-healthy lifestyle can reduce your risk of heart attack, stroke, and medication side effects—and help you enjoy a higher quality of life with hypertension.
Was this helpful?