Treatment Advances for Hidradenitis Suppurativa
Was this helpful?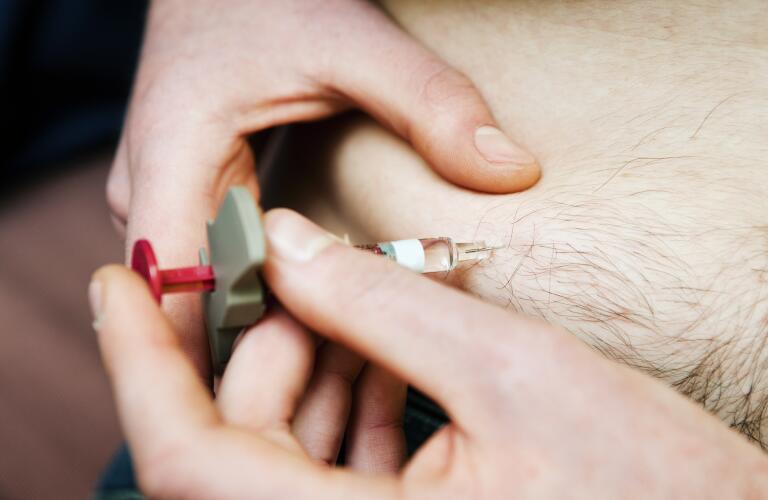 Hidradenitis suppurativa (HS) is a chronic inflammatory skin condition. It affects your hair follicles and sweat glands, primarily in areas where your skin rubs together, like your underarms and groin. HS often starts as small pimple-like bumps, but over time, it can progress to painful boils and abscesses that may break open and drain. Thick scars may develop from repeated flare-ups.
Historically, hidradenitis suppurativa has been challenging to treat, and there's still not a cure. But much has been learned about the disease process in recent years, which has led to improvements in HS treatment.
The Benefits of Early HS Diagnosis and Treatment
One of the biggest difficulties when it comes to treating HS is there's often a significant delay in diagnosis. In fact, some studies suggest it takes an average of seven years before it's properly diagnosed. However, there's been a push to change this and improve the awareness and recognition of HS by medical professionals.
This is significant because early treatment, especially under collaboration of a dermatologist and plastic surgeon, can reduce the risk of worsening symptoms and complications. Lifestyle modifications such as losing weight and quitting smoking can help decrease disease severity. Removing dairy, eating less sugar, and avoiding yeast in your diet may improve skin lesions. Medications including antibiotics, steroids, and hormone therapy can also treat mild to moderate cases of HS.
Biologics as a New Hidradenitis Suppurativa Medication
For severe cases of HS that haven't responded to typical treatments, biologic drugs have emerged as a promising new treatment. Biologics are derived from living organisms and work by targeting specific points in your immune system. They are given by an infusion into your vein or as an injection, usually weekly or every few weeks.
Researchers have found that people with HS have higher levels of certain cell proteins that play a role in your body's immune response. One example is a protein called tumor necrosis factor (TNF) that stimulates inflammation; inflammation is thought to contribute to HS cysts and other symptoms. Some biologic drugs block TNF activity, thereby decreasing inflammation and symptoms of HS. In some cases, they have been shown to significantly clear skin lesions.
Adalimumab (Humira) is the first TNF-inhibitor to be approved by the U.S. Food and Drug Administration (FDA) as a hidradenitis suppurativa treatment. Other TNF-inhibitors, such as infliximab (Remicade), are used as well, although they're not specifically approved for HS; they are, however, approved for diseases that are similarly caused by inflammation.
Clinical trials are underway to determine if biologics that target other inflammatory proteins in your body are safe and effective treatments for HS. For example, early studies of bermekimab, a biologic that blocks a protein called interleukin-1 (IL-1), have been encouraging. It's likely more biologics will be used to treat HS in the future.
Though biologics have provided needed relief for many people with hidradenitis suppurativa, it's important to note that they aren't right for everyone. They can be quite costly and can have side effects, such as suppressing your immune system.
New Surgical Treatments for Hidradenitis Suppurativa
Surgery to remove HS lesions may be needed, though it's recommended to still continue medical treatment even if surgery is performed. The type of surgery may vary based on the severity of the disease—from deroofing, which removes the top layers of an abscess or sinus tract, to wide surgical excision, which cuts out larger areas of affected skin. Other surgical procedures include:
Skin Tissue-Saving Excision with Electrosurgical Peeling (STEEP): This procedure aims to keep as much healthy tissue as possible, while removing tissue with lesions. Patients tend to recover well and have a good cosmetic outcome, but there is a higher risk of HS recurrence with STEEP than with wide surgical excision.
Cryoinsufflation: Liquid nitrogen is injected into the sinus tracts underneath the lesions. It's performed monthly until the tracts disappear.
Laser and light therapies: Different types of lasers and lights can be used to help clear the skin, decrease inflammation, kill bacteria, and destroy hair follicles.
Though there have been significant advances in the treatment of hidradenitis suppurativa, selecting the right therapy is very patient-specific. If you'd like to learn more about what options are appropriate for you, reach out to your doctor.
Was this helpful?