Talking to Your Partner About Hidradenitis Suppurativa
Was this helpful?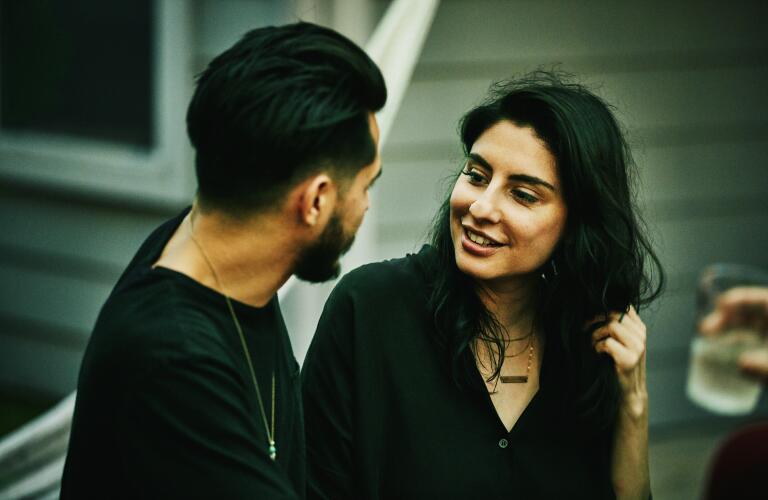 Hidradenitis suppurative (HS), also known as acne inversa, is not an easy chronic condition to have. It's a skin disease that typically causes painful lumps and lesions to spring up in various high-friction parts of your body, including your armpits and groin. As a result, HS can make people feel very self-conscious. Since there's not a cure, people who are diagnosed with this condition have to learn how to manage it and take care of themselves. But it's a lot easier when they have support from their loved ones.
Working Past Embarrassment
Many people with HS are embarrassed, even ashamed, by their appearance. They worry about what other people will think.. As a result, they often withdraw socially, isolating themselves from other people so they won't have to face any funny looks or remarks.
But you don't have to withdraw or isolate yourself. Ideally, in a relationship, you should be able to talk to your partner about your health and your feelings. In this case, that should include talking about HS.
You may have to start out by explaining a few things and clearing up some potential misunderstandings. Let your partner know that no one is exactly sure what causes HS, but it seems to be a combination of genetic and environmental factors. People with a family history of hidradenitis suppurativa are more predisposed to developing it. You can explain that HS is not contagious--there's no way for your partner to "catch" it from you. It doesn't mean that you're not clean, either; it's not an indicator of poor personal hygiene.
Explaining Treatment and Self-care Measures
If your partner is unfamiliar with HS, you'll have to teach your partner about your condition and how you take care of yourself. Your partner might have some questions about how you need to address your situation. In fact, your partner may even need a short tutorial on how you manage a flare-up, as well as your routine daily maintenance.
You can talk about the treatment options that you and your doctor have chosen, whether it's an oral or topical vitamin A-derived medication for your skin, an antibiotic, or perhaps a newer biologic drug.. You might need to explain that sometimes you need to take pain relievers, since the lumps and lesions can hurt, and sometimes the location of a painful lesion or lump can limit your ability to move around easily.
It's also worth talking about some of the self-care measures that work for you. Many people with hidradenitis suppurativa develop certain coping mechanisms to help them manage their condition. You might want to mention things that tend to trigger a flare-up, whether it's spending too much time outside in the heat and sweating or it's a tight-fitting outfit that might look cute but causes too much friction on your irritated skin. If you tend to skip shaving certain areas of your skin because the razor can cause further irritation, your partner might be interested in knowing that, too.
Your partner will have a much better grasp of what you're going through if you don't try to hide your condition. If you can talk honestly with your partner about your HS and how you cope, it will make it that much easier to ask for some support. It might even reduce your stress levels, which experts suggest can be good for your condition.
Was this helpful?