PATIENT VOICES

My Hidradenitis Suppurativa Journey: Connecting With My Dermatologist

Was this helpful?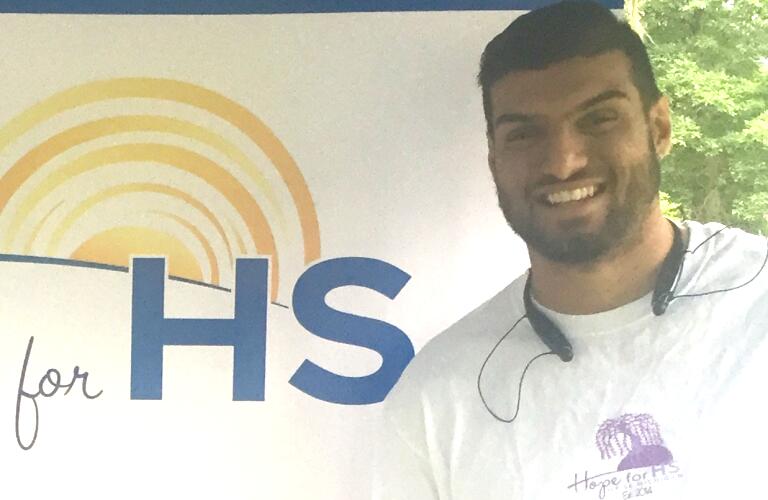 I was still a teenager when I first noticed symptoms of hidradenitis suppurativa (HS), also known as acne inversa. HS is a chronic skin condition characterized by painful lumps on friction-prone areas of the body.
My HS eventually progressed to the point that I needed serious, continuous medical help. Finding a dermatologist proved invaluable.
When I started developing small bumps on my armpits and groin, I thought it was just because I was getting sweaty from running around outdoors. I went to a dermatologist, who diagnosed the bumps as HS. I'm not the kind of person who looks things up on the Internet, so I didn't do any research. I thought I'd take a pill and that would cure the problem. But I was completely wrong. About two weeks later, I experienced my first full-blown flare-up.
During a flare-up of hidradenitis suppurativa, boils or abscesses form in areas that have sweat glands, like the armpits, groin, and between the buttocks. These boils are incredibly painful. They burst and ooze, and new ones form over the old ones. The process causes scar tissue to build up and the skin to get really thick. It can get hard to move—it got to the point where I couldn't even bend over. I couldn't sit down normally because the flare-up manifested in my tailbone and groin area, so I would stay in bed for about 16 to 18 hours a day. My life felt completely out of my control.
In 2010, when my first flare-up happened, HS was still a considered an relatively uncommon condition. My dermatologist wasn't sure how to treat it, so he referred me to the dermatology department at the University of Michigan. The doctors there didn't know how to treat me either, but they recommended I get in touch with a dermatologist studying HS in the Detroit area, Dr. Iltefat Hamzavi. I immediately tried to make an appointment with him, but his waiting list was three months long. However, he was leading a research study about HS and the doctors suggested I join that. The study was aimed at testing a combination of treatments, including some oral drugs and laser hair removal. That's how I first was able to to see Dr. Hamzavi.
Testing Different Treatment Options
Desperate for any way to find lasting relief, I joined the study and started taking medication. Over time, I learned I had stage 3 HS, and we realized the drugs weren't effective for that severe a stage. HS is considered stage 3 when large areas of the body are affected with multiple abcesses. Treatment can vary greatly from patient to patient, and Dr. Hamzavi worked with me to try several medications. Each one worked for a time, but I would eventually stop responding well to it. Since HS is a chronic skin condition, the only way to permanently clear an affected area is through surgery. Dr. Hamzavi's goal was to calm my condition down to the point where he could perform the needed procedure.
I had my first surgery in 2011, and it made a huge difference. After my abcesses and boils were surgically removed, it took 8 to 10 weeks for my wounds to heal, and the bandages needed to be changed twice a day for two months. But amazingly, when the new skin formed, it was free of disease. Now, when my HS starts getting worse again, I go back on medication. If it progresses to where medicine can't control it, I have another surgery. In the past six years, I've had five surgeries. But these procedures have allowed me to go to school, graduate, and get a job. I took everything for granted before HS. Now I'm much more grateful for what I have, and for the times I'm clear of HS symptoms.
The Value of a Good Doctor
I'm fortunate to have a great relationship with my dermatologist and I owe a lot to his dedication. Dr. Hamzavi focuses on me, not just my skin. He tries to make sure everyone in my family knows what's going on. Because my mother is a native Hindi speaker, Dr. Hamzavi speaks Hindi to her to help her feel more comfortable. I also feel we truly work together on my maintenance plan. He's told me that my disease has been a learning experience for him and his team, as well as for me. When my flare-ups were more frequent, I saw him every month. Now, I'm managing my disease to the point where I only need to go in every 2 to 3 months. If I have a flare-up, I get an emergency appointment at his personal clinic right away.
I was told HS was "rare" when I was diagnosed, but since then I've seen the medical field's understanding of this condition grow. I hope more and more people continue to understand this disease, and I encourage HS patients to find a dermatologist willing to work with them to control their condition.
Mukul Sharma, 26, lives in the Detroit area. He majored in finance in college and now works in the mortgage industry. He has been living with hidradenitis suppurativa for seven years.
Was this helpful?