Lump, Bump, or Boil: How to Make Sure Your Doctor Understands Your Hidradenitis Suppurativa
Was this helpful?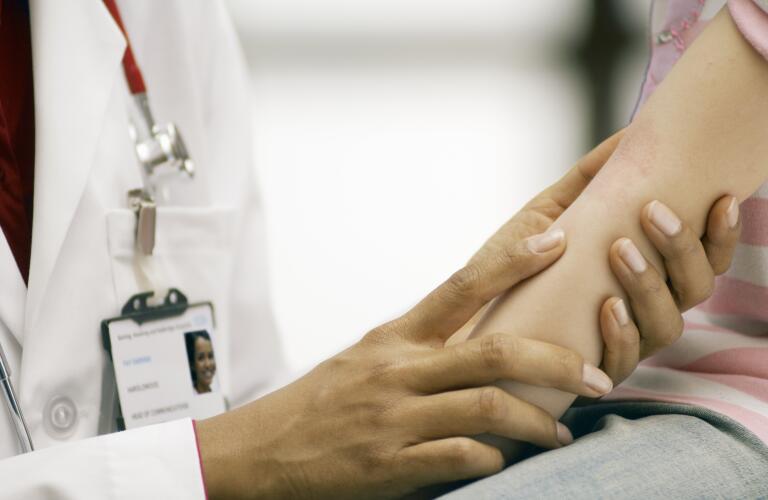 Painful lumps, swollen boils, or awkward bumps? Life with hidradenitis suppurativa (HS) isn't easy, and it can have a serious impact on your life. In addition to being painful, it can also make you feel awkward and unattractive, which can, in turn, affect your mental well-being. Don't suffer in silence. Make sure your doctor understands how your hidradenitis suppurativa truly affects you and your life so you can get the care you need.
The severity of your condition can affect your outlook.
However hidradenitis suppurativa affects your body, it can be a potentially challenging condition to live with. This skin condition tends to appear after puberty. It often starts with a relatively small bump or lump under the skin. You might even be tempted to dismiss it as no big deal –that is, until another bump appears, and then another, and another. And they remain, often for weeks or months. You may develop lesions or sores from the bumps and lumps that get infected or are slow to heal.
Of course, some people only have a mild case of HS. They may only have a few small lumps and bumps in well-hidden areas, and it might not cause them much pain or distress. It might not affect their self-image much at all.
But that may not describe you and your experience. You may have a more severe case of HS, or you may develop some complications that are harder to disguise. You may find yourself eager to cover up the evidence of your condition, including stains on your clothes and funny smells from the liquid that sometimes seeps from your skin.
Explain exactly how your condition affects you.
This is not the time to mince words or gloss over how you really feel. Your doctor can't help you if you minimize the pain, discomfort, or even despair that you may be experiencing. Try to accurately describe your HS cysts as well as you can so your doctor can make the most informed choice when it comes to your treatment, especially if your symptoms are under control at the time of your appointment. Consider keeping a journal that documents the look of your HS symptoms: how big are your cysts? Would you describe them as lumps, pimples, abscesses, or boils? Are they discolored? Are they painful? Collecting this information while you're in the middle of a flare-up can help you communicate the realities of your condition to your doctor, no matter how things look in the doctor's office.
In addition to the physical effects, it's important to describe the emotional impact of HS to your doctor.. Here are a few examples of complaints or fears that some people with hidradenitis suppurativa have:
You worry about how someone will react to seeing your lumps, bumps, or scars, or the swelling that might result from trouble with your lymph draining system
Your insecurity about your appearance causes you to withdraw from other people, especially people with whom you might like to be intimate
You deliberately avoid participating in certain activities, so you won't run the risk of people seeing your hidradenitis suppurativa
You fret when a lump or lesion leaks pus on your favorite clothes
You worry about smells from the fluid that leaks from the bumps or tunnels under your skin
You worry about infections that could make your condition even worse
You have trouble with some physical activities, since some of your lesions have created scar tissue that restricts some of your movements
Any of these concerns are legitimate concerns, since they affect your emotional outlook and well-being. Your doctor can't help you address those concerns, though, if you don't admit to them. Chances are, your doctor has heard these concerns before and will have some suggestions for you.
Those suggestions may include effective ways to manage your condition, including a gentle daily skin care routine to follow, irritating products to avoid, and ways to manage pain. But your doctor can also probably make some recommendations for coping with your condition. You might find some solace in attending a support group, either in person or online, with other people who can relate to what you're going through. Or you might find some guidance and help from a counselor or therapist who can help you work through your emotions.
Learn how to explain HS to others, too.
It might help you to learn how to explain your condition to other people, too. One major downside of having HS is feeling a lack of control over this aspect of your body. But you can regain some sense of control by understanding your condition and then helping others understand it, too. You can educate people about the fact that HS is not contagious. It's not the result of poor personal hygiene or bad lifestyle choices. You can also talk to people about how they can support you as you cope with your condition. You may regain some much-needed self-confidence as a result.
Was this helpful?