PATIENT VOICES

Hidradenitis Suppurativa: I'm Done Hiding

Was this helpful?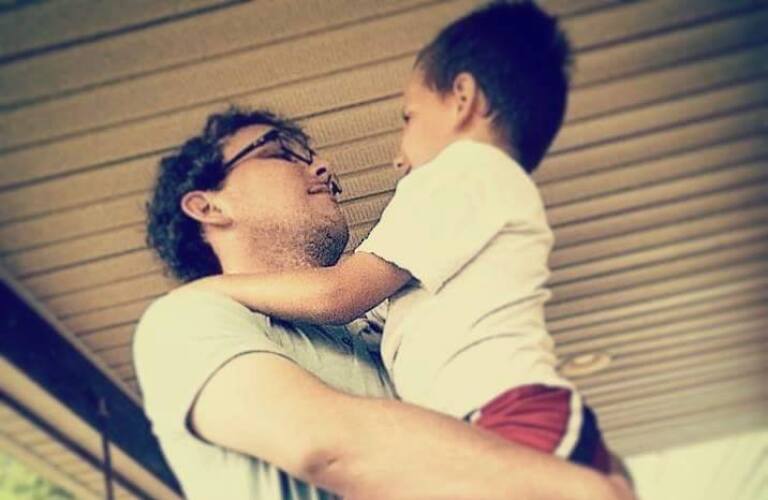 I left home at 16 before graduating high school. I moved from upstate New York to a warmer climate, and in that warmer climate, something happened to me that had never happened before.
What started as a boil-like lump on my thigh grew to a 4- or 5-inch open lesion. The same thing happened on the other thigh, and eventually the same boil-like monsters appeared and multiplied on my pelvis. I didn't know what it was, and truthfully, I didn't want to. My best guess was it was a bad case of herpes—which wasn't anything I wanted anyone to know or see.
So I just wore pants, continued bussing tables, and pushed through the pain. Since then, I put myself through college, became a graphic designer, started my own company, and even worked for a Fortune 100 company as a user interface architect. For 20 years, I didn't tell anyone about my secret lesions.
But finally, this past May, after experiencing a serious bleeding event while giving a presentation at work, I decided to do some research. It turns out I have stage three hidradenitis suppurativa (HS), also called acne inversa. Simply put, HS is an inflammatory skin disease that's characterized by recurrent nodules or abscesses, large open wounds or sinuses, scarring, and foul-smelling pus-like discharge. But there's more to it than that. Many people with acne inversa have mild cases where they just have one or two "flare-ups" at a time. Mine is a bit more complicated, with multiple, interconnected sinus tracts and abscesses in my thigh, pelvis and buttocks regions.
I'm not exaggerating when I say it's the worst physical pain imaginable (quite literally, a huge pain in the butt). I essentially get 2-inch deep, festering, open sores in these areas. It feels like a sharpened, white-hot knife is cutting into my skin and is stuck there—and unfortunately, there's not much I can do about it. There is no cure for HS, just treatment. But getting the appropriate treatment makes a huge difference!
Many patients will treat with biologics for long-term management, or corticosteroids for short-term flare-ups. Antibiotics are especially important for individuals with the condition, as these open wounds leave us extremely prone to infection. I, for example, have had cellulitis, a bacterial infection of the skin and surrounding tissue. Currently, I'm on four different antibiotics—three oral and one topical. Because my case is so severe, and the abscesses are so deep and interconnected, I was recently referred for wide excision surgery, where the surgeon will be cutting deeply into my skin and removing large portions surrounding the affected areas. The surgery will likely require a skin graft to close the wound, and a long recovery time. But if it stops the abscesses, or even reduces the severity of my HS, I think it will be more than worth it.
Until then, I'll continue to advocate for anyone living with this disease. So many people don't tell their closest relatives and friends about the condition. So many are afraid to find out what the lesions are because—let me tell you—they're scary looking. We could be extras on the next season of The Walking Dead without any special effects makeup.
Since learning about my HS, I've become a certified researcher. I've created a website dedicated to educating other patients about the condition and giving them a platform to share their story.
My advice for anyone newly diagnosed with hidradenitis suppurativa is to find a support group. There are literally thousands of us; we are not alone. I'd also advise these individuals to treat their HS holistically, and be aware of the comorbidities. More and more, studies are showing that HS is related to other autoimmune conditions like Crohn's disease, irritable bowel syndrome, rheumatoid arthritis and more.
Most importantly, don't be afraid to share your story. Fight the stigma. I am done being ashamed of this condition. I'm done hiding.
Ron Bercume lives outside of Philadelphia. He has been living with severe hidradenitis suppurativa for 20 years, and has become a strong advocate, creating the first website fully dedicated to hidradenitis suppurativa awareness: hsawareness.org.
Was this helpful?