Hidradenitis Suppurativa and Your Weight
Was this helpful?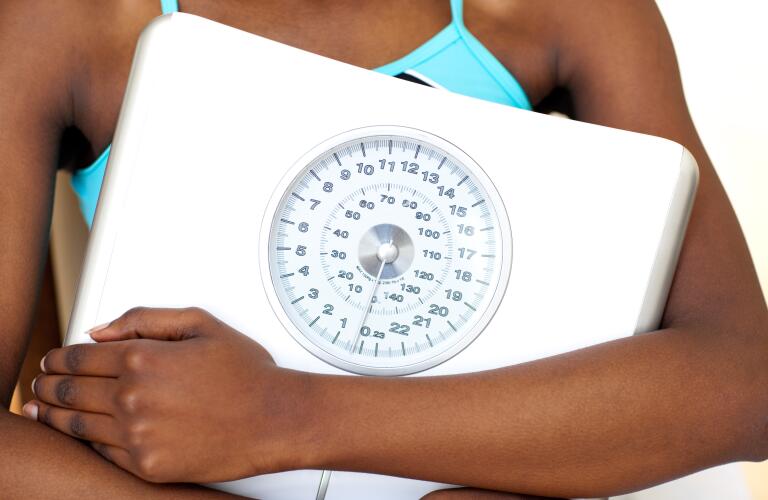 If you suffer from hidradenitis suppurativa (HS), finding significant, lasting relief may come down to a lifestyle change.
Hidradenitis suppurativa (also called acne inversa) is a chronic skin condition that develops when healthy hair follicles become blocked and inflamed. This leads to boils and abscesses (collection of pus). These often leak and can be painful and difficult to heal. Acne inversa usually forms under the arms and in the groin/inner thigh area—areas where sweat glands are most plentiful. It is more common in people who have acne and in women, who can also develop it under the breasts.
Some dermatologists say weight loss may be the most effective way to control acne inversa—even more so than medical treatment. It's unknown why the follicles become blocked, but a number of factors, including hormones, genetics, and cigarette smoking may play a role. But excess weight is known to make the condition worse (though it doesn't cause acne inversa). Weight isn't always to blame, some folks with acne inversa have a normal BMI. While losing weight won't cure you of the condition, it can help improve your symptoms.
It's been reported that patients with acne inversa who lose weight have fewer flare-ups. Even losing 10% of your body weight can make a difference in your symptoms. Plus, there are additional benefits: one medical study showed that having hidradenitis suppurativa increases the risk of developing other health problems, including heart disease, diabetes, and stroke. Losing weight and maintaining a well-balanced diet can help reduce these risks, as well.
Excess weight also increases the number of areas on the body where skin rubs together, like between skin folds. This can cause friction, sweating, and bacterial growth—all of the things that acne inversa loves. Reducing the number of skin folds will help reduce the opportunities for boils and abscesses to form.
Talk with your dermatologist and primary doctor. Find out if your weight may be contributing to your symptoms. If so, ask about some of the best ways for you to begin losing weight. While exercise is always a key factor in any weight-loss program, sweating can also cause acne inversa to flare, so you may need to consider exercises or weight-loss efforts that won't lead to excessive sweating.
If you are overweight, overheating and sweating may be an issue for you in general. Ask your dermatologist to recommend a good antiperspirant, and avoid things like sitting next to the fireplace or wearing extra layers of clothing. It can also help to wear loose-fitting clothes (including underwear). Try to avoid tight waistbands, form-fitting clothes, and synthetic clothing—all of which can irritate your skin.
If weight loss alone is not enough to help control your symptoms, there are several treatment options that may help you reduce the number of flare-ups you're having. Initial treatments are usually oral or topical antibiotics, or anti-inflammatory pills (such as Advil or Aleve, among others). Some women also respond to high-estrogen birth control pills. In severe cases, surgery may be considered. Talk with your doctor about what may be most effective for you and the potential risks or complications.
In short, don't give up. While weight loss is the best first line of defense, there are many ways to treat acne inversa and get the relief you need.
Was this helpful?