Hidradenitis Suppurativa and the Depression Connection
Was this helpful?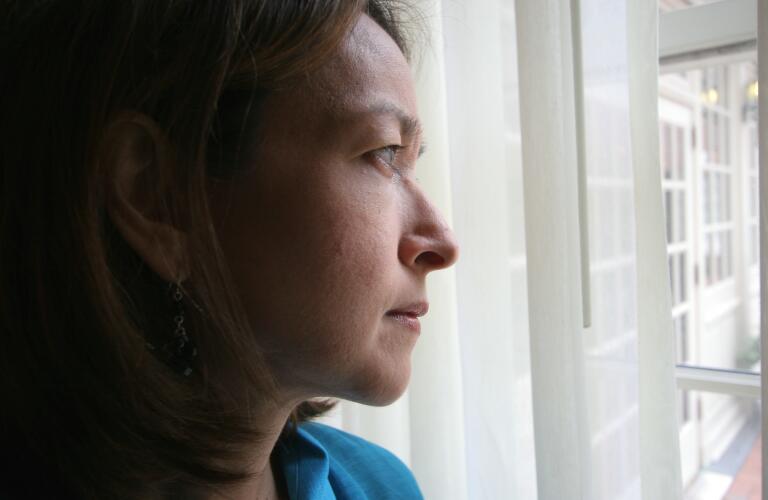 If you've been diagnosed with hidradenitis suppurativa (HS), a chronic condition that causes swollen and painful bumps under the skin, it's normal to focus on the physical elements- what's going on inside your body and how it manifests itself on the outside. But it's important to recognize that there's often an emotional component that comes with the diagnosis as well. Many people with HS also suffer from depression, and treating those symptoms are just as necessary to improve your overall well-being.
What are the symptoms of hidradenitis suppurativa?
Hidradenitis suppurativa, also referred to as acne inversa, involves the hair follicles. It's often found in areas with a lot of sweat glands, like the armpits, or in areas where skin rubs against itself, like the breasts or inner thighs. With HS, the hair follicles become blocked, resulting in the following symptoms:
Tender, red pimple-like bumps

Painful, hard lumps under the skin

Pitted areas of skin with blackheads

Abscesses filled with pus that may rupture and drain
Initially, it may be easy to mistake a bump for a random pimple or even a boil, especially because the breakouts can sometimes come and go. Over time as HS recurs and clears, thick scar tissue can develop. In severe cases, small tunnels called sinus tracts sometimes form connecting the lumps underneath the skin.
We still don't know what causes hidradenitis suppurativa. Contrary to what some may think, it isn't contagious, and it doesn't have anything to do with being unclean. Possible causes include hormones, genetics, an abnormal immune response, or triggers in the environment. Certain lifestyle factors, like being overweight and smoking, don't actually cause HS but may increase your risk of developing it.
What's the correlation between HS and depression?
Living with HS can impact your quality of life. Many people with HS feel embarrassed or ashamed by its appearance. Draining abscesses can sometimes emit a foul odor or leak onto clothing. Dating and intimate relationships can also be affected since many breakouts occur on more private areas of the body.
Hidradenitis suppurativa can impact your normal daily activities. During a flare-up, the pain from lesions may limit what you are able to do. You may also experience difficulty with mobility if you develop scar tissue around your limbs.
All of this can lead to feelings of isolation and depression. In fact, one study found the more areas on your body affected by HS, the greater the likelihood of experiencing depression.
How can I handle my depression and HS?
There are a number of things you can do to help you cope with HS and address your depression:
Talk to someone: Keeping your feelings inside doesn't do you any good. Reach out to a family member or a close friend and let them know what's going on. You may be surprised at how much it helps to connect, and you'll help them learn about HS in the process too. Or see if you can find any local support groups. Talking with others who have gone through the same experience can be extremely therapeutic.

Find a professional: It's important you let your doctor know if you are experiencing signs of depression, loss of interest in favorite activities or general sense of hopelessness. Consider seeing a trained counselor or psychiatrist. Some people with HS may benefit from taking an antidepressant medication.

Take an active role in your physical health: Work with your doctor on your treatment plan. There are several effective treatment pathways for hidradenitis suppurativa and not everyone responds the same. Let him or her know what's helping your HS and what's not. Quit smoking and try to lose weight if needed. Both can help limit flare-ups of HS.

Soothe your mind: Discover what helps you find mental peace. This may include yoga, meditation, or art therapy, for example.
Living with an illness like hidradenitis suppurativa can be challenging. As we are learning more about the HS and depression connection, mental health screenings will likely become more a part of routine doctor's visits. But in the meantime, if you're feeling down and struggling to get by, don't hesitate to seek out the help you need.

Was this helpful?